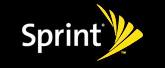 While skeptics still remain, in recent weeks momentum has been gaining for Sprint-Nextel (S or the "Company"). In February, I debunked the bear case on S. Since that time, Q1 10 earnings (see call transcript) demonstrated continued positive progress with the Company gearing up for the release of the HTC EVO 4G, widely considered the best phone available. In addition, over the past week, a few more notable news items were released, further strengthening the bull case for S.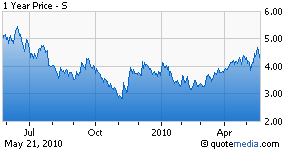 One of the biggest and misinformed aspects of the Company's bear case is that S carries a large debt load. This was thoroughly discussed and debunked in my initial post on S. Bears note that the Company carries roughly $21B in debt but this number is meaningless in isolation. First, S has $4.4B in cash, reducing net debt to roughly $17B. Second, S has about $6B in trailing EBITDA. The Company is leveraged at under 3.0x Net Debt/EBITDA and anyone familiar with leveraged finance would realize that this is hardly an aggressive leverage multiple. Last, S faced little refinancing risk, with most maturities in the next two years under $2B.

On Friday, May 21, 2010, the Company demonstrated that lenders certainly didn't consider its debt load to be an issue, as the Company entered into a new $2.1B unsecured revolving credit facility. The new facility allows S considerable flexibility as the Company can incur leverage of up to 4.5x trailing EBITDA through March 2012 before stepping down to 4.0x in 2013. To remind readers, S is currently leveraged under 3.0x LTM EBITDA, demonstrating the confidence lenders have with the Company. The new facility further supports the assertion that the Company's debt load is a non-issue.

In addition, S skeptics came to find that the Company's customer service initiatives have been paying off against peers. On May 18, 2010, the American Customer Satisfaction Index ("ASCI") reported that S customer satisfaction leapfrogged one of its key competitors, AT&T (NYSE:T). More importantly, the Company showed the largest improvement among the four largest wireless carriers for the second year in a row, scoring 70 on the ACSI compared to 73 for Verizon Wireless (NYSE:VZ) and T-Mobile and 69 for AT&T.

AT&T is likely aware of its slippage in the ASCI rankings. More importantly, the key to AT&T's resurgence in recent years - the iPhone - is losing its cachet. The iPhone is being assaulted in terms of its operating system as Google's (NASDAQ:GOOG) Android operating system benefits from open source and provides a phenomenal user experience. In prior years, the iPhone had the best operating system, leaving competing smartphones in the dust. However, Android has closed the gap entirely and could begin to be superior to the iPhone OS once Android 2.2 is released.

In addition, new phones, particularly those from HTC, are just flat out better than what the iPhone offers. Sprint may benefit the most because while it's been improving its financial condition, operating metrics, and customer service, the Company never had that "hot" phone. Having a marquee phone is critical in attracting users and S finally has not only a good phone, but the most anticipated smartphone for 2010. Engadget, for example, said that the HTC EVO 4G was "one of the best smartphones ever made" while PC World notes that "It's not just one killer feature that puts the EVO over the top; the spec sheet reads like a wish list for anyone who's owned a touchscreen smartphone."

It's clear that technology and mobile phone enthusiasts are primed for the release of the HTC EVO 4G. Numerous third party reviewers have stated that EVO 4G is the best smartphone available. AT&T apparently believes this too, as it made a clear signal to its subscribers that they would have to pay if they wanted to switch carriers. Last week, AT&T announced that it would raise the termination fees for its smartphones from $175 to $325. The timing of this announcement, just a few weeks before the release of the HTC EVO 4G, is unlikely a random coincidence.

The "premium" wireless carriers like AT&T have remained pathetically stagnant in recent years, content to fleece their customers while Sprint has made legitimate changes that have now positioned it to capture postpaid marketshare. For example, AT&T has a poor 3G network that can't handle the data needs of its customers in key regions like NYC. In addition, AT&T and Verizon Wireless charge far more for comparable plans and use obscure marketing to mislead consumers.

For example, AT&T and Verizon Wireless offer unlimited talk plans for $69.99/month. This is a joke considering the growth in smartphones whereby many people utilize their phones for far more than voice capabilities. Sprint offers a $69.99 plan that allows for unlimited mobile to mobile voice, unlimited data, unlimited messaging, Sprint GPS, and annual phone upgrades. If one wanted a similar plan through Verizon Wireless, that $69.99 plan would be nearly $130/month. But that's still not the total cost under Verizon Wireless. This is because data usage is generally smartphone specific and Verizon and AT&T both charge an extra monthly fee to simply have a smartphone tied to their network. This "smartphone fee" runs $30/month where as Sprint does not charge this fee.

So essentially, the Company's $69.99 month on a smartphone covers basically everything while the comparable plan for Verizon, for example, would be $160/month. This goes back to a key point for S bears, who point out that Verizon and AT&T have larger EBITDA margins than S, so therefore can crush S in a pricing war. Bears are reading this incorrectly.

This basic breakdown of plan pricing shows that Verizon and AT&T command higher operating margins to a large extent because they bilk their subscribers. The illusion of a "premium" network is starting to fade in part due to Sprint's resurgence in customer service and value. Sprint has the "it" phone for the year and offers a very competitive pricing program, charging just $79.99/month which would be Sprint's $69.99 Everything Data Plan along with a $10 mandatory 4G fee.

Some have griped about the plan because the $10 fee is mandatory and 4G has not been fully rolled out. This is somewhat of a laughable complaint as 4G will be available in about 40 large cities by the end of 2010 and more importantly, $79.99/month is far lower than what comparable phone plans go for. So for roughly $80/month, a S subscriber can use the most powerful phone on the market on both the Company's 3G and 4G network with no significant limitations, while for roughly double that, Verizon Wireless and AT&T subscribers can use a 3G-only phone on, in the case of AT&T, an overworked, poorly performing 3G network. In addition, termination fees for Verizon Wireless and AT&T subscribers using smartphones run over $300 while the Company charges just $200 and also offers a 30 day money back guarantee. Even if Verizon or AT&T lowered their overall comparable pricing to $130 or $120, why would a customer be compelled to use AT&T or Verizon Wireless compared to the Company's overall plan, when it's clear the "premium" networks have overcharged their customer base?
AT&T and Verizon Wireless will experience far more operating margin compression than the Company at this point. If anything, S is better positioned to experience margin expansion. If the HTC EVO 4G is the catalyst I believe it will be, it will drive market share capture in postpaid. More importantly, ARPU levels for the HTC EVO 4G will be higher than the average S phone. As a result, S could show some serious operating improvements over the course of the next year.
In summary, while skeptics remain, Sprint is clearly well positioned for a powerful resurgence in 2010. They have attacked both the post and prepaid markets and could be the best positioned company in the wireless space, potentially capturing a higher level of postpaid marketshare than anyone expects. The sellside is still cautious on Sprint and the media has lagged in its coverage of the HTC EVO 4G and the Android OS, choosing to remain enamored with coverage of what is becoming a stale iPhone. These views on Sprint allow for enterprising investors to capitalize on an excellent opportunity in a generally choppy 2010.
Disclosure: Author manages a hedge fund and managed accounts long Sprint-Nextel.