Introduction and Business Summary
SodaStream Corporation (NASDAQ:SODA) is an undervalued, international growth story with solid potential as the company continues to expand operations and grow the already large customer base. This is a stock that has the potential to see a major move over the course of 2014, and it provides a solid piece of diversification for any portfolio looking for above average returns. Below is our introduction into the business model, strengths, and buying opportunity that exists for SodaStream as the stock has pulled back off of 52-week highs of $77.80 over the course of the last 8 months.
Investors and Wall Street continue to fail in realizing value in this company. The traditional issue with SodaStream is that analysts have overhyped the company's growth as SODA has become more consistent in revenue producing businesses. This has led to a healthy correction in shares of SODA and we believe that this is the time to buy shares. The question now is whether or not the company is heavily undervalued as it continues to expand operations all over the world. The company has improving fundamentals and business prospects beyond 2014 and revenue will see a nice increase this year, while currently having a market cap of $844.2 million. With this in mind, we value SodaStream at $48.00 by second quarter-end on May 21, 2014 and $55.00 by year-end 2014, an increase of 34.84% from current levels. We strongly feel that this company has the potential to see major upside over the next year as it takes advantage of new market opportunities and continue to drive growth in the new businesses. The new discussion of SODA being a potential takeover target will also drive shares higher as Coca-Cola (NYSE:KO) has taken a significant stake in Green Mountain (NASDAQ:GMCR) recently.
We hope that potential investors are presented with a thorough and comprehensive view of SodaStream Corporation, and at the end can look at the facts presented and the insightful research in order to support our decision to buy or sell shares in the company examined. The discussion begins with an overview of the company and the different businesses and potential new products being developed. We will later highlight:
SodaStream at a Glance
SodaStream is the world's leading manufacturer and distributor of home beverage carbonation systems which enable consumers to easily transform ordinary tap water instantly into carbonated soft drinks and sparkling water. Soda makers offer a highly differentiated and innovative solution to consumers of bottled and canned carbonated soft drinks and sparkling water. Our products are environmentally friendly, cost effective, promote health and wellness, and are customizable and fun to use. In addition, our products offer convenience by eliminating the need to carry bottles home from the supermarket, to store bottles at home or to regularly dispose of empty bottles. Our products are available at more than 60,000 retail stores in 45 countries around the world, including over 15,000 retail stores in the United States.

Click to enlarge
SodaStream Company Highlights
World leader in home carbonation beverages with very little competition around the globe
Operations in 45 countries (21 Direct and 24 Distributors)
Sold in 60,000 stores worldwide (15,000 stores in the U.S.)
6.5 Million households now have a SodaStream machine (1.5 Million in the U.S.)
6 major partnerships (OceanSpray, Kraft, Samsung, EBoost, Campbell's, and Breville)
Revenue projected to pass $550 Million for fiscal year 2013

Revenue estimate to be $1 Billion in 2016

Estimated carbonated beverage market size projected to grow to $275 Billion by 2015
SodaStream sold the equivalent of 4.5 Billion cans of soda over the last 4 quarters

Americas - 39% of Total Revenue (Sales up 87% Y/Y)
Western Europe - 45% of Total Revenue (Sales up 26% Y/Y)
CEMEA - 16% of Total Revenues (Sales up 16% Y/Y)
Asia Pacific - 9% of Total Revenues (Sales up 59% Y/Y)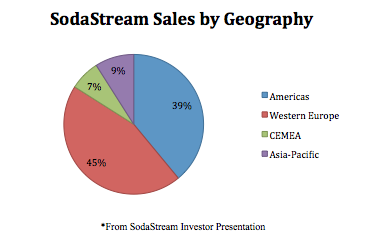 SodaStream's Underrated Business - SodaStream Professional
350 active units in European restaurants
Designed to compete with traditional fountain soda machines from bigger competitors like Coca-Cola and Pepsi
75% of the machines are sold to restaurants in Italy, Germany, Hungary, Greece, Sweden, and Russia and the other 25% of the machines have been leased to restaurants in Italy, Greece, and France
The company goal is to sell 2000 additional SodaStream Professional machines in 2014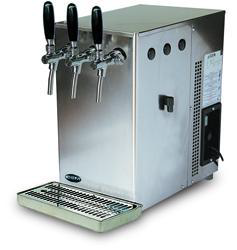 SodaStream's Strategic Partnerships and International Opportunities Will Drive Growth in 2014
Partnership with Kraft (Kool-Aid, Country Time, and Crystal Light) has had great early success - Sales in these three products are projected to increase by 3X in 2014
Machines and flavors sold in major U.S. brick and mortar and online retailers
The carbonated beverages markets will reach 251 Billion Liters sold in 2014 - SODA has huge potential for growth on a large scale

Carbonated soft drinks - 220 Billion Liters (SODA has 0.2% market share)
Sparkling water - 31 Billion Liters (SODA has 2% market share)

Some of the current trends that will help drive the SodaStream business are convenience, sustainability, health and wellness, value, and personalization
The economics of the SodaStream business continue to provide an interesting opportunity going forward - the company's annual marketing budget is equal to what Coca-Cola spends in 2 days of a fiscal year
There are three main areas of focus for SodaStream going forward as the company continues to drive for consumer adoption of the products

Driving household and consumer penetration
Increasing consumer usage/refills/loyalty
Building brand loyalty for the long-term
SodaStream has an average 2% household penetration in the countries where the company operates and the goal for 2016 is to be at 10% penetration per country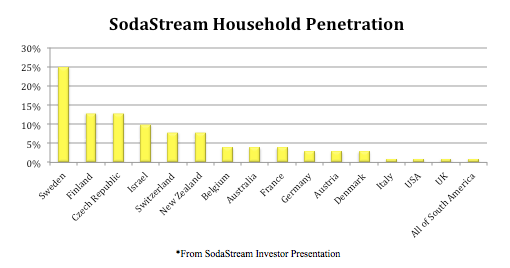 Global Growth Opportunities
Western Europe
Largest sales region at 45% of total revenues
Revenues grew 26% year-over-year on LTM basis
Mix of established and new markets - great growth opportunities as new marketing campaigns are engaging consumers and leading to new market penetration all over Europe
France

3.5% Household penetration

40% growth last year - increased return customers and repeat sales
Expanding the business into food retailers
TV campaign planned for 2014
New product and flavor launches in Q3 2013
United Kingdom
High awareness profile and consumer demand
90% of drinks consumed are flavored
Exist in premium retail: Harrods and Selfridges
Sold in the top-3 grocers in Q2: Asda, Tesco, Sainsburys
Germany
3.4% household penetration
31% growth last year
2013 sodamaker sales doubled vs. 2012
Preparing to launch new ad and product campaigns
Italy
Only 1.3% Household penetration (24 million homes) - plenty of room for growth
Strong sparkling water usage (184L/capita)
Adding new products and flavors
Actively resolving distributor issues and making products more readily available to consumers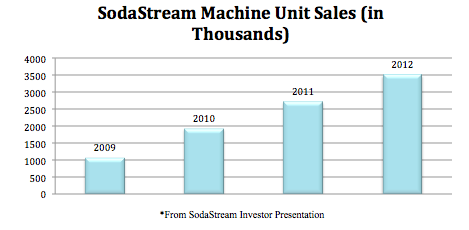 The Americas
Fastest growing region led by the United States
39% of total revenues
Revenues grew 87% year-over-year
Huge market growth potential based on household penetration and sales and distribution channels growth
United States

World's largest soda market

1.1% household penetration to-date
Growing consumer adoption - eco-friendly, easy to use, convenient
Brand partnerships
Distribution: appliance, grocery, drug, e-commerce, home shopping
Canada

Only 1% household penetration
70% growth vs. last year
2014 focus is on retail expansion
Brazil

3rd largest soda market in the world
57 million household potential
Establishing local syrup manufacturing like in the United States
Strong early feedback from premier retail outlets in the country
Mexico

World's highest per-capita soda consumption
Establishing subsidiary
Sales to begin early 2014 - will see large growth in consumer adoption and usage because of convenience
US-based retail expanding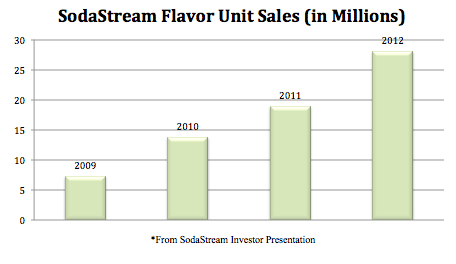 Asia-Pacific
Only 9% of revenues - largest potential growth opportunities as there is limited competition and expansion is just beginning
Provides significant long-term growth opportunities
Revenues grew 59% year-over-year
Projecting double digit growth in 2014
China will be next big step in 2014 - huge potential market as approval process continues
Japan

World's #2 consumer goods market

Over 25% consumer awareness after 1 year
Currently at 500 high-end consumer locations
Planned expansion to 1000 more doors in 2014

Australia

4% household penetration
40% growth last year
High sodamaker sales & consumables usage
2014 Focus on retail expansion
New product and marketing campaign launches planned for 2014

Korea

Carbonation is a growing consumer category
Sales up 50% in 2013

India

Rapidly growing carbonated beverage market - sales up 61% in 2013
Established a subsidiary in 2013
Focus on regulatory approvals and local flavor sourcing like in the Americas
Positive initial consumer feedback and growing demand
Rest of World
7% of revenues on LTM basis
Revenues grew 16% year-over-year

Russia

Switched to a leading distributor partner in electrical appliances (with current distribution in 20,000 stores)
Growing levels of soda consumption

Poland

Restructuring distribution setup
Growing carbonated beverage market
Plan to expand to more hypermarket and electrical stores in first half of 2014

*Numbers derived from Yahoo! Finance
In the case for SodaStream, considering the future prospects and international opportunities surrounding product sales, shares appear to be undervalued compared to peers based on exposure and market dominance on an international level. The companies will see increased spending from consumers as the economy continues to improve globally. Although share prices have struggled over the last year, we believe that there is still a great buying opportunity at these levels. As we can see, the company is trading at a discount in almost every valuation metric. Investor's should focus on each company's future growth prospects and new products that will continue to drive revenue and earnings growth for the future.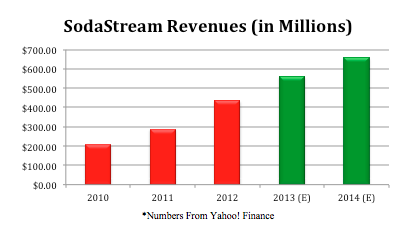 *Numbers derived from Yahoo! Finance
Sales growth is another key metric to look at in SodaStream's retail business. Growth across all areas of business will provide a sustainable model for years to come and a lock on market share. As the company continues to diversify into higher growth and margin areas, investors should look for this metric to improve significantly over the next five years. SodaStream's sales growth currently sits at 34.46%, and the most recent holiday quarter should prove to be a great end to the 2013 fiscal year for SODA.

*Numbers derived from Yahoo! Finance
SodaStream boasts a nice gross profit margin of 53.97%, which outpaces others involved in this space and the other underdeveloped firms attempting to compete in this business. The company also generates a nice amount of cash flow per share at $2.92 and cash flow margin at 12.01%. As SODA continues to generate larger cash flow per share, we would expect to see continued share buybacks and a dividend as strong growth continues to be expected.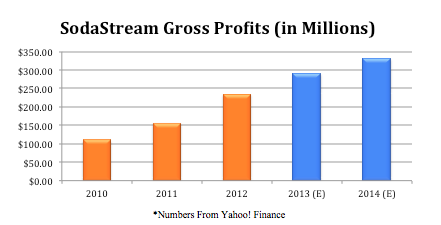 *Numbers derived from Yahoo! Finance
SodaStream is in a strong position from a financial standpoint as it currently has no Debt to Capital and Debt to Equity ratios. The company also has plenty of cash to expand business operations and execute on growth strategies going forward. In an industry that requires large investments for future growth, SODA had consistent success with continued focus on and investment in the firm's most profitable businesses and other high growth areas with new business development. SodaStream has no long-term debt.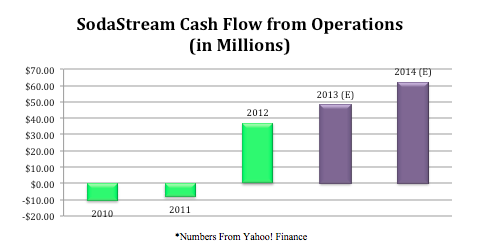 *Numbers derived from Yahoo! Finance
Obviously, when looking at these measures, SodaStream has continued successful compared to far larger competitors, while dominating the niche market in which the company operates. When specifically focusing on the ROA, the companies are performing well when it comes to the operating efficiency based on the firm's generated profits from total assets (11.36%). The ROE shows the improving performance in terms of the shareholders rate of return on investment in the company as compared to traditional rates in the past and this is a metric that will continue to improve (16.57%). The ROI shows the firm's efficiency in utilizing invested capital. The company has been able to compete successfully with peers by providing a substitute product that is far ahead of any potential competition. With big opportunities approaching internationally in the near future, expect this outperformance to continue (16.35%).
SodaStream Growth Strategy
Expanding Existing Operations - A substantial portion of revenue growth has been generated by expansion into new geographic regions. The company will continue to seek opportunities to further increase business, and the primary focus should be on developing and expanding existing revenue bases by strengthening customer relationships, and adding new customers.
Improved Asset Productivity - The company is focused on improving the revenue generated from all core business operation. SODA can accomplish this objective through increased cost savings and aggressive investment structures, both of which are expected to increase over the course of the next year.
Strengthening Customer and Partner Relationships - SODA markets products to both existing and new customers that complement existing operations. The company seeks customers who will diversify the revenue base and present new opportunities going forward.
Business and Geographic Diversification in High-Growth Areas - SodaStream is well diversified across multiple operations of the beverage industry. This diversification gives the company the ability to offer a "one stop" solution for customers. Higher growth areas such as Europe, the Americas, and Asia will prove to be important growth drivers going forward.
Increasing Market Share and Growing Business with Current Customers - SodaStream has committed to expanding existing relationships with the current customer base while securing new customers. The company has done this and continued to take market share by providing a "one stop shop" for at-home beverage products. The company will continue to lock in long-term partnership contracts that will guarantee solid revenue for the foreseeable future.
Speculation of a Partnership or Takeover by PepsiCo
Investors initially viewed the partnership between Coca-Cola and Green Mountain Coffee Roasters as a threat to SodaStream, which has posted strong growth in recent years and SODA shares sold off the day the deal was announced. The next day however, shares recovered as investors speculated that a potential deal with Pepsi could be valuable to both companies. We believe that Coca-Cola's move into this industry shows the gigantic opportunity that lies ahead in this space. Any machine that GMCR would introduce is far behind anything that SodaStream has to offer and would be well behind from a consumer adoption standpoint. There has been talk about a deal between SodaStream and Pepsi in the past when shares of SodaStream were trading above $75. At the current stock price, a partnership may be more attractive for Pepsi and based on valuation for GMCR, SodaStream's shares are significantly undervalued on a comparison basis.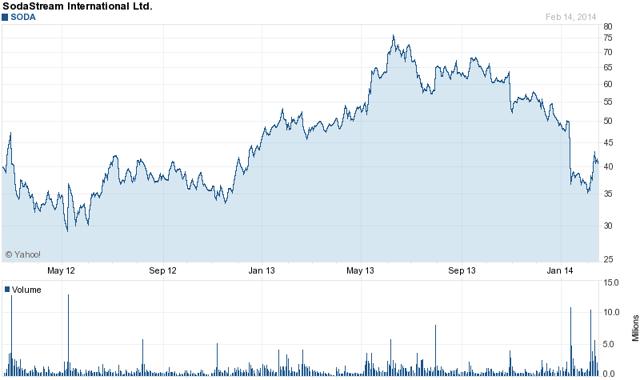 Click to enlarge
*Numbers derived from Yahoo! Finance
What Investors' Need To Know - Focus on the Long-Term Strategy
The next earnings release will give investors insight into how the firm has positioned itself for 2014 and beyond. Expect this company to outperform in the global beverage industry as it has one of the industry's best business models and management teams. The 2013 fiscal year proved that the company has adapted to a new environment and can weather the tougher markets in the retail space, while positioning the company for strong future growth. This is a firm that has a great opportunity to grow and become recognized over the next year as the environment surrounding the company begins to become more favorable.
With this in mind, we value SODA at $48.00 by May 21, 2014 and $55.00 by year-end 2014, an increase of 34.84% from current levels. We arrive at this number by assuming that SODA will see an earnings increase of 12% over the course of the next 12 months, the company will begin to trade at an industry average P/E multiple (currently 17.28 and the industry average P/E multiple is 20.48), which gives us multiple expansion of at least 16%, and share buybacks and potential dividend representing an additional 3.5% (12%+16%+7%=35%).
Disclosure: I have no positions in any stocks mentioned, and no plans to initiate any positions within the next 72 hours. I wrote this article myself, and it expresses my own opinions. I am not receiving compensation for it (other than from Seeking Alpha). I have no business relationship with any company whose stock is mentioned in this article.
Additional disclosure: AlphaStreetResearch is a team of Investment Research Analysts. This article was written by Mr. Hunter Orr, Director of Research, with research assistance from Mr. Aaron Zander, Junior Research Analyst.