A few weeks ago, I wrote an article arguing that Seadrill's (NYSE:SDRL) high dividend was safe, sustainable and its high growth rate meant that Seadrill was massively undervalued. Since that article was published, the company has announced its earnings and new information has come to light regarding the safety, sustainability and growth prospects of the dividend and the company in general.
Here are the highlights from the most recent earnings announcement:
- Fourth quarter EBITDA of $768 million up 27% year-over-year. This EBITDA represents a record for the company.
- Took delivery of 13 rigs, while maintaining industry leading uptime of 94% while taking rigs into service. Jack-up utilization increased from 97% to 98%.
- "During the first quarter, we will take delivery of two jack-ups West Linus and Prospector 3". Both rigs have long-term contracts for high day rates in line with previous day rates.
- Added $337 million to backlog, which stands at $20.2 billion.
- Seadrill dropped down three rigs into Seadrill Partners for total proceeds of $365 million.
- Secured 6-year contract for five jack-up units worth $1.8 billion.
- Established 50/50 Joint Venture with Fintech to service 5 jack-up rig contract. Seadrill will sell them the rigs for $500 million in exchange for 50% of after-tax cash flows.
- 2014 contract coverage stands at 98%, and 2015 coverage is at 72%.
- Dividend increased by $.03 to $.98/share.
Despite what was an undeniably strong quarter, the market took the earnings release as a negative and sent the stock down 5%. What was the market focusing on? Well, to be fair to Seadrill, there were some negatives mentioned in the report.
"In January and part of February, we have faced operational challenges with the West Alpha and West Phoenix caused by extreme weather in the North Sea during the winter period here. Furthermore, we have had subsea equipment challenges on the West Pegasus and West Capricorn. And finally, West Aquarius working in Canada incurred extensive damage to the mooring system." All units will be back in operations by the end of this week and counting the days out of operation, we expect first quarter 2014 result to be in line with our fourth quarter."
However, what has generated the most controversy among Seadrill investors is the guidance regarding dividends.
"Seadrill remain committed to growing its dividend going forward. Broadly speaking future dividends depend on backlog additions, operational performance and market outlook. This is important to keep in mind as we progress through the current market environment. Based on today's backlog, we will maintain our current dividend for the next couple of years. Should the rate of backlog addition slow, then the rate of dividend increases will likely slow. Dividend cuts are not on the radar screen from where we sit today."
In addition, management stated,
"We will however be rewarding shareholders by creating an additional dividend capacity fund by preserving approximately 20% of any net proceeds from the MLP drop downs. The remaining 80% will be used for reduction of existing debt and future growth. The target will be to return these funds to shareholders over the 12 months following release of such funds."
Later, in the conference call, CFO Rune Magnus Lundetrae stated that this year the company anticipates $.16/share in the dividend capacity fund. This represents 4% potential dividend growth. Management has not yet decided what to do with the funds, but has stated that for now investors should not expect future dividend growth.
This last part is what has set off a firestorm of controversy. Bears argues that management's decision to halt dividend growth for now is an admission that recent Barclays and Citigroup analysts' fears about industry declining utilization and day rates are correct. Meanwhile, bulls point out that Seadrill's CEO Per Wullf has called the $.98 dividend "its minimum" and offers "assurances from the Board that we can sustain this $0.98 for the coming years."
What is the truth of the matter? Is the offshore oil drilling industry headed into a downturn? Will Seadrill's day rates and cash flows plummet, threatening the dividend? The answer to all these questions is a definitive "No".
First of all, let's address the concern of utilization. This quarter's 94% overall utilization and increase in jack-up utilization from 97%-98% should alleviate any concerns on that front.
Next, let's look at the day rates secured for recent contracts. The most recent 6-year contract, which covers 5 rigs, has an average day rate of $164,000/day. The average jack-up rate for Seadrill previously was $129,500/day. Clearly jack-up day rates are going up for Seadrill. But what about the backbone of the company's future growth prospects, the all-important Ultra-Deepwater Drillships? What kind of day rate has the company been able to recently lock in?
West Alpha: Contract with Exxon Mobil (NYSE:XOM) from Jan 2014-July 2016 at $532,000/day, with 1-year extension option at $547,000/day. Previous day rate for this rig was $479,000, indicating an 11% increase in the day rate.
West Eclipse: Contract with Total (NYSE:TOT) from January 2014-January 2015 at $450,000/day, with 2-year extension option at $455,000/day. The previous day rate for this rig was $435,000/day, indicating that the day rate is up 3.5%.
West Leo: Contract with Tullow Oil (TLW.L; OTCPK:TUWLF; OTCPK:TUWOY) from June 2013-June 2018 for $605,000/day. Previous day rate was $525,000, indicating a 15.2% increase in day rate.
Sevan Louisiana: This new rig is just beginning a new contract with LLOG from April 2014 through January 2017 at a day rate of $505,000/day.
West Mira: This rig is under construction and scheduled for delivery in Q1 2015, it has a 5-year contract from June 2015-June 2020 with Husky Energy Inc. (HSE.TO; OTCPK:HUSKF) at $590,000/day.
West Navigator: Contract with Shell, (NYSE:RDS.A) from January 2013-September 2014 for $602,000/day (down from $620,000/day). New short-term contract with Centrica Energi Nuf from October 2014-December 2014 for $621,000/day.
West Polaris: Under contract with Exxon Mobil from March 2013-March 2018 for $653,000/day. Previous day rate was $628,000/day indicating the day rate increased by 4%.
West Capella: Under contract with Exxon Mobil from April 2009-April 2014 for $562,000/day. Extension has been obtained through April 2017 for $627,500/day. Previous day rate was $580,000, indicating an increase of 8.2%.
West Gemini: Under contract with Total from October 2013-October 2017 at $640,000/day. Previous day rate was $447,000/day, indicating a 43.2% increase in day rate.
West Auriga: New rig under contract to BP (NYSE:BP) from October 2013-October 2020 at $565,000/day.
West Vela: New rig under contract to BP from November 2013-November 2020 at $565,000/day.
West Tellus: Under short-term contract to Chevron (NYSE:CVX) from January 2014-July 2014 at $635,000/day. Previous day rate was $610,000, which is a 4% increase.
West Neptune: Under construction and under contract to LLOG from October 2014-October 2017 for $570,000/day.
There are 9 Ultra-Deepwater Drillships and Semi-submersibles under construction without contracts. These are the semi-submersibles Sevan Developer and West Rigel to be delivered in Q3 2014 and Q2 2015 respectively. Among the Ultra-Deepwater Drillships, only the West Saturn (Q2 2014), West Jupiter (Q3 2014) and West Carina (Q4 2014) remain without contracts in 2014. According to the last conference call, management is in final negotiations for West Saturn and West Jupiter, and contract announcements are imminent. That leaves just West Carina, to be delivered in 9 months or so, still without a contract. In 2015, Seadrill will receive delivery of 4 Ultra-Deepwater Drillships, beginning in Q3 with the West Draco, and then in Q4 with West Dorado, Aquila and Libra.
While it is true that there remain 5 Ultra-Deepwater rigs under construction without contracts, they are all set for delivery in Q4 2014 or later. In the meantime, management has been able to secure excellent day rates on almost all of the rigs. Management concedes that the market is softening, with oil companies cutting cap-ex budgets in 2014, which can put short-term pressure on day rates. However, according to the most recent conference call, the company is seeing 2014 activity pushed back into 2015 and 2016. Seadrill CEO, Per Wullf states that he is seeing "an increase in inquiries for 2015 and 2016 availability". In addition, in certain geographic areas such as Russia and the Gulf of Mexico, the demand for Seadrill's rigs is still very strong. Specifically, management has stated: "We look towards projects such as Block 32 in Angola, Mad Dog 2, Stampede in U.S. Gulf of Mexico, Chevron in Indonesia, Bonga in Nigeria, as potential opportunities to contract our next available assets when our clients return to a more normalized spending activity."
So in summary, yes, the offshore oil drilling industry is facing a softening market. However, it seems to be temporary and likely to last just 1-2 years. After all, as Seadrill's management points out, production from Ultra-Deepwater rigs is expected to increase from 1 million barrels/day to 5 million/day in 2020. This represents a 30% CAGR. In the meantime, the company's management is taking steps to get through the temporary weakness, while strengthening the company's ability to fund future growth, maintain its dividend and provide future dividend increases. These steps include locking in industrial best day rates for as long term as possible for its new and existing rigs. Management is also busy obtaining ready sources of liquidity through drop-downs to its subsidiary MLPs, North Atlantic Drilling (NYSE:NADL) and Seadrill Partners (NYSE:SDLP). These deals and the recent SeaMex joint venture indicate the kind of innovative financing for which the company has become famous. By dropping down rigs to subsidiaries, Seadrill (as the general partner) is able to obtain cheap financing, while still receiving 77% of the cash flows from the rigs it sells to its MLPs. The SeaMex deal illustrates an ability to cut deals in Mexico and South America, a region that is traditionally hard to do business in (see recent Brazilian, Venezuelan and Argentine nationalization efforts).
Valuation:
So it seems that Seadrill is as fundamentally strong as it was prior to the recent earnings announcement. The weakness in the industry has thus far not affected its young, state-of-the-art fleet; however, the change in dividend policy does affect my valuation.
Previously, I was modeling 20% growth in Adjusted EBITDA (which management is still guiding for) and 10% annual growth in dividends. However, the recent change in dividend policy seems to indicate a slower dividend growth rate of just 4% for the next 1-2 years at least.
This figure is from the $.16/share expected to accrue in the new dividend capacity fund.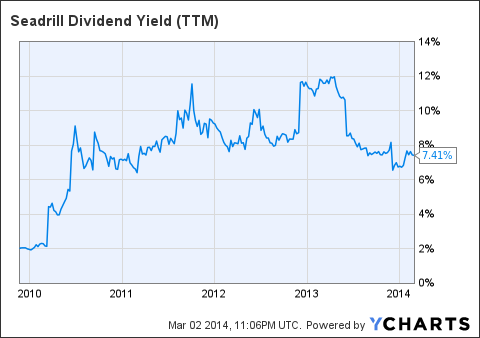 In the last 5 years, Seadrill has averaged an average 6.76% TTM yield. If we assume a regression to the mean, we can expect this yield in 2018, after the industry has improved. Alongside this, we model dividend growth from the current $3.92 to $4.59 in 2018. Based on the projected yield, we get a share price of $67.84. To this, we add in $21.76 in anticipated dividends to get a total share value of $89.07 at the end of 2018. This represents a 19.2% CAGR, which rises to 27.3% with dividend reinvestment. Though this figure is down from the 37% CAGR I had previously calculated in my previous article, it is still triple the market's traditional 9% CAGR from 1871-2013.
Present Day Fair Value:
To calculate the present day fair value, one needs to discount the 2018 value that I've modeled by a factor of 1.54 (9% growth for 5 years). This gives us a fair value for Seadrill at $57.89. This indicates that the company is currently trading at a 36.2% discount and is very undervalued.
Technical Analysis:
Short-term price action is neutral, with mild price support at $36.41. However, there appears to be strong resistance at $38.49, $40.88 and $44.77. This indicates that at least in the short term, Seadrill's stock may struggle to increase substantially in price. However, given its massive undervaluation, it does seem prudent for interested long-term investors to open positions at this time. Existing shareholders should consider buying on dips, such as the 5% sell-off after earnings were announced.
Summary:
The long-term growth prospects for Seadrill have not changed. It is still an excellently managed company in an industry that is riding a historical mega trend in offshore oil drilling that will likely last for decades. Continued strong utilization and day rates indicate that the troubles faced by its competitors have not affected Seadrill. Meanwhile, its new dividend policy indicates that future dividend growth is likely to slow substantially until market conditions improve significantly. This is likely to occur around 2020-2025, and will likely cause Seadrill's Adjusted EBITDA and dividend to grow strongly, which will create large and sustained upwards price pressure on the stock. At today's price Seadrill remains a "very strong buy".
Disclosure: I am long SDRL. I wrote this article myself, and it expresses my own opinions. I am not receiving compensation for it (other than from Seeking Alpha). I have no business relationship with any company whose stock is mentioned in this article.