My last article about AT&T (NYSE:T) drew some response from readers, some of whom asked me about Verizon (NYSE:VZ). After all, Verizon is another company in the telecommunication industry and the company also seems to suffer from a recent sell-off from the investors. In this article, we will take a look at Verizon from a long-term fundamental perspective.
In the chart below, we can see the fluctuations of Verizon's market cap in the last decade. I chose to pick the company's market cap rather than its share price as a comparison point because this accounts for the fluctuations in the number of outstanding shares by showing the total value of the company and lets us view the bigger picture regarding it. As you can see, since reaching the peak of $160 billion last year, Verizon's market value fell by about 13% to just above $140 billion.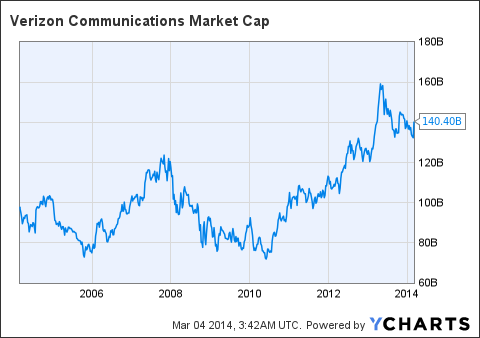 First, we will take a look at how Verizon's valuation compares to its earnings. Currently, Verizon trades for 11 times past earnings and 7 times past earnings after excluding cash (keep in mind that the company's cash balance will shrink considerably during this quarter as the company pays Vodafone to purchase its shares of Verizon Wireless). If we don't count the large spikes in 2011 and last year, this looks to be fairly in line with the company's historical standards and this valuation sees the company as a dividend stock with very limited future growth opportunities. It looks like the market has never been convinced that Verizon can post substantial growth and more importantly, the market has never changed its mind about the company even after it has proven time after time that it can actually grow its revenues and earnings.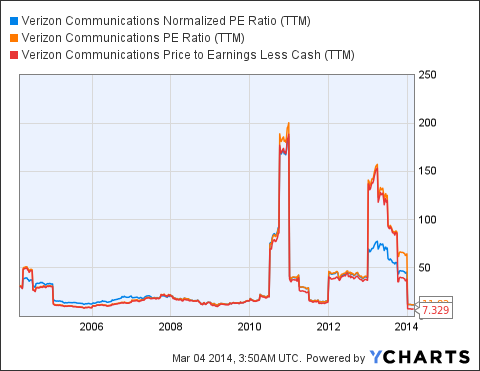 Now, let's take a look at Verizon's past growth. The chart below shows the massive revenue growth posted by the company in the last 30 years. Of course, these impressive results were helped greatly by the internet boom followed by the smartphone boom, but that doesn't make the company's success less impressive. Every year, Verizon is able to grow itself, and every year, investors and analysts say "Verizon was able to grow this year but this may be the last time we see it happen" and the very next year, the same thing happens. In short, Verizon is priced like its growth is over, even though the company has been pretty consistent about growing in the last three decades.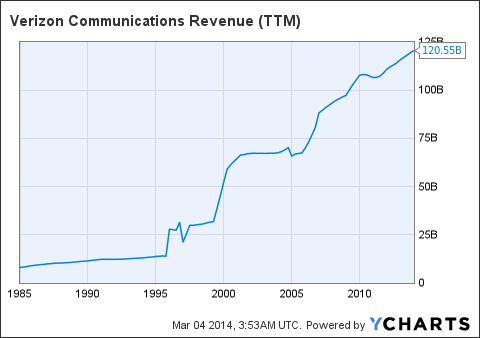 Verizon's margins have been improving solidly since 2011. For example, historically, the company's gross margins were around 70% until they crashed to 40% in early 2000s as the dot com bubble was getting crushed. In the mid-part of 2000s, Verizon's gross margins fell consistently after a short recovery until they bottomed at high 50s and currently they sit at 63%. If Verizon can get to its historical margins, the company can add another 10% to its gross profits even in the absence of a revenue growth.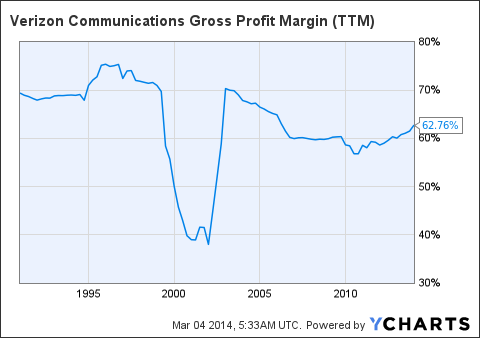 If we look at the company's operating margins, we see a different picture. After peaking at around 26% in 2000, the company's operating margin kept falling year after year until it finally bottomed at 11%. Last year, Verizon made a lot of progress in improving its profitability and the company's operating margin jumped to 26%, in line with its peak in 2000. If the company can keep its operating margin at this level, it's going to be solidly profitable for years to come. Last year, Verizon was able to cut its selling, general and administration costs from $40 billion to $27 billion, which played a massive role in the company's improved operating margins.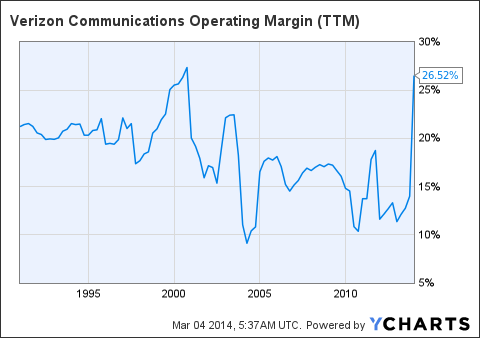 As Verizon recently acquired the shares of Verizon Wireless that used to be owned by Vodafone, this will allow the company to create a 10% synergy in its future earnings as well as allow the company to keep cash flow from its most profitable unit. Moving forward, this will probably allow for higher dividends and stronger stock buybacks. The company will also be able to invest in networks, purchase spectrum and be able to pay off its debt at a faster level. The chart below shows the dividend payments of Verizon in the last 10 years. Notice that the company has been able to increase its dividend payments pretty consistently over the years and there is no reason to believe that it won't continue to do so in the near future.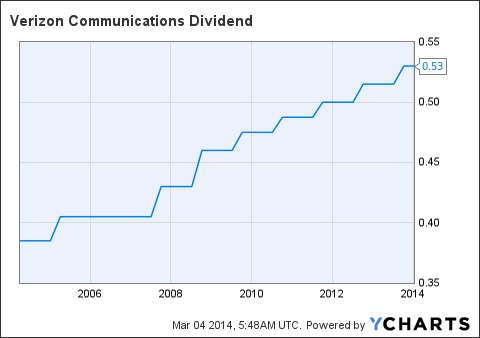 Furthermore, if we look at Verizon's dividend yield history, we see that the company's dividend yield has fluctuated wildly despite consistent increases in dividend payments. This is mostly a function of the stock price of the company. As you can see in the chart below, Verizon's yield fluctuated between 2.8% and 7.2% over the years. The historical average yield for the company would be around 5% and the current yield is pretty close to the historical average. Despite a strong growth history, Verizon continues to offer a solid dividend yield like as if it is some utility company.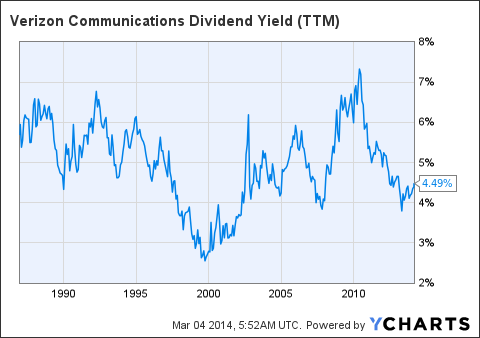 Moving forward, the analysts expect Verizon to earn $3.50 this year, $3.86 next year, $4.06 in 2016 and $4.36 in 2017. This indicates a strong growth rate and a low earnings multiple as we move forward. The current price targets range from $45 to $58 with median target at $55 (vs. the current price of $47). At this point, Verizon's share price is supported by its high dividend yield and many investors are looking for reliable income at a time when interest rates are exceptionally low. Given that many baby boomers are retiring as we speak, many dividend hunters will continue to buy up stocks like Verizon and the shares have limited downside from here. One could also say that the shares also have limited upside; however, combining the upside potential with the high dividend yield will give satisfactory results for most investors. I would suggest considering initiating a position with Verizon at the current price level.
Disclosure: I have no positions in any stocks mentioned, and no plans to initiate any positions within the next 72 hours. I wrote this article myself, and it expresses my own opinions. I am not receiving compensation for it (other than from Seeking Alpha). I have no business relationship with any company whose stock is mentioned in this article.