I am a firm believer in mutual funds and in the power of diversification, but every now and then I find it useful to question my assumptions. I wrote recently about "creating your own personal mutual fund," questioning whether the decline in trading costs might motivate more investors to trade in large numbers of individual stocks, instead of mutual funds.
If I was to buy an individual stock, what would I buy? There is a lot of chatter these days, that there is no more alpha in the market -- that stock prices reflect the true value of the stock -- that there aren't any hidden nuggets out there. While I'm not entirely sure I buy that premise, I do believe that the smaller the company, the fewer eyes are watching it.
Market Cap: Companies with less than about $1.5B in market capitalization tend to have zero to four analysts tracking them. Companies that are too small can have liquidity issues and are more volatile. So I chose companies with a market capitalization between $0.5 - $1.5B.
Steady Growth: I wanted to see some steady revenue growth, >3% for the last three years.
Price/Book: Normally, I would search on Price/Earnings, but given the recent market turmoil, I thought Price/Book would be a better metric, so I searched for P/B < 3.
I entered the search in Morningstar and found about 150 stocks that met the criteria. What surprised me was the number of stocks that are trading for less than book value. Here is the list of stocks with P/B <1.
Click to enlarge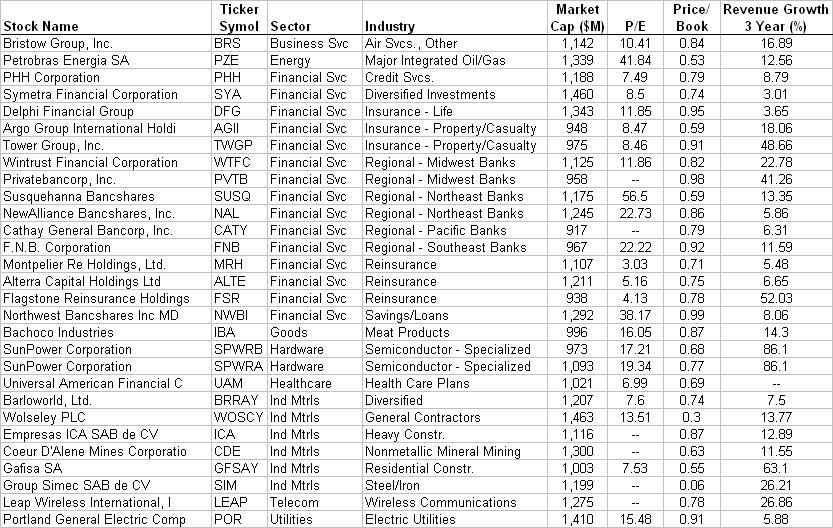 Sector Sorting: Then I noticed that two sectors were heavily represented -- financial firms and industrial materials. I can believe that banks carrying bad loans might be overstating their book value, and the housing crisis may be affecting the building materials businesses. There may be some gems of companies here, but I'll take a pass on the overall sectors.
Eliminating companies in the financial services and industrial materials sectors, I end up with the following short list:


The $64 Question: Why are these six companies trading for less than book value? It's a bit of an eclectic collection.
Petrobras Energia SA (NYSE:PZE) is an Argentinian oil and gas company. Its Brazilian brother, Petrobras Brazil, is $150B bigger.
SunPower (SPWRB, SPWRA) makes solar cells in Silicon Valley.
Leap Wireless (LEAP) delivers wireless communication in the West and Midwest under the Cricket brand.
The Bristow Group (NYSE:BRS) provides helicopter services to offshore oil platforms and for search and rescue missions. I wonder how the oil spill is affecting their business?
Bachoco Industries (NYSE:IBA) has over 700 production and distribution facilities in Mexico producing chicken, eggs, feed, and swine.
Portland General Electric (NYSE:POR) supplies power to 800,000 customers in Portland, Oregon. In addition to being priced below book value, it also pays 5% annual dividend.
Do you see any gems? Lemons? All of the companies are priced below book. Is their book value overstated? Are they just unloved? They might be worth further investigation.
Disclosure: No positions.