Sprint Corp. (NYSE:S) reported a net loss than narrowed in 2013 relative to the prior year. But the improvement was because of equity earnings in unconsolidated investments. The operating loss was flat Y/Y. So, it is clear Sprint didn't make any improvements to its operating structure from a financial prospective.
Verizon (NYSE:VZ) and AT&T (NYSE:T) dominate the industry. They have the technological advantage, which leads to pricing power and the ability to sustain their advantage. Looking forward, Sprint's strategy appears to be to consolidate the industry, which could improve its profitability. But Sprint would still be years behind in term of technology.
Sprint will have to show that it can be competitive before a value can be assigned to its equity, because right now, Sprint's equity could be worthless.
Recent Developments
Business Summary
Sprint Corp is a communications company offering wireless and wireline communications products and services to individual consumers, businesses, government subscribers and resellers.
From the profitability prospective, Sprint's revenue was adversely impacted by the economic recession during 2008 and 2009. But revenue never rebounded to the post-recession level as the competitive landscape eroded Sprint's growth prospects. The inability to compete in its industry is visible in the operating margin; specifically, Sprint is unable to generate consistent operating profits as SG&A expenditures and depreciation and amortization expenses reduce the operating profitability. Over the next three years, there could be incremental revenue growth from population expansion as well as increased sales of cellular network connected tablets, but I don't see anything that changes the competitive positioning of the firm.
On a more positive note, Sprint is able to generate positive cash flow from operations. But that cash flow is less than the amount spent on capital expenditures. That isn't a sustainable situation particularly for a company who relies on capital expenditures to remain competitive. As such is the case, Sprint raised over $18B from the issuance of common stock and warrants during 2013. It should be noted that Sprint is pursuing an acquisition strategy to improve its competitive position.
At the end of 2013, Sprint had 73 days worth of liquidity with a cash ratio of 0.70. The liquidity position was less than stellar. Debt was 56% of total invested capital. Also, the financial leverage ratio declined from 7.28, at the end of 2012, to 3.37, at the end of 2013. With a loss before interest and taxes, there were no earnings to cover the interest payments. The solvency position improved but appears likely to deteriorate unless Sprint begins generating significant operating income.
The quality of earnings during 2013 was low. Using the balance sheet method and the income statement/cash flows statement method, accrual represented the majority of earnings. The core operating margin increased from 13% in 2012 to 15% in 2013. The core operating margin suggests Sprint needs to focus on improving its gross profit margin and reducing SG&A expenditures.
Sprint investors should benefit from the completion of the Network Vision and the Nextel transition. But Sprint's capital expenditure requirements will remain high as AT&T and Verizon start to roll out LTE-a networks and Sprint attempts to play catch-up. Further, lower pricing combined with an inability to attract and retain customers puts Sprint at a competitive disadvantage. Unless Sprint can increase prices and/or increase its subscriber base, the company will remain in a relatively weak position relative to competitors.
Technicals & Valuation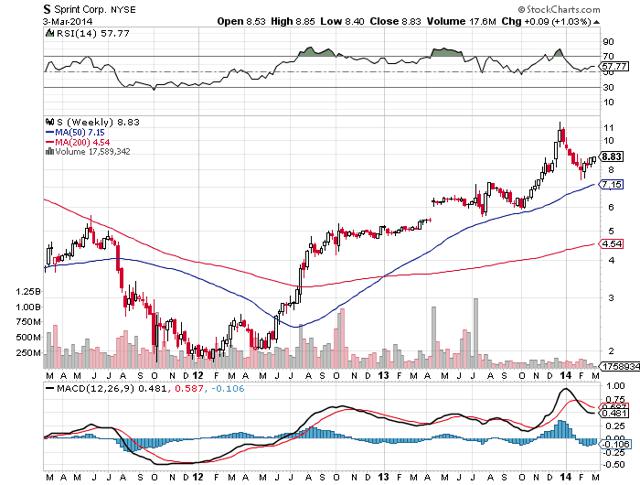 Sprint is in an intermediate-term decline as part of a primary degree bull market. Simply stated, this is a "dip-to-buy." Price targets would be in the $10-11 per share range. Aggressive investors would attempt to profit from a rise to $12+ per share.
My valuations include the fundamentals of the company, which assumes that it remains a going concern. In this case, there is no equity valuation model that I can employ. Sprint clearly has a liquidation value, which is helpful for fixed-income investors. As a going concern, Sprint's equity value is somewhere between worthless and highly uncertain but positive.
Disclosure: I have no positions in any stocks mentioned, and no plans to initiate any positions within the next 72 hours. I wrote this article myself, and it expresses my own opinions. I am not receiving compensation for it (other than from Seeking Alpha). I have no business relationship with any company whose stock is mentioned in this article.