Introduction
In our previous article on Chevron (NYSE:CVX), which was written in June 2013, we put a Hold recommendation on the stock. Since then, as we expected, the stock has gone about nowhere. Our main premise in that article was that the catalysts for upside did not outweigh growing costs of doing business and capital expenditures.
In our update, we are still pushing for a Hold rating as our new price target of $120 for 2014 shows limited upside for this major integrated. We believe that even though the future growth of the company is interesting, driven by the companies' activities in the Gulf of Mexico and Australia, yet, due to the increasing cost of drilling in the world as well as high cost of wages in its Australian operations, the growth of CVX is hedged.
In this article, we will focus on Chevron's business in Australia and the Gulf to discuss the company's investment in shale gas and LNG, which is buoyed by expected strong future demand from Asia. The secondary catalyst is the company's activities in the Mexican Gulf. We will also place CVX in the industry trends of major integrated oil/gas as well as show our projections for the company on how we get to our $120 price tag.
Business Overview
Chevron operates in almost every aspect of oil and gas business both upstream exploration and production, midstream refining and downstream marketing. Besides the traditional oil and gas business, CVX also is involved in the alternative energy business, such as geothermal, solar, wind, biofuel, fuel cells and hydrogen.
Chevron is one of the six "super major" oil companies, and it is ranked 11th on the list of Fortune 500 world's largest companies. The company's most significant area of operations are the west coast of North America, the Gulf of Mexico, Southeast Asia, South Korea, Australia and South Africa.
CVX's competitive advantage is its ability to apply new technology, which will help the company to lower its cost and capital spending, improve its current operating efficiency. As the vice president John MacDonald said, "we develop, access and apply technologies critical to our business. Our application of technology is a competitive advantage resulting in increased resource recovery and capture, lower costs and improved yields."
CVX has four business segments: upstream segment, downstream segment, chemical segment and other business segments.
Industry Trend
In 2014, we can expect that the oil and gas industry will continue to shift dollars from upstream exploration and production to midstream infrastructure, refinery operations and petrochemical facilities. The upstream business will focus more on improving operating efficiency on current and recent discoveries.
Below is the upstream and midstream capital spending growth from 2012 to 2013. As we can see, from 2012 to 2013, the upstream capex in the industry has only increased from $354.4 billion to $354.8 billion, while the midstream capex increased from $12.8 billion to $46.4 billion (263%), and the downstream capex had a growth of 11% to $24.7 billion in 2013. For these companies, profits are being found more in marketing, pipelines, refining over the high cost to drill.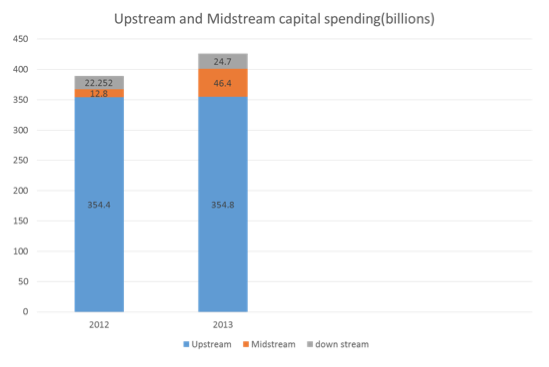 Another negative for margins is that the US Department of Labor estimates that about 50% of current labors working in the oil and gas industry will be eligible for retirement. As a result, the previous positions will be filled with new labors through talent acquisitions. The competition of talent acquisition will put an upward pressure on companies' margin due to expected increasing labor cost. What's more, the number of players in the industry will continue to increase which will cause increasing competition.
Thus, in order to maintain its current competitive position in the marketplace, the company must have strong competitive advantage to compete and attract more skilled employees. The company's current competitive advantage is its ability to adopt new technology, which would help to reduce the cost of operating business and improve its operating efficiency. However, due to the increasing cost of drilling and expected increasing labor cost, CVX's competitive advantage can only help to sustain its current operating margin, rather than support the company for high earnings growth.
Main Catalyst
The main catalyst for Chevron has to be its Australia shale gas and LNG investment. CVX currently has two projects in Australia: Gorgon Project and Wheatstone Project.
Gorgon Project
The Gorgon project covers both the Gorgon field and Jansz-lo field, which is about 130 and 220 kilometers off the northwest coast of Western Australia. Gorgon is a strictly natural gas project in West Australia, and it is the more important of the two.
There are two plants built in the project: one is in Barrow Island with 15.6 MMTP natural gas production, another one is in the mainland of Australia with 300 terajoules per day production capacity. Below is the Gorgon project map: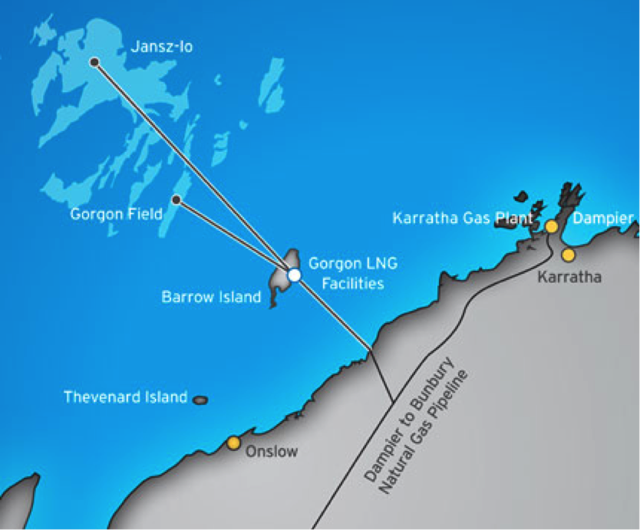 CVX has agreed to pay $349 million to Beach Energy Ltd. (OTCPK:BCHEY) for Australia's natural exploration campaign. The payment will be paid in two stages over several years. CVX will pay $36 million cash to Beach Energy first, and then pay $95 million for the cost of 30% of South Australia's permit, and another $59 million for the cost of 18% of Queensland's permit. At the end, CVX will acquire 60% of South Australia's permit, and 36% of Queensland's permit.
The stakeholders of the project includes: Chevron Australia, Shell Development Australia, Mobil Australia Resources, Osaka Gas, Tokyo Gas and Chubu Electric Power.
Below is the stake share of each company in the Gorgon project: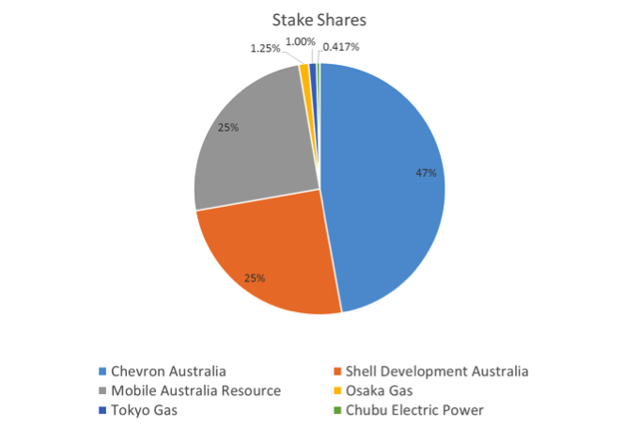 The next question is how much revenue potential does the Gorgon project have? For the project, over 300 hectares of land have been acquired on the Barrow Island. The project has three LNG trains, each have the capacity of 5 MTPA. The ground breaking of the project started to happen on December 1st, 2009. The project will start to supply LNG in 2015, and the production is expected to end between 2054- 2074.
The question that investors all want to answer is how much money can they make off of this project, and what part will be returned to investors. The company expects with Gorgon and Wheatstone (we will discuss more later) that they will double production of LNG by 2017 as part of a company initiative to increase boepd to 3.3M from 2.6M. Therefore, we can expect Gorgon to be a part of increasing revenue by around 1.25x by 2017. The price of LNG is also expected to rise throughout this time period as well, so that will help the company's mix improve over time, but it means that the amount gained for some parts of the boepd will be lower.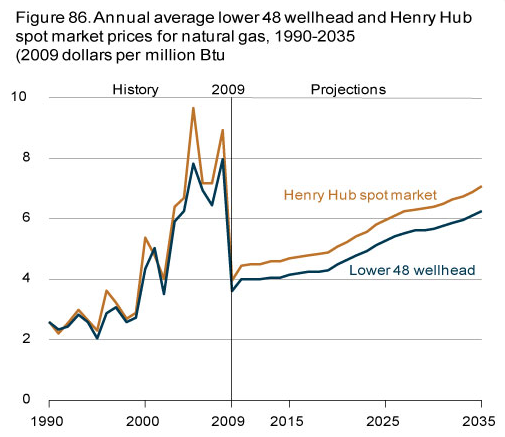 (Source)
Yet, the fears we have had about the company's rising costs can already be seen in Gorgon. Estimates rose to $54B for the cost of the project from the original $37B mark. Some of the main reasons for the boost are high wages, weather, logistics, and cost issues. Further, the project has been delayed until mid-2015 from what was supposed to be an early 2015 start. The project, though, will produce for forty years or so, so a slight delay is not a big deal. Yet, the issues surrounding show the high-costs of doing business.
For us, the project represents tremendous upside as a catalyst to growth, but we worry about high costs, investments, and lower margins due to lower prices/high costs. While LNG is growing in demand, prices are still expected to stay relatively flattish for some time.
Wheatstone Project
The Wheatstone LNG project has one facility at Ashburton North Strategic Industrial Area (ANSIA), which is located 12 kilometers (7.5 mi) west of Onslow, Western Australia, plus two LNG trains with total combined capacity of 8.9 million MTPA. The project also has one gas plant in the domestic Australia. CVX has 64.14% stake of the whole Wheatstone Project, and 80.17% of the LNG equity.
Below is the Wheatstone Project map: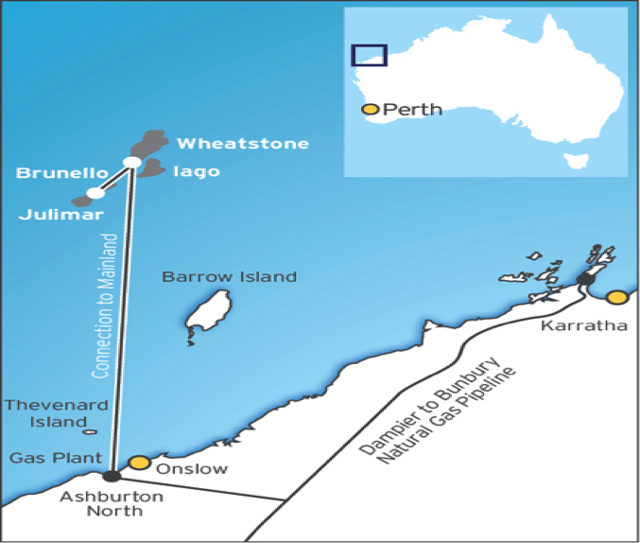 The stakeholders of the project includes:
· Chevron Australia Pty. Ltd.
· Royal Dutch Shell, Apache Julimar Pty Ltd, a subsidiary of Apache Corp,
· KUFPEC Australia (Julimar) Pty. Ltd., a subsidiary of the Kuwait Foreign Petroleum Exploration Co.
· Kyushu Electric Power Co.
Below is the overview of the stakeholders: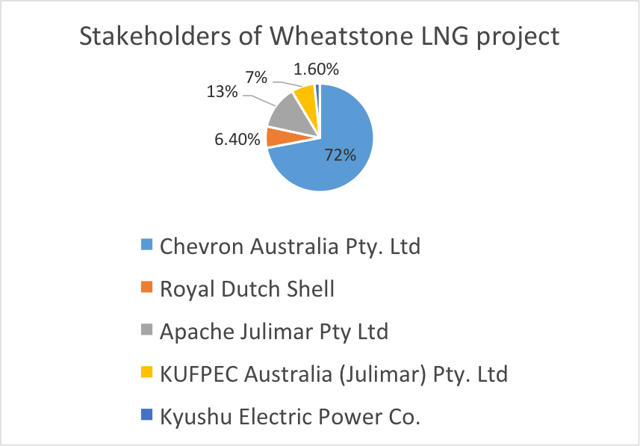 The Asian market will be a strong consumer of the Wheatstone LNG project. Some of the major buyers are:
· Tokyo Electric. - 3.1 million tonnes of LNG per year
· Korea Gas Corp. (KOGAS) - 1.5 million tonnes per year.
· Tohoku Electric- 1 million tons per year
· Chubu Electric- 1 million tons per year
· Kyushu Electric. - 300,000 tonnes per year
Yet, we worry about margins. Natural gas companies, as a whole, have thinner margins:
Thinner operating margins also impacted Chevron's upstream earnings last year. This is because the company's production skewed more towards natural gas, which has slimmer operating margins, compared to liquids. This is especially the case in the U.S., where gas prices are severely depressed compared to international markets due to a glut of supply from unconventional sources. Natural gas contributed 33.3% to Chevron's total net production in 2013, compared to 32.4% in 2012.
The company will get some of that margin back with an increase in prices from international sources, but we should not expect any increase in margins from LNG moving forward. In the company's last quarter, they highlighted weakness in upstream margins due to lower liquid realizations and higher exploration costs, which is at the crux of the issue. Costs and digging and sources change, become scarcer, and harder to get to making costs continually rise.
While we believe this project will greatly increase overall production and revenue, we do not foresee any positive impact on margins.
Secondary catalyst
The secondary catalyst of CVX is its recent new oil discoveries and explorations in the Gulf of Mexico. In March of 2013, Chevron announced its new discoveries of oil in the deep water of the Gulf. The company currently has two projects under its schedule- Jack/St. Malo and Big Foot projects, which are expected to produce at the end of 2014. The two coming projects are named after the oil field it locates, which is in South Texas. It is expected to invest $12 billion for these two projects.
The current general manager, Joe Gregory, called the two projects "a significant part of the company's growth strategy." The two projects are expected to produce 230 K barrels of oil per day. Jack /St. Malo project has 75K tons of oil, while the Big Foot is expected to have 200 million barrels of potential recoverable oil.
Below is the map of CVX's current and prospective projects: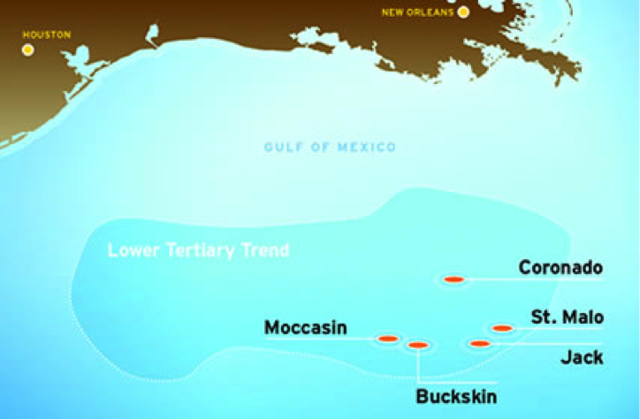 The discovery is obviously another major discovery and will help the company continue towards its 2017 goals. There is a lot of potential here, but the potential yield is smaller as a part of the growth plan.
Pricing/Valuation
Revenue
We expect revenue growth to be 5% in 2014 and 2015. From 2016 to 2018, the revenue growth will maintain around 4-5%. We see this level because CVX expected its oil-equivalent production to achieve 3.3 million barrels per day by 2017. As we know, the company's 2012 oil-equivalent production was 2.6 million barrels per day. If the oil-equivalent average price remains constant, then CVX's revenue in 2017 should be 1.27 times compared to its 2012 revenue. CVX's 2012 revenue was $241909 million, so its 2017 revenue is expected to be $307038 million. That's around a 5% CAGR rate. The company will grow at a solid rate during this time.

Operating Margin
The operating margin is likely to be flat to potentially even lower as the mix moves more towards LNG. Additionally, we worry about the rising cost of drilling and exploration increasing in recent years as well as the high cost of wages in the company's Australia operations. Margins dropped to under 16% from 19% in 2011-2012. We would expect them to stay around these levels, and we used a 15-16% rate for the coming five years.
Tax rate
CVX's effective tax rate has remained around 43% to 44% from 2009 to 2012. The company's expected tax rate should stay at those levels with a potential drop off as the company increases in international markets. As we know, the international market has a lower tax rate environment compared to its domestic US market. CVX is going to operate more business in its international market such as Australia. As a result, we used a 42% effective rate.
Capex
CVX expected its capex to be $39.8 billion in 2014 and remain flat around $40 billion after that. We believe that it is mainly because the company is currently in a phase of heavy investment in different projects. We believe after that, the capex should start to decline back down as they see investments pay off and reduce those investment cycles.
Shares outstanding
By analyzing the CVX's forward looking statement, we didn't see any intention that the company have to issue more shares, so we will just use the current level of 1.914 billion shares.
Discount Rate
We used a moderate discount rate due to lower growth environment with low risk for a 5% cap rate.
Price Target
Thus, when we use these numbers in our model we come up with $120 for our price tag.
Conclusion
In conclusion, we believe that future increasing cost drilling and high cost of upstream operating will put upward pressure on the company's margin, plus its low long-term growth, which is not able to support a higher level of price. Therefore, we want to put a hold rating with the price target of $120 on Chevron. In our model, we have used a lowering CapEx environment as well as fairly healthy revenue growth levels, and we do not see much reason to buy. If margins can bounce, and that requires a major increase in natural gas prices that no one sees coming, we could be underestimating.
Disclosure: I have no positions in any stocks mentioned, and no plans to initiate any positions within the next 72 hours.
Business relationship disclosure: I have no business relationship with any company whose stock is mentioned in this article. The Oxen Group is a team of analysts. This article was written by David Ristau, one of our writers. We did not receive compensation for this article (other than from Seeking Alpha), and we have no business relationship with any company whose stock is mentioned in this article.