It's been more than ten months since Apple (NASDAQ:AAPL) announced a huge expansion to its capital return plan. Apple hiked the plan to $100 billion, and most of the raise was going to be through share repurchases. Included in the announcement was a 15% hike to the dividend. With nearly a year gone since Apple planted its foot as a capital return powerhouse, it's now time to look forward to 2014. Today, I'll analyze the prospects for a dividend raise this year.
Where Apple's dividend stands now:
The three main large cap technology names that rival Apple in terms of dividends are Microsoft (NASDAQ:MSFT), Cisco Systems (NASDAQ:CSCO), and Intel (NASDAQ:INTC). At the moment, these three names all have higher dividend yields than Apple, as you can see from the chart below. But remember, Microsoft and Intel have been paying dividends for several years, and Cisco started its dividend about a year and half before Apple restarted its dividend.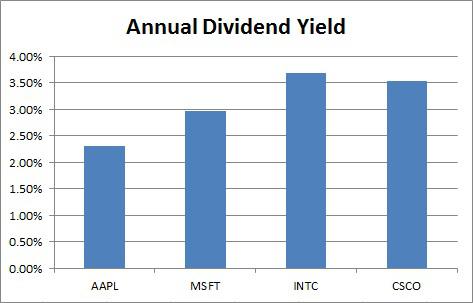 Apple is behind, but remember, just a few years ago, Apple (and Cisco if you go back even further) had no dividend. Since Apple last raised its dividend, there has been a wide mix in terms of these other names. Intel has not raised its dividend, amidst declining revenues and plunging earnings. Intel needs a very strong year in 2014 for a dividend raise, and I personally don't see it happening. Intel's dividend yield is likely to stay in the 3.50%-4.00% range for now as the stock price moves. Intel investors are most likely looking at a second consecutive year of no dividend raise. With its most recent earnings report, Cisco announced a two-cent raise to $0.19 per quarter for its dividend. That has pushed Cisco's annual yield closer to that of Intel, and is making Cisco look like an interesting dividend play at current levels. Back in September, Microsoft came out with a huge nickel increase to $0.28 per quarter. That initially put Microsoft's yield around 3.40%, but with shares rallying since, Microsoft's yield has come back down. I'm guessing those invested in Microsoft aren't complaining, with shares up as much as they are.
Cisco's raise was almost 12%, and Microsoft's raise was almost 22%. Those numbers might provide some good starting points for Apple's raise. Unlike Intel, I am basically guaranteeing a dividend raise for Apple this year. What will the new dividend be? Well, let's examine a number of factors that are in play.
The share count has come down nicely:
You may remember a couple of weeks ago that Apple bought back a large amount of stock when shares fell post-earnings. The $14 billion repurchase helped to put a short-term floor in Apple shares. More importantly, Apple will reduce its outstanding share count by a decent clip in fiscal Q2, which ends in March. In that linked article, I provided the following chart as an estimate to what Apple's outstanding share count will look like at the end of Q2. Remember, the quarters below are fiscal quarters, with Apple's fiscal year ending in September.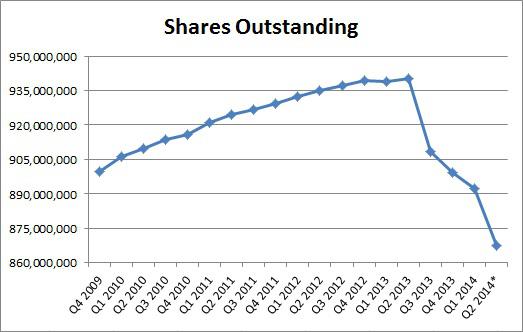 *Q2 value assumes share count down by 25 million due to buyback partially offset by some dilutive securities.
When Apple reported fiscal Q2 results in April last year, the outstanding share count was a tad above 940 million. My estimate above is for a Q2-ending share count of approximately 867 million, which I said could be conservative depending on any share repurchases that were made pre-earnings or after the $14 billion purchase was announced. At 867 million, Apple would have lowered the outstanding share count by about 7.77%. Thus, most investors will probably be expecting at least an 8% raise in the dividend, to account for the lower share count.
When Apple ended its quarter in late December, the company had about $32 billion left on the buyback, as per page 17 of the 10-Q filing. We know that Apple bought back at least $14 billion in Q2, leaving around $18 billion or so on the plan, expected to end in calendar 2015. Apple will continue to get the share count down, which should be beneficial for the dividend.
Looking at Apple's cash pile:
To pay dividends and buy back stock, Apple obviously needs cash. Apple has the largest cash pile out there, and that cash pile has grown tremendously in recent years. In the following table, I've compiled the main components of Apple's cash pile and detailed how much of that is domestic (US-held). Dollar values in millions.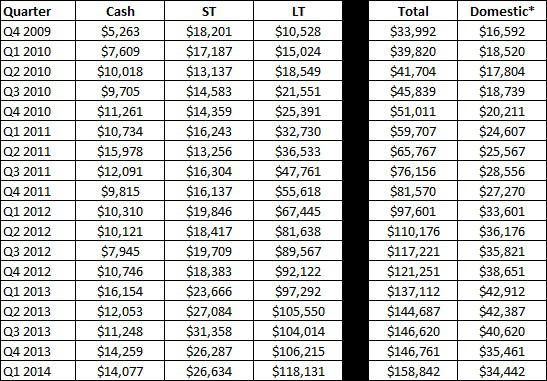 *Foreign numbers rounded to nearest $0.1 billion, so domestic number may be slightly off due to rounding.
At the end of fiscal Q1, Apple had $124.4 billion in its cash pile held by foreign subsidiaries. If Apple brings those funds back to the US, it would face material repatriation taxes. Apple has not indicated any willingness to return these funds to the US and pay taxes. Only funds inside the US can be used for dividends and buybacks, so the domestic portion of the cash pile is the key number to watch.
Thanks to the dividend and the buyback, Apple's domestic cash balance at the end of fiscal Q1 2014 was at its lowest point in two years. This includes the fact that Apple took out a bunch of debt during 2013. Also, Apple has bought back $14 billion worth of stock already in this quarter, so the domestic cash pile is closer to $20 billion at the moment. It will be very interesting where these numbers finish fiscal Q2 at.
So, there are two key points here. First, Apple's domestic cash pile is at its lowest point in a couple of years. I don't think Apple will repatriate any funds in the short term, which means we could see another round of debt, like we did in 2013. The second key point is that Apple's buyback is down to about $18 billion, or perhaps less by now. If Apple slows down the buyback a little, it would allow more US cash flow to be used for the dividend. In fiscal Q1, Apple paid $2.769 billion in dividends, against $2.493 billion in the year-ago period. That reflects the increase in the dividend offset by a lower share count for the period.
My official prediction:
I've mentioned a couple of numbers that are important in determining the dividend raise. First, Apple will have reduced the share count by around 8% over the past year. Second, Apple raised its dividend by 15% last year. Third, Cisco and Microsoft raised their dividends by 12% and 22%, respectively. In the following table, I've detailed what a dividend raise could look like, in terms of the money raise, percent raise, new annual total, and annual yield based on Monday's close. I'll detail the yellow area's importance after the table.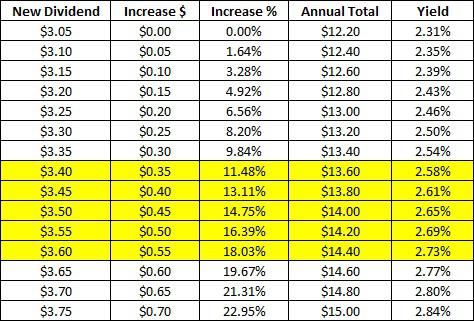 The yellow range is where I generally expect Apple to have its new dividend. I'm pretty sure that Apple will raise its dividend by more than 8%, so I started my range around where Cisco's raise was. Given Apple's heavy use of cash for the buyback, I wasn't willing to go all the way up to the Microsoft raise for my range. However, I included up to $3.75 a quarter for the table to show what a Microsoft-like raise would look like. My official prediction is that Apple's new dividend will be in the $3.40 to $3.60 range, or an 11.5% to 18.0% range. The midpoint is $3.50, which would be about the same 15% range investors saw last year.
Why this makes Apple look much better:
Obviously, any dividend raise will make Apple look much better against its tech industry peers. The following chart shows how Apple's yield would get closer to the competition, using the current $3.05 quarterly rate in comparison to a $3.50 quarterly rate.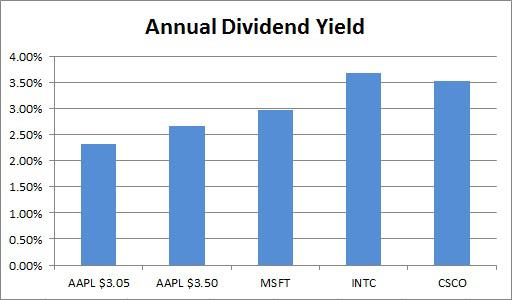 As of Monday's close, Apple's annual yield trailed Microsoft's by 65 basis points, Intel's by 136 basis points, and Cisco's by 121 basis points. A dividend of $3.50 per quarter at current prices would eliminate more than half of Microsoft's lead, one quarter of Intel's lead, and almost 30% of Cisco's lead.
The other way that this makes Apple better is because you are getting shares at a decent valuation currently. In the following table, I've compared Apple against other top-tier tech names, including Google (NASDAQ:GOOG). This table shows current growth estimates for each name, along with the annual dividend yield. I also included a line for Apple's new dividend yield with a $3.50 quarterly payout.

*EPS growth and P/E values are non-GAAP.
Apple is trading at a sizable discount to both Intel and Microsoft, and a comparable valuation to Cisco when Cisco's earnings are converted to GAAP. An extra 34 basis points in annual yield would make Apple look like an even better investment, especially given the current growth forecast. Apple also has the most powerful buyback of these names at the moment. In comparison, Google offers no dividend or buyback, but some extra growth and further dilution each quarter.
Final thoughts:
Today, I examined the prospects for Apple's potential dividend raise in 2014. The share count will be down by approximately 8% over last year when Apple reports in April. While the company has used a lot of cash on the buyback, Apple should still have over $20 billion in domestic US cash resources, and the company is still producing a lot of cash. My personal estimate is a raise to $3.50 per quarter, which would boost Apple's annual yield by 34 basis points at current prices. That raise would certainly narrow the gap to other top-tier tech names, and make Apple an even better investment at the current valuation. How much will Apple raise its dividend this year? I look forward to hearing your projection in the comments below.
Disclosure: I have no positions in any stocks mentioned, and no plans to initiate any positions within the next 72 hours. I wrote this article myself, and it expresses my own opinions. I am not receiving compensation for it (other than from Seeking Alpha). I have no business relationship with any company whose stock is mentioned in this article.
Additional disclosure: Investors are always reminded that before making any investment, you should do your own proper due diligence on any name directly or indirectly mentioned in this article. Investors should also consider seeking advice from a broker or financial adviser before making any investment decisions. Any material in this article should be considered general information, and not relied on as a formal investment recommendation.