The recent action in the market is more than an abrupt over-reaction to contagion fears in Europe, the slowdown in China, and concerns of the Fed eventually raising rates. The price action dictates that mutual funds and individual investors, including the high wealth investors, are finally throwing in the towel, taking profits and liquidating positions.

It is common for profit taking to start with the top performing stocks, which in theory is the wrong approach, as the winners are likely winners for a reason. However, human psychology and trading usually results in the relationship of take profits on winners, and hold onto losers hoping for a comeback.

You can see it clearly in the market recently, as top performers that are posting blowout earnings are suddenly succumbing to heavy late day selling pressure. It was seen with Industrials like John Deere (NYSE:DE), Commodity names like Dow Chemical (NYSE:DOW), and especially apparent in Tech stocks like Cree (NASDAQ:CREE) and Cisco (NASDAQ:CSCO).

I ran a quick screen to find stocks that are trading 20% or higher above their 200 day exponential moving averages, feeling that a return to the mean approach is appropriate considering the overall S&P Index is trading back to its 200 day moving average. Sorting through the list for names that seem to be over-valued on most metrics and appear to have topped, I came to Perrigo (NYSE:PRGO) as a top short idea.

Perrigo Co (PRGO) is a maker of over the counter drugs and generics that has more than tripled since early 2009. Shares are currently trading at $58.60, off recent highs of $65 after raising its full year guidance, and 34.5% above its 200 day moving average.

Shares trade 18X earnings, PEG of 1.85, 2.5X sales, 5.1X book value, and 19X cash flow. At an EV.EBITDA of 13.8, Perrigo trades around 30% above the average of other generics Teva Pharma (NYSE:TEVA), Mylan (NASDAQ:MYL), and Watson (WPI).

Collins Stewart rates shares a Buy with a $73 target, and Caris and Co. rate shares an Above Average with a $72 target.

The Company recently spent $808M to buy a private label maker of baby food, and the balance sheet is alright on most liquidity measures, but the Debt/Equity ratio of 0.8 is very high for the drug industry. Perrigo does 79% of its revenues in the US and 6% in the United Kingdom, so it is heavily exposed to Consumer Healthcare spending in the US. As the jobless numbers fail to show any signs of improvement, and consumers continue to cut back on spending, there is a high probability that Perrigo's 2010 forecast may be a reach, although being a provider of the cheaper alternative store brands of drugs should allow the Company to continue to gain a larger piece of the pie, albeit a shrinking pie.

The Technical Analysis shows that shares are tired and showing a topping formation, overbought on MACD and RSI on the weekly. The last time shares broke out past key resistance was late 2007 for a 100% climb in share price, while the most recent breakout in January 2010 was for a 50% climb in share price. Similar to the action from 2007 to 2009 I expect shares of Perrigo to re-test the breakout level, this time being $40.50, or 30% lower from here.
Click to enlarge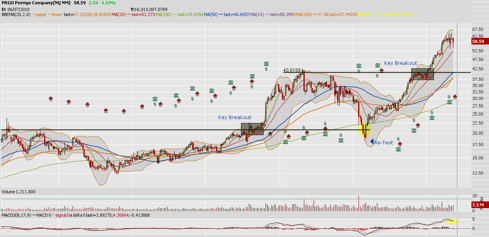 Click to enlarge

In the end, I think Perrigo is over-valued, over-extended on the charts, and susceptible to selling on account of taking profits in what has been a big winner, whether it be the right approach or not by investors. The Company is doing a lot of things right, but it is key to separate a good company from a good stock, and at the current juncture I see Perrigo as a great company with an over-priced and overbought stock.

Once shares return to an appropriate level in the low $40's I will be an adamant buyer, but for now it is one of the top short set-ups I see in the market.

Disclosure: No Current Position, Considering Puts in PRGO if Liquidity Comes In.