The ongoing ''Shutdown Bangkok, Restart Thailand'' protests and seemingly never ending series of political crises in Thailand may have emerging market investors in the iShares MSCI Thailand Index Fund (NYSEARCA:THD), the Thai Fund Inc (NYSE:TTF), the Thai Capital Fund (NYSEMKT:TF-OLD) or the (soon to be launched) DMS Thailand Select 33 Index Fund feeling on edge. But having just been to Bangkok where I observed some of the protests, I think the impact of this latest Thai political crisis compared with previous ones is being blown out of proportion by Western media as the real political test for Thailand has yet to come while the country itself faces the same root problem increasingly faced by all democracies (including our own).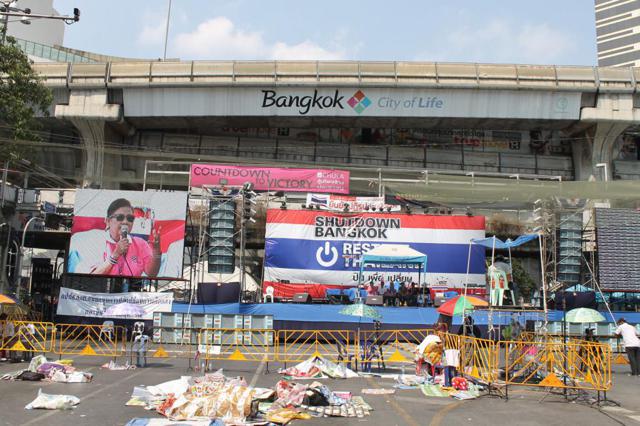 Note: All photos in this article were taken by myself on Tuesday, February 25, 2014.
What is the Cause of Thailand's Latest Political Crisis?
In case you are not a follower of Thai politics, here is a quick summary of the political quagmire that Thailand has fallen into in recent years:
Thaksin Shinawatra, who might be best described as the Juan Peron of Thai politics, is a Thai business tycoon from Northern Thailand who was Prime Minister from 2001 until 2006 when he was overthrown in the country's last military coup (Note: He was the first elected prime minister of Thailand to actually complete a full term in office - which might give you an indication of the rough and tumble world of Thai politics). During his regime and since then, he has been accused of just about everything you can think of by his enemies, including corruption, authoritarianism (e.g. silencing the media), human rights abuses, treason, conflicts of interest, tax evasion, concealing his wealth, lèse majesté (insulting King Bhumibol) and selling assets of Thai companies to international investors.
However and perhaps his greatest crime in the eyes of the urban middle class and Bangkok residents especially was that he is a Northerner populist politician who appealed to the rural majority by giving them generous subsidies and handouts that are naturally paid for by someone else.
In the years after Thaksin's overthrow, Thailand has limped from one political crisis to another with Thaksin's elected successor forced from office after being found guilty of a conflict of interest by the Constitutional Court of Thailand (due to his hosting of a TV cooking program of all things), anti-Thaksin "Yellow Shirt" demonstrators seizing control of Bangkok's international airports in 2008 and another PM, who happened to also be Thaksin's brother-in-law, being removed in what critics called a "judiciary coup" (shortly after assuming the PM role, he had to climb a fence to escape angry demonstrators who then took 320 parliamentarians and senators hostage inside the Parliament building).
That "judicial coup" led to the prolonged and somewhat violent "Red Shirt" protests in 2010 against the military approved anti-Thaksin successor. The Red Shirts took over Bangkok's shopping districts and splashed their own blood at Government House plus there were numerous grenade and bomb attacks against government offices or the homes of government officials. The authorities responded by taking an often heavy handed approach towards restoring order.
On July 3, 2011, Yingluck Shinawatra (the youngest sister of Thaksin and basically his proxy) won the general election by a landslide (265 seats out of 500 in the House of Representatives) to become the nation's first female prime minister, but a November 2013 proposed blanket amnesty bill that would have absolved those responsible for the 2010 crackdown on the Red Shirts as well as clear charges against Thaksin (possibly paving the way for his return from exile and to power) angered both his supporters and opponents alike - triggering the latest political crisis and protests (The bill was ultimately rejected by the Senate).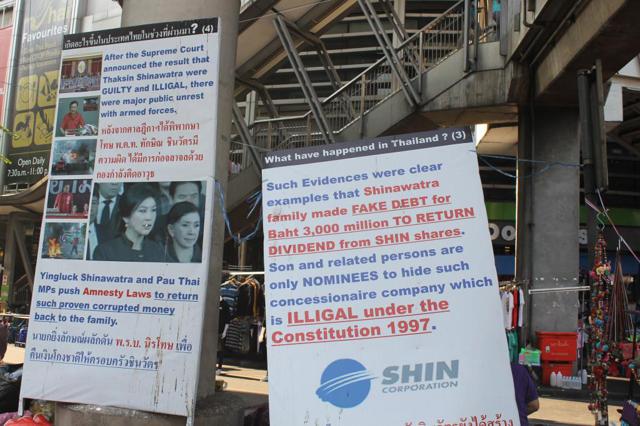 The Shutdown Bangkok, Restart Thailand Protests
I was recently in Bangkok and Hua Hin for about 1.5 weeks and this is what I observed about the ''Shutdown Bangkok, Restart Thailand'' protests in the limited time I was able to observe them (Note: I have uploaded the over 100 pictures I took of the protests here plus a couple of videos in a YouTube playlist here to give you a sense of what the Western media may not be showing as the protests, at least during the weekday when I was there, are much less dramatic than previous ones):
Well Organized and Well Funded by Someone. These protesters are not your crazy Occupy Wall Street types ranting random and incoherent messages about a litany of grievances. Instead, the protesters at these protests are well organized (by the standards of Thailand and protests in general) and well funded as they have sound stages (for people to make constant speeches or to provide entertainment), tents (many of which are camouflaged and look like they are intended for use by the military), event tents providing shade about the individual tents, TV equipment, huge speakers (unless the discount is big enough, I don't advise tourists to stay at a hotel near any occupied intersection), big screens, satellite dishes (I presume the protests are being broadcast live on TV or cable channels controlled by the opposition), printed placards (in Thai and in English for the world media), protest souvenirs and the like. And while I don't know enough about Thai politics to speculate on who in the opposition is running or bankrolling the show (or for that matter, to take sides and be for or against the government), someone with plenty of money to spend is obviously organizing things.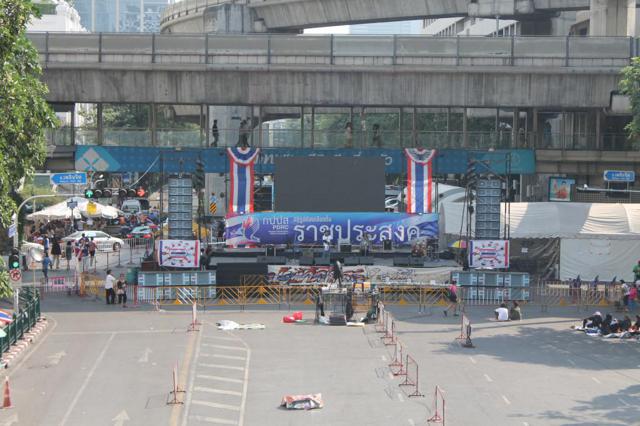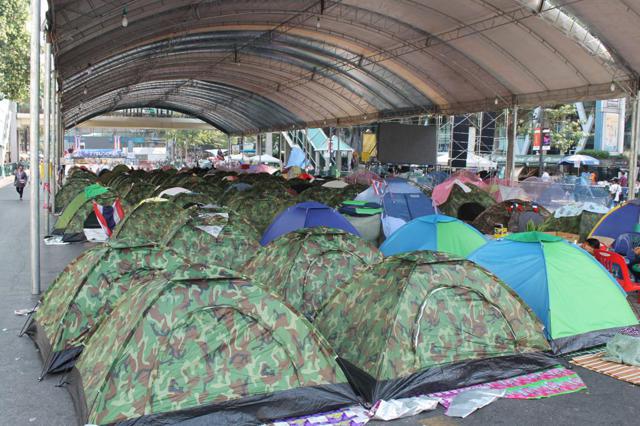 The Economic Impact May Be Overstated. I was in the Th Phra Ram I road and the Sukhumvit MRT area and then the Lumphini Park / Silom MRT station intersection areas late in the morning into late afternoon and then again in the evening on a Tuesday (February 25th) - meaning it's hard for me to make a judgment call about how much business the malls in Bangkok's main shopping areas are actually loosing as some malls seemed rather quiet while others were more lively (again, it was a Tuesday) with both locals and tourists alike.
If anything, I think the actual problem for the malls and retailers is the fact that the protests have spawned a huge flea market on the streets outside of them where vendors are selling everything from Shutdown Bangkok memorabilia to insect snacks (a Thai delicacy) to offering massages for tired protestors and tourists alike. I think it's also safe to say that none of these vendors are paying proper VAT to the government (unlike the retailers and restaurants in the malls) while the new outdoor markets encourage everyone (locals and tourists alike) to stay out of the malls and to congregate on the streets (although its actually nice to have the streets of Bangkok for once turned into pedestrian only thoroughfares - like what Jakarta does on a monthly basis).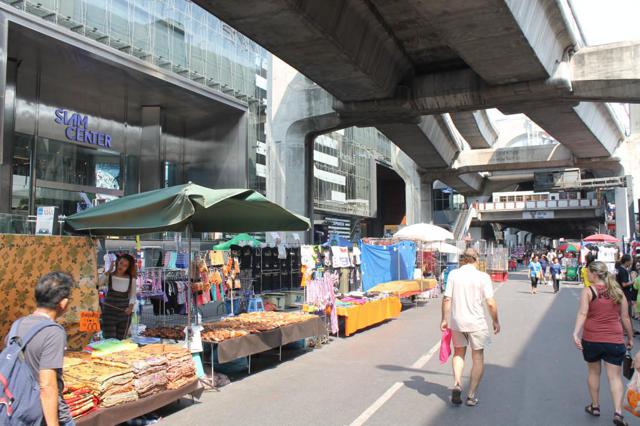 The BTS trains were definitely more crowded than what I have experienced on other trips to Bangkok, but that was because the streets below were blocked - something I am sure the malls and hotels are not happy about. However and when you think about it, the streets below the BTS trains are usually like parking lots because they are choked with traffic (except when I was in Bangkok during the floods a few years ago) - meaning it's not a complete disaster for them as they are still largely accessible.
Lumphini Park along with some other areas though will definitely need a good scrubbing and mowing as they are starting to resemble Occupy Wall Street encampments (Lumphini Park will supposedly remain occupied by protesters from Phuket and Southern Thailand for some time even if the streets are all cleared by protest organizers):
If anything, the problem for the malls and hotels in the areas that are blocked off by the Shutdown Bangkok protests and for Thailand in general is all the negative publicity the western media is spreading that encourages tourists to stay away from Thailand. In reality, the protests are confined to small areas of Bangkok (albeit, these are key business and tourist areas). Of course and should the protest organizers decide to escalate matters by taking over the airports (again….), that would create huge problems for Thailand's image and tourism economy.
However, it should be mentioned that while tourism is an important component of the Thai economy (7.3% of total 2012 GDP or 16.7% if you count the wider impact of tourism according to a detailed World Travel & Tourism report for the country), the economy is actually dependent on industrial exports which account for around 2/3rds of GDP. In other words, the massive floods a few years ago caused far more widespread devastation to the Thai economy than a few protestors camped out on roads and key intersections in the shopping districts of Bangkok.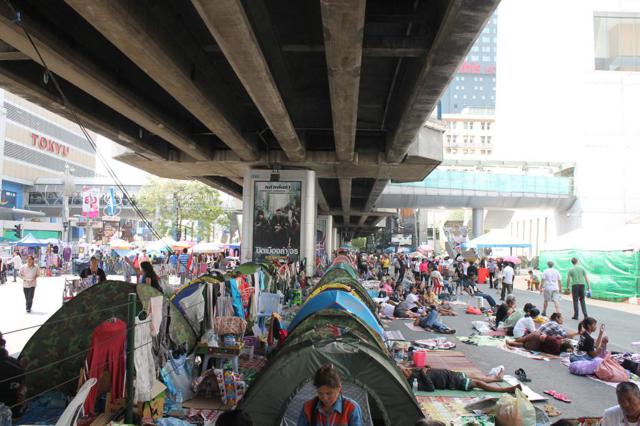 Thailand's Century-Long Coup Season
With the current ''Shutdown Bangkok, Restart Thailand'' protests in mind, let's consider just how unstable Thailand is by historic standards by taking a look at the following list of coup or coup attempts compiled by the Australian National University's Nicholas Farrelly for a New Mandala article:
| Coup | Details |
| --- | --- |
| Coup (attempt) of 1912 | Some details are available here. |
| Coup (attempt) of 1917 | Aborted: Few details seem to exist. |
| Coup of 1932 | Friday, 24 June 1932 |
| Coup of 1933 | Tuesday, 20 June 1933 |
| Coup of 1939 | Some details are here. |
| Coup of 1947 | Saturday, 8 November 1947 |
| Coup (attempt) of 1948 | Some details are available here. |
| Coup (attempt) of 1949 | Saturday, 26 February 1949 |
| Coup (attempt) of 1951 (Manhattan) | Friday, 29 June 1951 |
| Coup of 1951 | Thursday, 29 November 1951 |
| Coup of 1957 | Tuesday, 17 September 1957 |
| Coup of 1958 | Monday, 20 October 1958 |
| Coup of 1971 | Wednesday, 17 November 1971 |
| Coup of 1976 | Wednesday, 6 October 1976 |
| Coup (attempt) of 1977 | Saturday, 26 March 1977 |
| Coup of 1977 | Thursday, 20 October 1977 |
| Coup (attempt) of 1981 ("Young Turks") | Wednesday, 1 April 1981 |
| Coup (attempt) of 1985 | Monday, 9 September 1985 |
| Coup of 1991 | Saturday, 23 February 1991 |
| Coup of 2006 | Tuesday, 19 September 2006 |
Source: Counting Thailand's coups
By his count, there have been 11 "successful" and 9 "unsuccessful" coup efforts for a total of 20 over the past century or so with some decades being particularly more coup prone than others. However and before you consider Thailand as just another unstable banana republic type of emerging market, it's important to remember that most of these coups have been relatively bloodless with the old leaders sent into exile (for a short period of time) while there have only been two coups since the mid-1980s (Note: There is also a good discussion about Thailand and coups in a Washington Post article here).
Another thing to consider: Coups, revolutions or government overthrows are not necessarily a bad thing as that's how the United States came into being. Remember, leaders from all over the political spectrum ranging from Mao to Pinochet to Castro have all overthrown corrupt (the Kuomintang when they ruled mainland China), inept (the Allende regime in Chile) or downright brutal (the Bautista regime in Cuba) governments. What matters is whether the revolutionaries or "overthrowers" replace a bad government with something better (something that often does not happen).
At least for now, it does not appear that the military is ready to once again intervene by overthrowing Thaksin's sister to create a less than democratic government to keep populist "Thaksinism" politics out of Thai politics forever - a move that would probably be welcomed by most of the protestors.
Otherwise, it should be briefly mentioned that unlike the Philippines or Colombia, Thailand's communist insurgency in the poorer rural areas (that are also Thaksin's powerbase) largely ended in the 1980s (albeit there is a separate ethnic or Muslim separatist movement in Southern Thailand that flares up periodically) - meaning supporting him or his populist proxies are the best bet for the poor.
Thailand's Real Test: What Happens After King Bhumibol Adulyadej?
Finally, no discussion about Thailand should go without mentioning that the real test for Thailand will come when King Bhumibol Adulyadej, clearly a stabilizing force in tumultuous Thai politics, is no longer around. The king was born on December 5, 1927 (which makes him 86 years old) and he has reigned since June 9, 1946 - making him the world's longest-serving current head of state and the longest-reigning monarch in Thai history.
Obviously, the current king will not be around forever; but given Thailand's strict lèse majesté laws, one has to be careful speculating about his health, any potential successors and what will happen when he is no longer present. Clearly, Thais are devoted to their king, but it's also important to remember what happened to Nepal's monarchy after a botched power transition and other missteps in the wake of various political crises.
Investing in Thailand With ETFs or Closed End Funds
Keeping Thailand's rather messy political situation in mind, let's take a look at some funds that offer Western investors an easy way to invest in or speculate on Thai stocks and Thailand in general:
Thai Capital Fund
iShares MSCI Thailand Index Fund
Thai Fund Inc
DMS Thailand Select 33 Index Fund
Note: A number of important Thai stocks have ADRs listed mainly on the OTC, but investing in them would be an expensive hassle for most retail investors. Nevertheless, speculators might want to take a closer look at which ones have ties to Thaksin and which ones do not.
Thai Capital Fund. Before talking about the other Thai funds, it's worth briefly mentioning the Thai Capital Fund - a non-diversified, closed-end fund that had approximately $43 million in net assets invested primarily in the equity securities of Thai companies. Last year, shareholders voted to liquidate the fund with shares on the NYSE being suspended on August 13, 2013. It's not clear why the Thai Capital Fund liquidated as its long term performance chart on Google Finance looks pretty good (albeit it really underperformed the THD and the TF in recent years), but closed-end country funds are probably struggling to attract sufficient numbers of emerging market investors as they must increasingly compete with low cost country ETF index fund options.
iShares MSCI Thailand Index Fund. With a March 2008 inception date, the iShares MSCI Thailand Index Fund tracks the MSCI Thailand IMI 25/50 Index through 124 holdings (limiting the fund's exposure to Thaksin controlled or affiliated companies) broken down into the following sectors near the end of February 2014: Financials 34.10%, Energy 17.99%, Materials 10.00%, Telecommunications 8.64%, Consumer Staples 8.46%, Industrials 7.03%, Consumer Durables 6.17%, Information Technology 2.73%, Health Care 2.62%, Utilities 1.98% and Other 0.28%. That sector breakdown may not be an accurate reflection of Thailand's industrial export orientated economy (which again, is not being impacted by the Shutdown Bangkok protests) as many of the key industrial players in it would be foreign MNCs (e.g. Japanese electronics firms etc) rather than Thai companies listed on the Stock Exchange of Thailand (SET).
At the end of February 2014, the iShares MSCI Thailand Index Fund's total net assets stood at $458,268,704 and it had a low expense ratio of around 0.62%. Otherwise, the iShares MSCI Thailand Index Fund has an average three month trading volume of around 257,275 (according to Yahoo! Finance data) and its up 10.3% since the start of this year, down 24.1% over the past year, up 224.9% over the past five years and up around 35.6% since inception.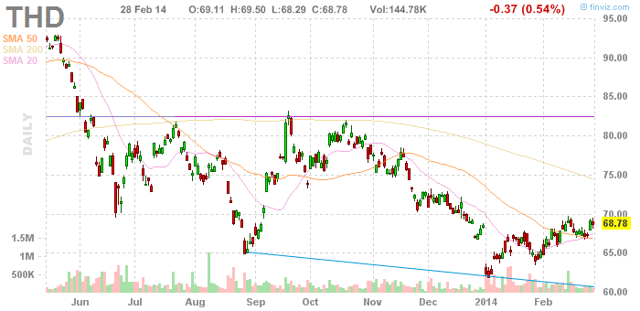 Thai Fund Inc. With a February 1988 inception date, the Thai Fund Inc uses the Stock Exchange of Thailand (SET) Total Return Gross of Divs Index as a benchmark and had $150.9 million in assets at the end of last February. Its biggest holding would be Advanced Info Service PCL (7.69%), Thailand's largest GSM mobile phone operator with 35+ million customers that is controlled by Intouch plc (formerly Shin Corporation) and headed by Temasek Holdings, a Singapore government owned agency. It should be remembered that the 2006 sale of the Thaksin family's share of Shin Corporation to Temasek Holdings caused a huge controversy in Thailand and only added to the allegations of corruption made against Thaksin as the 73 billion baht (about $1.88 billion) sale was made exempt from capital gains taxes and was also made to a foreign company.
Otherwise, the Thai Fund Inc has a 0.61% annual management fee, a 1.46% net expense ratio (as of December 31, 2012) and 1.53% gross expense ratio (as of December 31, 2012). It also has an average three month trading volume of 118,739 (according to Yahoo! Finance data), but its performance charts are a bit skewed due to a big dividend or distribution paid on February 3rd (which gives the fund a 5% to 6% dividend yield).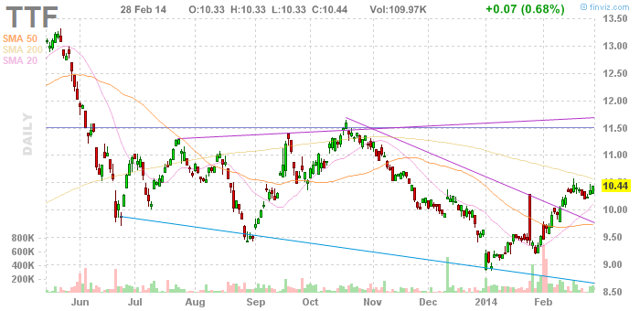 DMS Thailand Select 33 Index Fund. At the beginning of February 2014, DMS Funds CEO Peter Kohli announced the launch of the DMS Thailand Select 33 Index Fund which seeks to replicate the price and performance of the NASDAQ Thailand Select 33 Total Return Index - an index comprising 33 of the largest and most widely traded stocks on the Stock Exchange of Thailand. However, I do not yet see a ticker for the fund on major financial portals or even a prospectus for it on DMS's website - meaning the fund has yet to be launched.
Finally, here is a look at some longer term performance charts for the iShares MSCI Thailand Index Fund and the Thai Fund Inc (Note: You will need to go to Yahoo! Finance and add the Thai Capital Fund to a chart of the others to see its underperformance verses the others as for some reason, it won't appear on the charts copied below):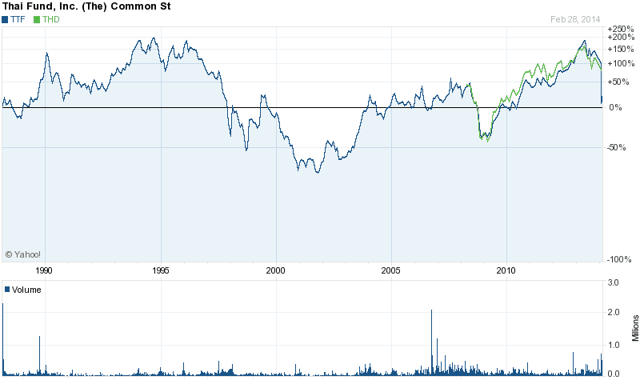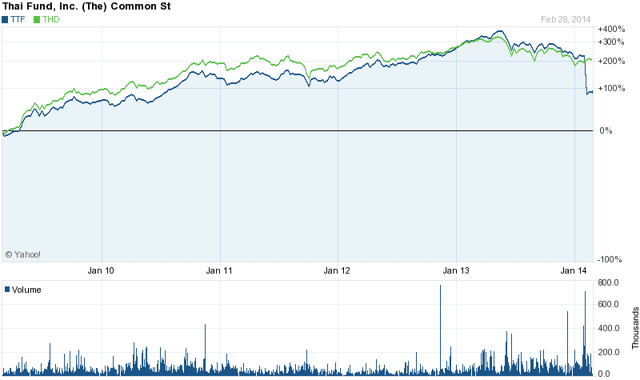 Some Final Thoughts: The Problem With Democracy
The real problem for Thailand and perhaps for emerging market investors alike is not the latest ''Shutdown Bangkok, Restart Thailand'' protests (or whatever protests that will surely follow), nor any future coups or coup attempts, nor even what happens when the current king is no longer in the picture. The real problem is that many Thais have discovered the Achilles heel of all democracies, which is best summed up in the old saying that's been attributed to various political thinkers:
"When the people find that they can vote themselves money, that will herald the end of the republic."
In other words, poor rural and Northern Thais have discovered that voting for Thaksin and his proxies is the equivalent of voting themselves money in the form of rice subsidies and other handouts - no different than what happens in the USA and other Western democracies with social welfare systems in place and left leaning political parties.
And since poor rural and Northern Thais will probably always outnumber the urban middle class and Bangkok residents, even the complete exit of Thaksin and his family from the political scene will do very little over the long term as another populist politician will simply emerge and use the same Thaksin political playbook to gain power. This means that baring some kind of dramatic change towards "less" or a more "managed" democracy (or no democracy at all) where limits are placed on the power of the majority to basically vote themselves someone else's money, Thailand will continue to limp from one political crisis to another (something the protesters obviously understand and why they also seem to favor abandoning democracy in favor of something else).
Of course, all of these issues may or may not actually matter if you are an emerging market investor with a thick skin and a long term time horizon as when you think about it, an investment in Thailand with all of its political problems may not be any more or less risky than making an investment right at home in your own country.
Disclosure: I have no positions in any stocks mentioned, and no plans to initiate any positions within the next 72 hours. I wrote this article myself, and it expresses my own opinions. I am not receiving compensation for it (other than from Seeking Alpha). I have no business relationship with any company whose stock is mentioned in this article.
Additional disclosure: All photos in the article were taken by myself on Tuesday, February 25, 2014.