To anyone watching the closed-end fund ("CEF") market the effects of the retail investor base can be observed in the magnitude of frequent share price discounts to NAV. During the financial crises, epic discounts were seen as retail investors abandon these investments. As the fear subsided discounts narrowed to historical equilibriums. In recent months, fears of fed tapering and rising interest rates have pushed discounts to wider levels.
What's interesting on this occasion is the buyers that have stepped in to purchase discounted CEF shares. Bloomberg reported that hedge funds Saba Capital and Pine River accumulated significant positions in closed-end funds. Saba, a $3.9 Billion manager, has reportedly amassed an $847 million position in CEFs. The funds include Pimco's Dynamic Credit Income (NYSE:PCI) DoubleLine Income Solutions (NYSE:DSL)
Saba has purchased shares in a couple of BlackRock funds (BlackRock Corporate High Yield (NYSE:HYT) including a $41.5mm investment in one of our favorites the BlackRock Credit Allocation (NYSE:BTZ). As of Friday's close, the fund's Net Asset Value ("NAV") was $15.33 per share while the closing price is reported at $13.50, an 11.94% discount.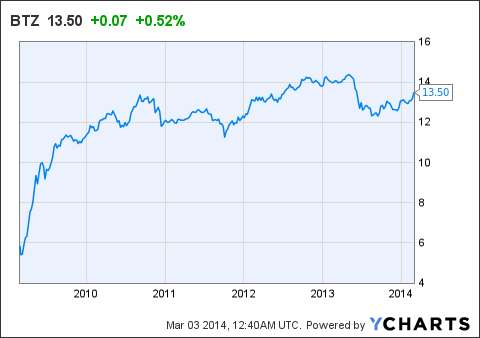 The fund has fairly mild characteristics for such a wide discount. According to the sponsor's website, as of 12/31/2013 the fund had an option adjusted duration of 4.99, significantly less than many funds holding much longer dated paper to boost yields. Secondly, the fund is much less exposed to non-investment grade paper with only 36.7% of the portfolio in high yield and nearly 45% in investment grade. Further, the fund has recently boosted its dividend showing further confidence and is yielding more than 7%.
Given the limited interest rate and high yield risk in the portfolio, we expect the discount will close quickly. Investors should follow the lead of two top-notch hedge funds into acquiring these shares while they are cheap.
Disclosure: I am long BTZ. I wrote this article myself, and it expresses my own opinions. I am not receiving compensation for it (other than from Seeking Alpha). I have no business relationship with any company whose stock is mentioned in this article.