"By the end of this year, we expect you will be able to travel almost anywhere in Europe using only Superchargers."

-Tesla CEO, Elon Musk
Tesla (NASDAQ:TSLA) is out of control. And I don't mean that in a "it's overvalued, so I'm putting a $65 price target" kind of way. I mean that the company just won't stop growing. It's awesome.
Every time I tell myself to wait for a dip to get into Tesla stock, as I just did this week, the company announces more news of growth and shares take off on me again. I refuse to chase, but am happy for the bulls that had the foresight to pick up Tesla at any point in the past. I've been a bull on the company for the last year and a half.
All has been good and well in the world of Tesla longs, I assure you. The company has seen a meteoric rise in its stock over the last year, most recently fueled by impressive production numbers, an oversubscribed bond offering, and the announcement that the company is opening one of its Gigafactories in coming years - a factory that could make up 17% of the globe's lithium output.
In "Tesla's Hidden Revenue Byproducts", I wrote about the benefits of the Gigafactory also trickling down to other automakers and the battery industry. I argued that Tesla is not only going to benefit itself from this factory, but other automakers and those companies that deal in lithium.
Now, this morning, it's being reported that the company is continuing to expand its Supercharger network even further in Europe. Engineering & Technology reported:
Electric car manufacturer Tesla said it will expand its Supercharger network across the whole Europe by the end of 2014, allowing Tesla car drivers to travel long distances across the continent and recharge their vehicles for free within 30 minutes. The company will also introduce a right hand drive vehicle for UK market in the coming months.

The company has spoken about its commitment to Europe, which it considers a priority market, at the Geneva Motor Show today. Apart from rolling out more Superchargers along Europe's most important traffic routes, Tesla also said it plans to open more service centres and stores across the continent to serve the growing customer base.
Tesla expects its Supercharger network to cover Norway, Sweden, UK, France, Netherlands, Spain, Italy, and other parts of Europe by Winter 2014, according to their website: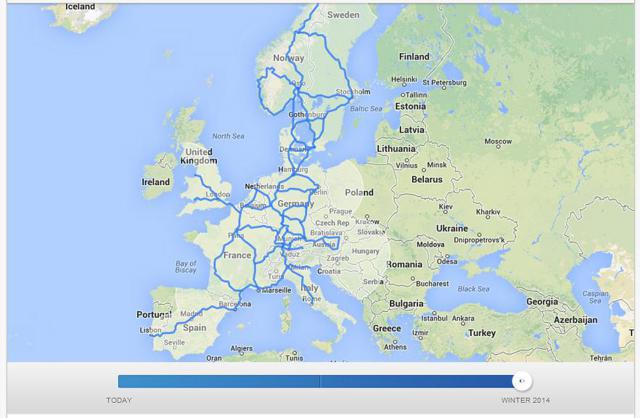 This news comes as even more continued proof of execution and global growth for the company.
Shorts and bears are going to continue to opine about the company's valuation being out of whack, but I continue to argue that the rate at which Tesla is growing and expanding is one of several very few exceptions where I can turn another eye to the valuation. Those that read me know that I usually put fundamentals first.
However, it's worth noting that since I've started covering Tesla, they've met every goal that they've shot for and have continually done nothing but execute. Though personally, I'm not going to chase Tesla as it continues its run through the stratosphere, I'd be firmly holding shares if I had the foresight to buy them, like many of my readers have. As I've often said, I'm going to trust Elon Musk until he gives me a reason not to.
This expansion simply continues to mark the company spreading itself out globally - the very same strategy being used by Ford (NYSE:F) and General Motors (NYSE:GM) to grow their business.
Additionally, Morgan Stanley came out this morning and reaffirmed its bullish sentiment on the company, citing what I've been saying for a year - it could be about more than the cars, it could be paradigm shifting:
Tesla Motors Inc. TSLA +2.69% could create substantial disruptions in the energy industry if the electric-car company's new Gigafactory can produce batteries at a low enough cost, said Adam Jonas, analyst at Morgan Stanley, in a report Tuesday. The note from Jonas is the second searingly bullish report, the first of which was released last week . The analyst has a price target of $320 and an overweight rating on the stock, which he says is his top pick among auto companies.
I remain very bullish on Tesla long-term. Best of luck to all investors.
Disclosure: I am long F, GM. I wrote this article myself, and it expresses my own opinions. I am not receiving compensation for it (other than from Seeking Alpha). I have no business relationship with any company whose stock is mentioned in this article.