The online retail giant Amazon (NASDAQ:AMZN) has recently taken a hit of about 10% since the New Year. In 2013, the stock performed very well returning around 62%. Although, the company missed Q4 earnings mainly due to weak revenue growth in the international market, most notably, international sales slowed to 13% in Q4 from 21% 4Q12 plus higher holiday shipping costs. Regardless of the disappointing quarterly earnings release, now is a great chance to own this market dominator at a discounted price. The algorithm, utilized by I Know First: Daily Market Forecast has witnessed a bullish signal for this asset for the 1-month, 3-month and 1-year time horizon for a few weeks now. More recently this stock signal has become noticeably stronger and has managed its way into the current algorithm's Top 20 Stocks Picks.
Amazon is a company that has and will likely continue to disrupt multiple industries over its lifetime. The company originated selling books, to selling virtually anything on its website. Not to mention, Amazon has a network of fulfillment centers, which can make swift deliveries to anywhere in the United States remarkably easy. Currently, the company is positioning themselves in the grocery business, which is expanding across the west coast from Seattle to Los Angeles and San Francisco. Amazon is also contemplating raising the price for their service Amazon Prime, for which a rise in price has mainly received negative feedback. For those unfamiliar, this service provides unlimited movie and TV streaming, one free borrowed e-book per month and automatic two-day shipping on nearly everything you buy with no minimum dollar amount for $79 annually. Regardless of how they mold the business model, one thing will remain unchanged is their core-focus commitment to world-class customer service.
The Good
It is important to note that while Q4 earnings were not stellar, Amazon's full year performance is a different story. Net sales improved 22% to $74.5 billion year over year in 2013. In 4Q13, net sales augmented 20% to $25.59 billion, an increase from $21.27 billion in 4Q12. Amazon Prime has certainly done its fair share for propelling sales with over 20 million members. This membership not only encourages moderate Amazon users to shop even more from the website but it also provides a service similar to Netflix (NASDAQ:NFLX) plus one free e-book a month. This service allows Amazon to be an even bigger part of people's lives, as they use the AMZN for shopping online, to how they are being entertained. As such, they have become a part of a Prime member's daily lifestyle.
Amazon has always been an incredibly innovative company. They started selling books to becoming the largest bookseller in history to then becoming the biggest online retailer in the world. Year after year the company has proven to be revolutionary and a lot of this has to do with the company's founder and CEO Jeff Bezos. In terms of finding a company that has the management aligned with shareholders, Amazon fits the description. Mr. Bezos has been willing to bypass some short-term profits in order to build enduring value, which is ideal for long-term investors who are not apprehensive by hiccups along the way. There is still room for Amazon to grow. In fact, e-commerce is still a developing trend and actually smaller than many people believe. The Census Bureau of the Department of Commerce announced on February 18th 2014, that e-commerce sales accounted for only 5.8% of total sales in 2013 and 5.2% in 2012. Total e-commerce sales for 2013 were estimated at $263.3 billion, an increase of 16.9% from 2012. The estimate of U.S. retail e-commerce sales for the fourth quarter of 2013, adjusted for seasonal variation, but not for price changes, was $69.2 billion, an increase of 3.4%, up 1.6% from the third quarter of 2013. Chart 1 shows the estimated quarterly U.S. retail e-commerce sales as a percent of total quarterly retail sales from 2004 to 2013.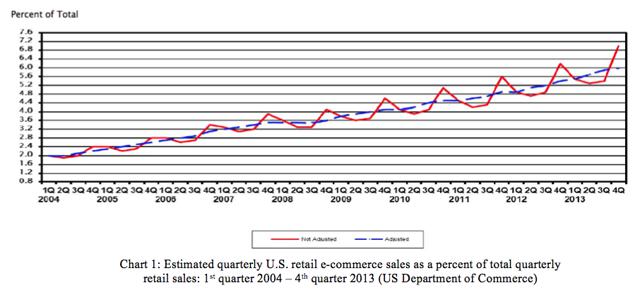 In general, e-commerce is continuing on this trajectory. According to data from Custora, overall retail is down for the first month in 2014 while e-commerce is increasing. Custora is a SaaS platform designed for online retailers to better understand and market to their customers. Corey Pierson, CEO of Custora stated "After a strong holiday season, US e-commerce is off to a great start in 2014. January sales are up 8% year over year, and we continue to see a large increase in shopping on mobile phones and tablets, as more commerce shifts from offline to online." Amazon only makes this transition easier as the company has fulfillment centers that allow shipping to be very fast and painless.
To make shipping even better, Amazon is working on innovating further with cutting-edge technology for a truly next generation delivery system. Back towards the end of 2013, Bezos announced plans for the company to offer 30-minute deliveries via drones. These drones can hold products under five pounds, which is 90% of all the company's offerings and can travel a radius of 10 miles (16 kilometers). A radius big enough for a company that has fulfillment centers strategically located. Of course there are some issues with this type of delivery such as making sure no boxes are dropped or getting permission from the Federal Aviation Administration and weather conditions must be considered too. A statement from Amazon explained, "The FAA is actively working on rules and an approach for unmanned aerial vehicles that will prioritize public safety. Safety will be our top priority, and our vehicles will be built with multiple redundancies and designed to commercial aviation standards."
However, even if these drones do not work out the way as planned, progressive thinking like this truly speaks to the type of people who work at Amazon to make the company better. Such avant-garde thinking allows new markets and businesses to inaugurate. The original Apple (NASDAQ:AAPL) iPod eventually lead to the iPhone, the iPad and the growing mobile application market. While this is unrelated directly, it speaks to how such innovative thinking like this can lead too much more than we can contemplate today. Amazon is allowing itself to have multiple potential futures as the company is making moves into the grocery business, paying for original digital content, selling tablets, and providing cloud services for thousands of companies.
The Bad
Amazon is not the typical company on Wall Street. While this company's revenue is tremendous, actual profits are not. Amazon instead chooses to reinvest in research and development as well to keep pressure on competitors, so the company leaves its margins very thin. In turn, small profits and small margins signify that any setbacks in onward guidance can make shareholders uneasy. After posting disappointing fourth-quarter results on January 30th, Amazon stated it was considering raising the price of the Prime service by $20 to $40.
Recently, UBS analyst Eric Sheridan downgraded AMZN stock to "neutral" from "buy." The basis of this decision was due to fourth quarter results and the fact that UBS commissioned a survey to see how a price hike would affect current customer sentiment. Well the good news from the survey indicated 94% of Amazon Prime customers were likely going to renew their subscription as is, paying $79. However a raise of $20 or $40 caused that percentage to drop to 58% and 24% respectively. Based on the survey, $99 is the limit for a raise in Prime subscriptions. The factor with the largest impact for subscribers to renew at $99 is the instant video service. Sheridan stated, "Specifically, 69% of frequent users of Amazon Prime Instant Video indicated a likelihood of renewal ("definitely" or "probably" will renew), relative to 58% within the broader pool of Amazon Prime customers."
Netflix offers unlimited streaming to two devices simultaneously charging $7.99 per month. An Amazon Prime subscription at $79 annually, is only $6.58 a month. As it currently stands, if Amazon still wants to increase prices a sudden jump will not be a wise decision. Perhaps small incremental increases over a period of time or maybe charging by the month with a small increase, so customers can unmistakably see Prime's value versus Netflix, might make a price increase more accepted.
In order to add value to Amazon Prime, the company has begun discussions with record labels about offering a music subscription service to compete with Pandora (NYSE:P), Spotify and Apple iTunes Radio. Although negotiations are tough because its executives are asking labels for a substantial discount on pricing given to other services. If an arrangement can be made, then you can expect a hit to Amazons quarterly earnings, but this may very well be worth it. Do not underestimate Bezos, as he has completely changed traditional bookselling and made a huge impact in retail because he knows exactly what he is doing.
The Algorithm
I Know First utilizes a self-learning algorithm to generate a stock market prediction on a daily basis. The algorithm distinguishes stocks trading in ranges that deviate drastically from the trends the algorithm deems rational. The machine utilizes fifteen years of data and is updated daily as new information is presented generating stock market forecasts from 3 days to one year. The algorithm's methodology is conferred in more detail in my previous article 2014 Market Forecast and Gold Prediction Based On Algorithm's. There are also multiple strategies that can be utilized together or individually as an algorithmic trader employing daily forecasts. Chart 2 shows the 1-month, 3-month and 1-year forecast for AMZN from the Top 20 Stock Picks by I Know First: Daily Market Forecast.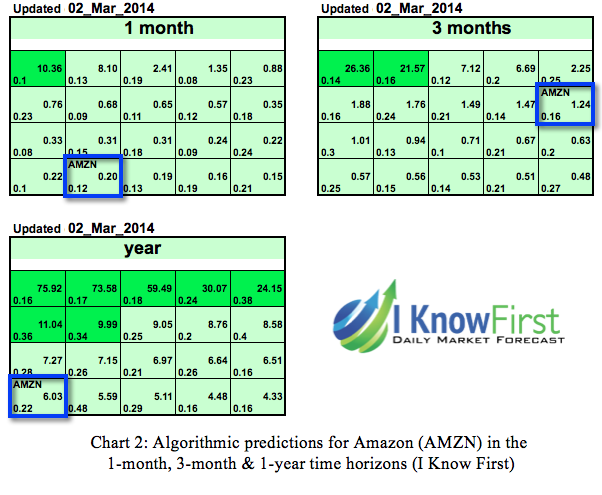 The ticker symbols for the other assets in this forecast have been removed however you can still see their signal and level of predictability. The signal, the number flush right in the middle of the box and the predicted direction (not a specific number or target price), is .20 for the 1-month time-horizon and 1.24 for the 3-month time-horizon. For the 1-year time horizon the signal strength increases to 6.03. This indicates that there will be relatively little movement in a positive direction for the 1-month and 3-month time horizons. However the algorithm conveys that AMZN's share price will appreciate fairly well in 2014. The system is also much more confident in this prediction as the predictability is stronger for the 1-year time horizon than it is for the shorter time frames. This is very typical for the algorithm as it tends to be much more accurate for longer-term time frames. While the algorithm has placed Amazon in today's current Top 20 Stock Picks, there are many other assets identified by the system as better investments. Click here for the basic instructions on how to read the forecast.
Conclusion
From selling books to pushing the envelope with developing a system of delivery drones, Amazon's secret to success is doing things its own way. If that means disrupting another industry or sacrificing short-term profits for future potential, then Jeff Bezos will take that route. The current management's intentions are inline with shareholders but they are also interested in changing the world we live in. As corny as this sounds, it is true and is actually a great thing for shareholders. Amazon's ability to innovate plus its culture of innovation will allow them to not only survive but to flourish in the years to come. Consistent progressive thinking is an undervalued asset that does not show up on the balance sheet.
AMZN may not be the right company for your portfolio. Shareholders should understand that Amazon places tremendous emphasis on research and development. What is important however for a company like this is that Amazon utilizes capital effectively so that these investments bear fruit and not just drain resources. The I Know First self-learning algorithm currently places Amazon in the Top 20 Stock Picks from 1-month to a year. AMZN is a solid long-term growth stock, and just like any other company, occasionally there are setbacks. This can be a great investment with the recent slump as a buying opportunity, if you are willing to accept that this company is willing to make sacrifices for long-term aspirations.
Business disclosure: I Know First Research is the analytic branch of I Know First, a financial startup company that specializes in quantitatively predicting the stock market. Joshua Martin, one of our interns, wrote this article. We did not receive compensation for this article (other than from Seeking Alpha), and we have no business relationship with any company whose stock is mentioned in this article.
Disclosure: I have no positions in any stocks mentioned, and no plans to initiate any positions within the next 72 hours. I wrote this article myself, and it expresses my own opinions. I am not receiving compensation for it (other than from Seeking Alpha). I have no business relationship with any company whose stock is mentioned in this article.