In recent months we have been buyers of tobacco products companies in order to obtain the high yields offered by the companies along with some growth. Although we have continued to look at Lorillard (NYSE:LO) as a potential buy, after yesterday's large move on speculation that the company would be a takeover target for Reynolds American (NYSE:RAI) we are no longer bullish on the name for a long-term investment. The value is no longer there and the recent trading has now brought in a large contingent of takeover speculators, an investor class which will flee quickly should nothing materialize in the near future.
Chart of the Day:
Investors might want to pay attention to the US Dollar Index this morning as fears are subsiding regarding Russia's intentions for Ukraine. Although troops still remain in Crimea, Mr. Putin has ordered an end to the troop exercises and sent those units back to their bases. This has stopped the flight to safety trade in its tracks and allowed top Russian officials to comment on possible US-led sanctions. The top headline out of all of these comments today is one Russian official stating that the country could very well drop the US dollar as its reserve currency. Not good for the US Dollar, but probably far worse for Russia's reserves.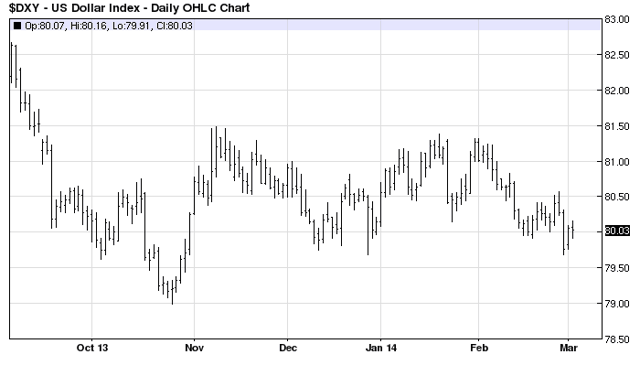 Click to enlarge
Source: BarChart
We have no economic news today, but will have some very important numbers coming out tomorrow.
Asian markets finished mixed today:
All Ordinaries -- up 0.30%
Shanghai Composite -- down 0.18%
Nikkei 225 -- up 0.47%
NZSE 50 -- up 0.52%
Seoul Composite -- down 0.54%
In Europe, markets are trading higher this morning:
CAC 40 -- up 1.42%
DAX -- up 1.07%
FTSE 100 -- up 1.10%
OSE -- up 1.49%
Strategies For Tobacco
Although we like Lorillard and think that it could be a takeover in the future for names that do not currently have US exposure, or split up between a name like Reynolds American and a foreign competitor, being purchased in whole by another US operator makes little sense. The market is top heavy and dominated by the top three players, with those names controlling around 90% of market share. Allowing Reynolds American to buy Lorillard would form a larger competitor to compete with Altria (NYSE:MO), but due to the market would cause more harm to the consumer than the benefits derived.
Since our view is that the probability of a deal being completed are quite small, we think the prudent move at this time is to forget about the potential of a Lorillard takeover and instead focus on the value in the industry. Owning Altria and Philip Morris International (NYSE:PM), either separately or together, we find much more attractive at this time, and on a head-to-head basis we would much rather be long Philip Morris International than Lorillard based on the yield and growth offered by the name.
When one looks at the logistics to getting the rumored $20 billion deal completed, the bull case quickly dissipates. First the largest shareholder of Reynolds American would have to approve the deal just to be able to make the proposal, then it would take a year or longer to clear any hurdles raised by the US Justice Department, if those hurdles could even be cleared. Also, once the deal is underway there is the risk that some of Lorillard's lingering regulatory issues (menthol and e-cigarettes) could torpedo the entire deal if rulings came down which were unfavorable for the company.
Whereas Lorillard is not a buy due to the recent rise, we believe Philip Morris International is a buy based off of the recent weakness in its shares.
Our belief is that Philip Morris International should trade at a premium to Lorillard based on the certainty surrounding its business versus the risks facing Lorillard. It would make more sense to us to be sellers of Lorillard and buyers of Philip Morris International at this time.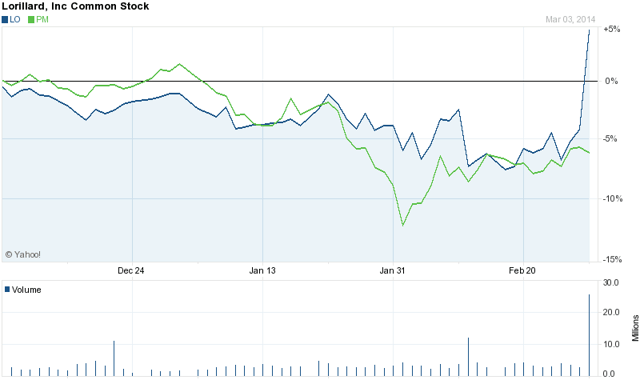 Click to enlarge
Source: Yahoo Finance
Something else to consider for those looking for a buyout candidate is that British American Tobacco (NYSEMKT:BTI) could always look to buy out the remaining shares of Reynolds American that it does not already own. British American already owns roughly 40% of Reynolds American and could find some synergies and cost savings by owning it outright. This is the acquisition we have been waiting for as it makes sense and the companies are already linked by the share ownership.
Disclosure: I have no positions in any stocks mentioned, and no plans to initiate any positions within the next 72 hours. I wrote this article myself, and it expresses my own opinions. I am not receiving compensation for it (other than from Seeking Alpha). I have no business relationship with any company whose stock is mentioned in this article. PM is a previous recommendation.