Executive summary:
2013 was a strong year for Pengrowth Energy.
The recent decline is a clear buying opportunity.
First production from Lindbergh Phase I is on schedule and slated for Q1 2015.
The company has submitted the Lindbergh Phase II application to the EIA for an additional 17,500 BBL/D expansion.
Shares of Pengrowth Energy (NYSE:PGH) suffered a sharp 6% reversal on Monday soon after the company posted its Q4 2013 results. While the company posted strong quarterly results, the stock was hammered, likely thanks to a lower than expected FFO number escalated by the tensions in Ukraine.
Q4 2013 Overview
Production: 77,371 BOE/D

FFO: $105.9M

FFO per share: $0.20

Oil and gas sales: $328.0B

Oil and gas sales per BOE: $46.08

Operating expenses per BOE: $15.34

Operating netbacks per BOE: $20.82
Pengrowth posted a strong quarter. While FFO per share did come in weak, this can be largely explained by lower production related to the Lindbergh financing asset dispositions as well as wider crude oil differentials. Indeed, Q4 is an historical weak quarter for Canadian energy produces as pipelines often are overbooked and refineries in the Midwest shut down for maintenance.
In addition, Pengrowth faced higher energy related costs in Q4. While down $16M Q/Q, higher coal prices caused Pengrowth's operating expenses to surge 16% from prior year levels.
Basically, the company was caught flat footed as energy demand in Western Canada outstripped supply, causing prices to increase drastically. As a result, Pengrowth has increased its hedges regarding energy consumption to about 78% for 2014, compared to about 65% last year.
Pengrowth in 2013: A year of stabilization
For 2013 overall, Pengrowth had a very successful year. The company was able to fully fund Phase I of Lindbergh via asset sales as well as balance its "cash in, cash out" profile. The company was also able to replace 211% of its 2013 production with new 2P reserves, extending its reserve life to 17.4 years.
In fact, based on the future net revenues associated with proved plus probable reserves, Pengrowth's net asset value ("NAV") is estimated to be $7.52 using a 10% discount and $11.80 using a 5% discount.
While Pengrowth's NAV is down slightly from last year, the stock is still clearly undervalued by at least 15%.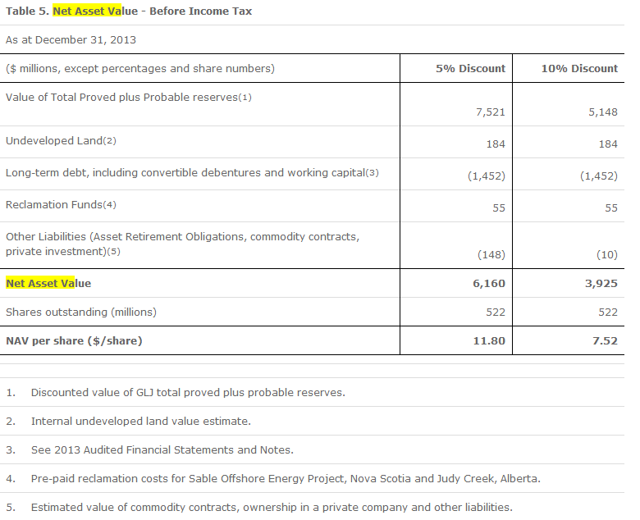 Lindbergh is on budget and on schedule
Furthermore, construction at Pengrowth's critical Lindbergh project is going well. The two pilot well pairs continue to perform well, with an ISOR of about 2.0x. Total cumulative production from the two-well pilot has now exceeded 1.1 million barrels.
The company has already spent 65% of the allocated capital as of March 3, 2014. During its conference call, the company noted that about 90% of the major components have been ordered and are one site. In addition, about 50% of the drilling is complete. In total, about 3 to 4 months of drilling remain. First steam is estimated sometime in late Q4 2014, while initial production should start in Q1 2015.
Lindbergh Phase I should add about 12,500 BBLs/D of high margin (30% IRR) thermal oil production for Pengrowth, increasing its FFO per share by at least 30% in 2015 to an estimated $1.31.
Also note that Pengrowth has already submitted its application for Lindbergh Phase II. While that project is estimated to be completed by 2017, environmental approval still needs to be done in advance before preparatory work can commence.
One of the best things regarding Pengrowth's Lindbergh project is that after Phase I, no other project needs to be funded via asset sales or equity. All future Lindbergh capex is now self-funding via incremental cash flows from Phase I as well as Pengrowth's credit facility.
Conclusion
I find it hard to believe that Pengrowth could fall nearly 7% on relatively little news. Yes, FFO was weak. However, this is merely a short-term concern as Q4 is typically is weak quarter for the stock.
The future is very bright for Pengrowth. Lindbergh should start adding considerable amounts of FFO starting in 2015. In addition, Pengrowth has little need for further financing, allowing its current production base to stay intact.
Disclaimer: The opinions in this article are for informational purposes only and should not be construed as a recommendation to buy or sell the stocks mentioned. Please do your own due diligence before making any investment decision.
Disclosure: I am long PGH. I wrote this article myself, and it expresses my own opinions. I am not receiving compensation for it (other than from Seeking Alpha). I have no business relationship with any company whose stock is mentioned in this article.