Earnings season can be a very rewarding or depressing time for investors as news can quickly send shares popping or dropping.
Because Chinese companies such as Baidu (NASDAQ:BIDU) and Dangdang (NYSE:DANG) among others, delivered strong earnings results, investors in Vipshop seemed to be pretty confident heading into earnings Monday afternoon. And confident they should have been as Vipshop (NYSE:VIPS) has consecutively blown out analyst estimates quarter after quarter.
As expected, shares of Vipshop were flying higher Monday afternoon as the company beat analyst expectations on both the top and bottom lines. The good news didn't stop there as management expects first quarter revenue to be higher than what it previously had planned. The table below shows the company's earnings results.
| | | | |
| --- | --- | --- | --- |
| VIPS Earnings Results | Revenue | EPS | Guidance |
| Analyst Estimates: | $559.4M | $0.41 | $578.0M |
| Actual Results: | $651.0M | $0.49 | $645.0M* |
*VIPS Q1 guidance is between $640M and $650M
As you can see, Vipshop once again produced another stellar earnings report. During the first hour of trading Tuesday morning, shares climbed as high as $182, up more than 41%. Not only did the company break records in its quarterly report, but shares made all-time highs as well.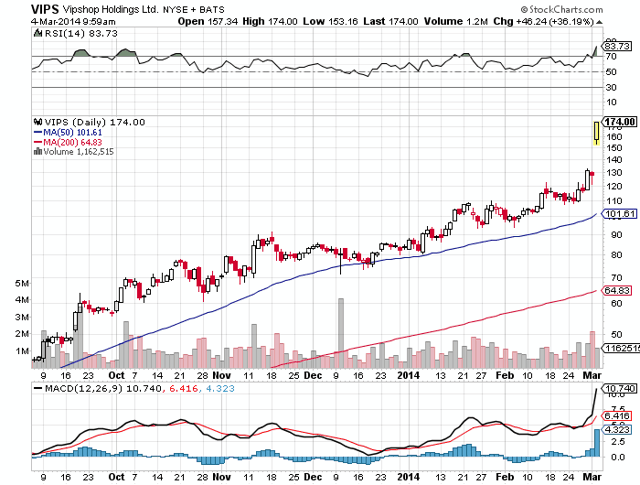 Q4 Key Takeaways
Vipshop produced record net revenues of $651M for an increase of 117.3% over the prior year.
The number of active customers grew to 5.7M from 2.6M, for an increase of 119.5% over the prior year.
Total orders increased to 17.7M from 8.8M, for an increase of 102.4% over the prior year.
Gross margin increased to 24.5% from 22.9% in the prior year period.
Non-GAAP income from operations increased by 357.0% year over year to $33M from $7.2M in the prior year period. Non-GAAP operating income margin increased to 5.1% from 2.4% in the prior year period.
Net income increased by 300.0% to $25.4M from $6.3M in the prior year period. Net income margin increased to 3.9% from 2.1% in the prior year period.
Non-GAAP net income increased by 253.9% to $28.8M from $8.1M in the prior year period. Non-GAAP net income margin increased to 4.4% from 2.7% in the prior year period.
Vipshop expects next quarter's revenue to be between $640M and $650M, representing year-over-year growth of approximately 106% to 109%.
How High Can Vipshop Go?
It's no secret that Vipshop has been the darling of Wall Street as shares have climbed more than 2,000% in just the last two years.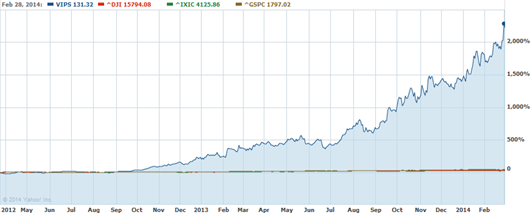 As you can see on the right, this is one beautiful chart that only continues to get better.
While the market indices have given investors great returns over the last couple of years, Vipshop has taken things to a whole different level. Just when you think shares can't quite possibly go higher, they do. Just when you think the market cap has reached another ridiculous level, earnings come out to justify the valuation.
Last summer, I wrote some articles that talked about VIPS and told investors that picking up shares would be a great move considering what the company had going for itself. I expect that shares will continue to run as the stock is just in the beginning of another big breakout.
As with every earnings report lately, I'm changing my estimates for the year as Vipshop continues to outperform expectations. As of right now I believe that Vipshop will hit revenues of $3.0B this year with EPS in the 2.35 range. This is up from revenue of $2.8B and EPS of 2.16 before Monday's earnings report.
Because of this, I believe Vipshop has plenty of room to run and will be getting many upgrades from analysts over the coming days and weeks. With that, don't be surprised to see price targets up in the $200 range.
Disclaimer: Investors are always reminded that before making any investment, you should do your own proper diligence on any stock mentioned in this article. Have a great day and as always, I look forward to hearing your thoughts or questions that you might have.
Disclosure: I have no positions in any stocks mentioned, but may initiate a long position in DANG, VIPS over the next 72 hours. I wrote this article myself, and it expresses my own opinions. I am not receiving compensation for it (other than from Seeking Alpha). I have no business relationship with any company whose stock is mentioned in this article.