I'm about 4/5ths of the way through reading Bank of America's (NYSE:BAC) recently printed 10-K and, for better or worse, one recurring theme consistently keeps coming up and that is the amount of capital reshuffling going on to better pending regulatory capitalization ratios. I point this out because these ratios are becoming increasingly important for investors as they ultimately determine how fast the banks can start to return value to shareholders through increased dividends and buyback programs.
Over the past year Bank of America's cap rates have continued to improve with Tier 1 common now up to $145.2 billion, bringing the bank within the proposed minimums of all three major (final or proposed) capital requirements.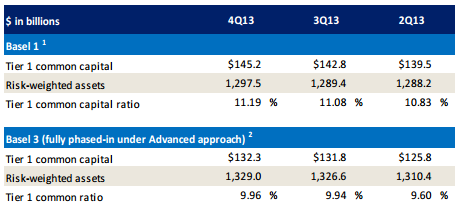 And, this improvement is already old news after the preferred swap made with Buffett late last month. Under the agreement, the $2.9 billion in preferreds issued to Berkshire (BRK.A) (NYSE:BRK.B) would be modified to allow for their inclusion in Tier 1.
This announcement didn't appear to make many waves, and shares haven't moved, but I find it very interesting paired with the upcoming CCAR tests and the CEO's prior hints that anything above the proposed minimums will be returned to shareholders at some point or another.
Most are betting on a dividend increase, and I am one, but I can't help but wonder what management is thinking when it comes to buybacks. Unlike a dividend hike, the bank was granted permission last year to repurchase $5 billion in common but in all of 2013 they fell short of this measure by $1.8 billion. This, I remind you, when for the better part of the year shares traded under tangible book value and at a significant discount to today's price. At that point, any and all purchases would have been instantly accretive to the book value and reported earnings per share = big miss.
And, at the same time, diluted shares outstanding increased by 650 million (up 6% from 2012), even with the purchase of 231.7 million shares for $3.2 billion.
Again, a big miss as the shares could have been bought for much less at a time that would have maximized earnings per share, book value and a "discount" on any future dividends paid by the bank.
Now, that's the past and my hopes for the future are more timely and larger buybacks which brings me to one other interesting development that you should not overlook. The increase in shares outstanding, despite the buyback, were due in part to employee stock plans and some other capital conversions but, the bulk of it actually came from the inclusion of the 700 million warrants issued to Buffett. In prior years, these shares were anti-dilutive and not included in outstanding shares. This year's addition was due to the stock's run-up and future ones are in store should the TARP warrants tip over from their current antidilutive classification (see page 240 of the 10-K). As of now there are 150.4 million class A warrants outstanding and 121.8 million of the class B warrants.
This may seem insignificant but I remind you that the bank repurchased 231.7 million shares for $3.2 billion and the class A warrants alone amount to 64% of that purchase when the market value on 100% of them is now only $1.07 billion (approximately).
While the purchase of the warrants would not affect current earnings it's hard to imagine Bank of America shares not eventually rising to the point where they would be dilutive as they expire in January 2019 and are not far from inclusion right now. Purchase of the warrants would be a clear signal that management is investing in the future as these securities have a high probability of taking away future shareholder profits and dividends once they are executed.
To sum it all up, management is working hard and you all know how shares traded last year but now is the time to see EPS grow and the bank can easily improve this by taking advantage of the below book share price without having to rely on any external sources of income. This is one bird in the hand and failure to take advantage of it AGAIN would be, in my opinion, worse than the failure to raise dividends by any amount.
Disclosure: I have no positions in any stocks mentioned, and no plans to initiate any positions within the next 72 hours. I wrote this article myself, and it expresses my own opinions. I am not receiving compensation for it (other than from Seeking Alpha). I have no business relationship with any company whose stock is mentioned in this article.
Additional disclosure: I am long BAC A and B warrants.