Since reaching its all-time high at $97.28, share price of 3D Systems (NYSE:DDD) has recently experienced a meaningful pullback and now trades at 23% below the high. However, I wouldn't accumulate shares on this weakness as valuation remains lofty even compared to other hot stocks favored by many momentum investors.
Despite the price drop, 3D continues to trade at a high 2015 forward EV/Sales multiple of 8.4x, which is at a 16% premium over the average of 7.2x for a high-growth momentum stock group consisting of leading social networks, Netflix (NASDAQ:NFLX), and Tesla (NASDAQ:TSLA). Current consensus estimate predicts 3D's top line to rise by 32% through 2015, which is lower than the average of 38% for the peer group. By factoring in the top-line growth potential, 3D trades at a forward EV/Sales to top-line growth ratio of 0.26, which is at a whopping 44% premium over the group's average at 0.18x.

Management recently provided a medium term guidance expecting revenue to double and exceeded $1B threshold by 2015. They also forecasted profitability to pick up from the current level (e.g. gross margin to increase from the current 52.1% level to about 55-60%). Current average consensus estimate reflects market's belief that 3D's top line could reach $900M by 2015, which means there would be a positive surprise at the high end of management's revenue guidance (i.e. close to $1B). However, even with the $1B estimated 2015 revenue, 3D's 2015 forward EV/Sales multiple still trades at 7.6x, which remains slightly above the group's average (7.2x). This suggests that the margin of safety on valuation is still thin even if the company is able to achieve a positive surprise.
On the earnings front, 3D now trades at 44.5x forward 2016 P/E multiple, which is in line with its high-growth peers' average at 44.9x. However, the company's consensus long-term EPS growth estimate of 20% is less than half of the group average (44%), and the resulted PEG ratio of 2.3x is more than double the benchmark at just 1.0x. It should be noted that average consensus estimate has already predicted a considerable EBITDA margin expansion from 21.4% in 2013 to 35.4% in 2016.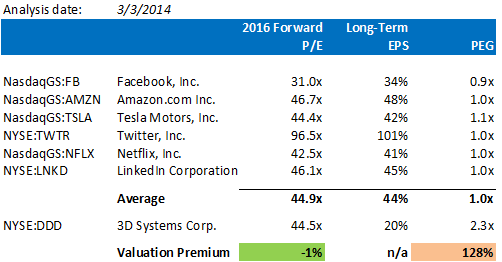 I can understand the rationale of many buyers as the company continues to ride on solid fundamentals. Top line growth momentum remained strong in Q4 largely driven by increased demand for Direct Material printers. Management expects Direct Material printer sales to be a major growth driver in 2014 with an estimated growth rate of 160%. Despite the fact that the company has been chasing top-line growth in the expense of margin, it is believed that profitability would eventually pick up owing to 1) management's ongoing effort to shift toward higher-margin business with recurring revenue stream; 2) positive operating leverage as a result of continued investments (i.e. R&D as well as sales and marketing) in the business; and 3) continued integration of acquired businesses and realization of synergies.
However, I would want to remind investors that as the stock is now priced for extreme perfection, any negative updates would likely trigger a double-digit sell-off. I would not recommend a short position as fundamentals remain very strong, but I also don't think the stock should deserve a buy or hold rating in light of the sky-high valuation as management's medium-term financial target has been fully factored in.
All charts are created by the author and data used in the article and the charts is sourced from S&P Capital IQ, unless otherwise specified.
Disclosure: I have no positions in any stocks mentioned, and no plans to initiate any positions within the next 72 hours. I wrote this article myself, and it expresses my own opinions. I am not receiving compensation for it (other than from Seeking Alpha). I have no business relationship with any company whose stock is mentioned in this article.