Today, we will discuss our 2014 model for Adobe (NASDAQ:ADBE). In our previous article, Sell Adobe: Potential 25% Downside, written in June 2013, we put a sell rating on the stock. Our opinion, at the time, was that the company's cloud push was not strong, margins would compress, and the company was overvalued. Yet, the company outperformed our expectations, and it has kept moving higher.
We have adjusted our model to a Hold with a $71 price target. The main catalyst we focused on for our article is its Creative Cloud, along with the secondary catalyst of EchoSign project. We will investigate these catalysts, project the financials for these projects, and do our long-term price analysis for the company. Yet, we still are wondering about the company's operating margin potential with these new plans as they have dropped off significantly.
Business Overview
Adobe has three business segments: Digital Media, Digital Marketing and Print and Publishing. In 2013, Digital Media reached $2625.9 million in revenue, which accounts for 65% of the total revenue. Digital Marketing ranked second with $1228.8 million revenue, 30% of total revenue. The last one is print and publishing segment, which is around $200.5 million, 5% of the total portfolio.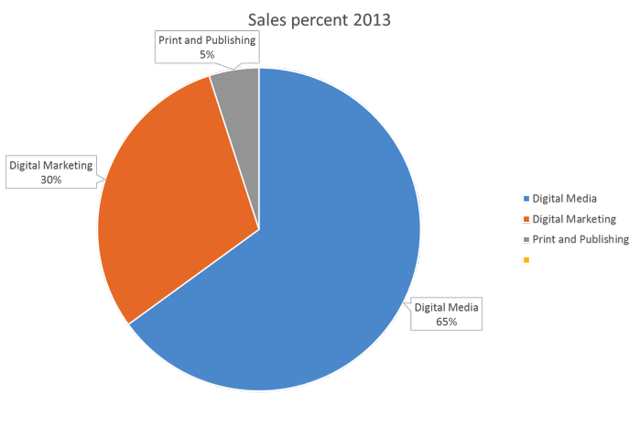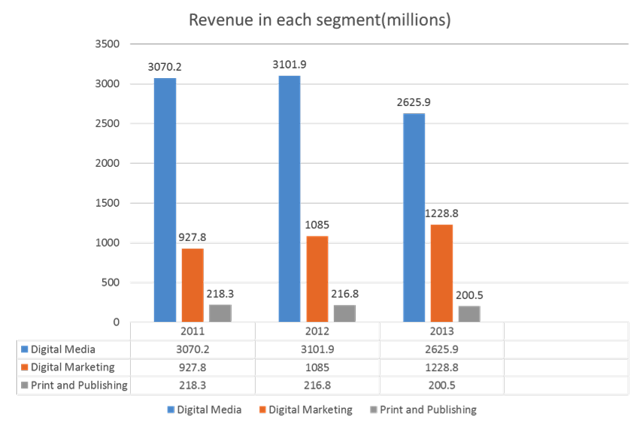 Industry Trends
The application software industry is one of the fastest growing sectors in the world economy with the continued growth of technology. The main portion of the market is software applications, which account for around 50% of the total market share. The rest of the market share belongs to development tools and infrastructure software, such as operating system, security software or network management system.
Application software is undergoing a major transition due to the growth of mobile as well as cloud software. The traditional way of developing products in one geographic area and distribute to resellers or independent vendors has been changed. With the help of the recent tech revolution, software can work and be accessed more efficiently through mobile, internet, and cloud functions.
Luckily, Adobe is on the bus for this transformation. Adobe has developed several web-based products, such as Creative Cloud or EchoSign system, which have been the major driving force of the company's recent growth. The company is pushing what used to be traditional products through the channels of cloud and the Internet. With that shift, the company has also focused more on subscriptions and recurring payments over one-time payments that could mean larger revenue gains for each product. Yet, it also means competition will stiffen as access to products is easier than ever before.
Main Catalyst
We believe that the main catalyst for ADBE the company and stock moving forward has to be the growth and financial potential for the company's Creative Cloud. The product is a cloud-based service that allow members to get access into all the latest version of Adobe's creative desktop apps like Photoshop, Illustrator, and so on. The new features will be updated automatically whenever it's possible. Because it's a cloud-based service, customers will be able to build and publish apps, websites or news on any device.
Creative Cloud has strong growth potential moving forward. For example, in the fourth quarter of 2013, Adobe targeted its Creative Cloud members to be 1.25 million. The actual number came in at 1.4 million, positively surprising analysts and investors. One of the biggest benefits that Creative Cloud members can have is the constant update or new features of their apps, products and service. The Cloud is only $50/month, which is a much more attractive number than the $1300 upfront cost of the same products. Yet, in 26 months, the cost is no longer beneficial. The plus - the new features and software mean that upgrading is not needed.
In some ways, the change was a forced change due to the transition of the industry. Yet, at the same time, the company can likely create a much larger user base. The lower cost structure is enticing to individuals, and it will get more users into the product and make more long-term clients.
The development of Creative Cloud is not just for individuals, but it also covers larger teams and enterprise. In the latest quarter, the company commented:
Creative Cloud for teams and enterprise term-based licensing, or ETLAs, have had strong growth in recent quarters too. Teams need the Creative Cloud to enhance their collaborations; while enterprise need it to simplify their licensing models...Creative Cloud ETLA momentum accelerated in Q4. In the year, we closed more than 1,000 Creative ETLA contracts of greater than $100,000, with more than 80 contracts over $1 million. As a reminder, ETLAs are generally 3-year contracts.
Due to the strong demand from the corporate side customers, Creative Cloud had 402K growth of subscribers in the Q4, compared to 331K growth in the third quarter. The growth of subscribers has been part of the reason for such strong growth for the company. This has been the main focus of investors.
"Investors are giving Adobe's management team credit for its progress despite the light profit to this point, and will likely continue to do so, as long as the number of new cloud subscribers continue to outpace expectations," said Josh Olson, Edward Jones' technology analyst.
The question, though, for Adobe moving forward is what kind of revenue can they make, and can they return the type of margins the company used to operate within the low-30% area. The company since has seen a huge drop off to the mid-teens. The company has had to increase R&D as well as SG&A to invest in this major change, and while revenue has grown, margins have shrunk. We continue to believe that there is a ton of potential for Creative Cloud, but the company will definitely struggle to create strong margins off the name for the time being. We will discuss more of our projections in the price target analysis.
Secondary Catalyst
We believe that Adobe's secondary catalyst is the EchoSign project. EchoSign is an e-signature and enterprise document management system. Some of the features that EchoSign has include document signing, tracking and filing. Like we noted in Industry Trends, the movement of the market is to the web, cloud, and mobile. Every common everyday task is being digitized, and one of the common tasks still being pushed into the web is signing papers. A very typical task, but until now, it has had a limited scope in the tech revolution.
According to Forrester Research, most of e-signature transactions will happen via mobile device by 2020. Another industry report conducted by Gartner, predicts that the e-signature market is "poised to take off." E-signing uses the touch of the finger on the digital screen to allow clients, customers, businesses, etc. to sign receipts, documents, and more with the swipe of the finger.
Users can process legal transactions through EchoSign in three simple steps: send documents, receive and sign, file documents. Firstly, users can send the documents they want to transact through email, and once recipients receive the document, read it and sign, documents will be filed and saved in users' account automatically for future need.
With the contribution of EchoSign, the company expects its Document Service division to see flat growth overall, putting the potential revenue around $700M for 2014. Beyond 2014, though, we could start to see this be a much larger contributor. For now, though, the product is more speculative and unknown.
Pricing/Valuation
Revenue
In order to gain a right sense of how ADBE's overall revenue will go, let's break down the revenue into three segments and take a close look at each of them.
For the digital media segment, the company expected its 2014 revenue to be $2.5 billion. And its year-over year growth rate of 20% through 2014 to 2016. From 2017 to 2018, we expect its growth to be lower, falling back to 5-10%.
The Digital Marketing segment has two components: Adobe Marketing Cloud and LiveCycle and Connect businesses. Its 2013 Adobe Marketing Cloud revenue was around $1 billion, with expected growth of 20% in 2014. After that, we expect its revenue growth to reach 25% year-over-year. While the LiveCycle and Connect component is expected to be decline by 25% year-over-year.
We expect the Print and Publishing segment to be flat around $210 million year-over-year. Overall, we project 2014 revenue at $4.1B followed by $5B in 2015. From there, we are expecting 8-10% CAGR.

Operating Margin
We expect that the company's operating margin is going to bounce back, but the question is when and how high? Even though the company expected its operating margin to bounce back to mid-30s in 2016, there is still a question mark due to the heavy investment of product development and its transformation into a web-based software company.
So this time, we want to split our analysis into three cases scenarios based on different forecasts of operating margins. As we know, the company expected its operating margin to be around mid-30s, so our best-case scenario is that ADBE do reach its margin goal in 2016, and will be flat after that. Our worst-case scenario is that ADBE will maintain its low margin around 10%, and start to bounce back in 2016, reaching 25% in 2018. The middle case scenario is what we believe will most likely happen: operating will keep being at a low level around 10%, and start to bounce back in 2015. But it doesn't reach the 35% goal in year 2016 but in year 2018.
Based on the above assumptions, we give three operating margin scenarios:
Best-case scenario: 25%, 30%, 35%, 35%, and 35%
Middle-case scenario: 10%, 15%, 25%, 30%, and 35%
Worst-case scenario: 10%, 10%, 15%, 20%, and 25%
Capex
ADBE doesn't have big project expected in the next several years that will require a large expenditures. By looking at its historical data, its capex as percentage of revenue is very stable. We would forecast its capex as percentage of revenue to be continue stable around 4.86%, which is its past 5 year historical average.
Tax
In Q4, Adobe's effective tax rate was 26%, and its non-GAAP rate was 21%. The company is targeting Q1 tax rate the same as Q4. We use the effective rate in our model. The company should maintain average levels here.
Target Price
Based on the three operating margin scenarios, we give three different target prices. The best-case scenario is $73.32, the worst-case scenario price is $49.09 and the middle-case scenario is what we believe will most like happen. That number comes in at $70.61.

Risk/Variance
The risk that Adobe has is the security of customers' information. In late 2013, Adobe revealed that the company's information system was hacked, with 2.9 million of customers' sensitive information exposed. Customers' credit card numbers was accessed after the attack, even though the card information was encrypted later on. We believe this is a very serious problem, because security will greatly affect company's reputation and customers' confidence to use Adobe's system. Further, margins continue to be a major question mark. ADBE is being more valued like a spec name that has its focus on client growth rather than actual results. When does the company start to perform? If they don't start to show better margins, investors will start to leave the name, so that remains a major risk.
Conclusion
In conclusion, we think that Adobe made the necessary shift to the cloud that will likely pay off in the long run, but the question is can the company improve margins. Due to this uncertainty, we can only forecast a Hold rating with a $70 price tag. We will be more interested in shares below $55.
Disclosure: I have no positions in any stocks mentioned, and no plans to initiate any positions within the next 72 hours.
Business relationship disclosure: I have no business relationship with any company whose stock is mentioned in this article. The Oxen Group is a team of analysts. This article was written by David Ristau, one of our writers. We did not receive compensation for this article (other than from Seeking Alpha), and we have no business relationship with any company whose stock is mentioned in this article.