I first covered Devon Energy (NYSE:DVN) back in October 2013 and I recommended the exploration company based on its low valuation and strong expected production growth for investors seeking exposure to the fracking boom in the United States. Devon Energy was quoting at just about $60 per share and I suggested that the company was facing a couple of catalysts (including the combination of Devon's and Crosstex's midstream assets) that could drive the share price higher.
Devon's share price rose quickly to over $65 per share after I wrote about the company, but started an extended period of consolidation shortly after. Devon Energy now quotes at $63.78, not too far away from its 52-week High at $66.92.
Shares of the independent oil- and gas company have returned 19% over the last twelve month with a majority of that performance earned in February 2014 alone.
(Source: Yahoo Finance, click to enlarge)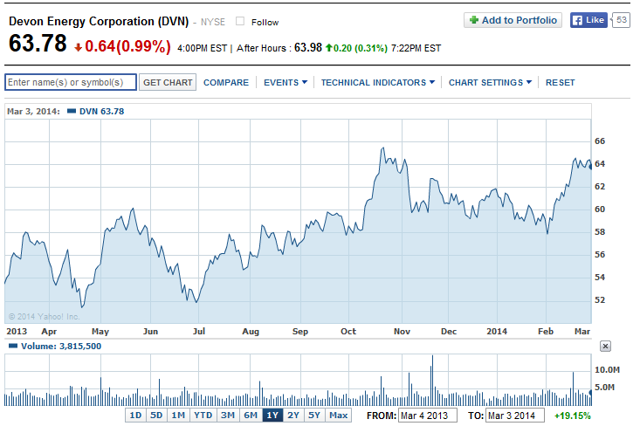 Compared to other large-cap exploration companies, Devon Energy is still an interesting oil- and gas bet because the company lags its peers in performance. Over a five-year measurement period, Devon Energy has the worst performance of the all companies in the peer group: A plus of only 60%. Chesapeake Energy (NYSE:CHK) gained 82%, Occidental Petroleum (NYSE:OXY) 90%, Anadarko Petroleum (NYSE:APC) 155% and Marathon Oil (NYSE:MRO) 169%.
(Source: Yahoo Finance, click to enlarge)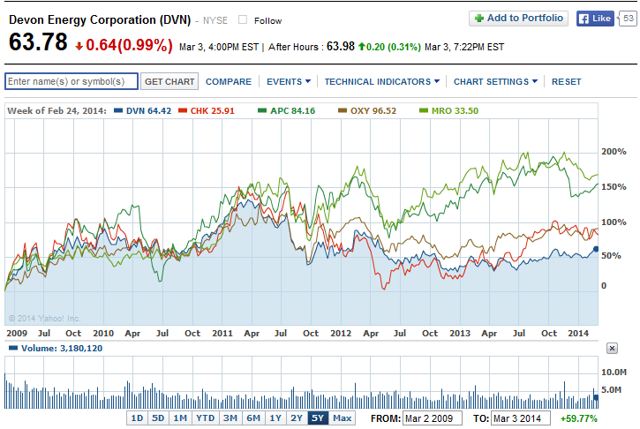 Portfolio upgrade a major catalyst
On February 28, 2014 Devon Energy reported that it acquired highly promising Eagle Ford assets from GeoSouthern Energy:
OKLAHOMA CITY--(BUSINESS WIRE)--Feb. 28, 2014-- Devon Energy Corporation today completed its previously announced acquisition of Eagle Ford assets from GeoSouthern Energy. Devon has acquired 82,000 net acres located in DeWitt and Lavaca counties in Texas. This world-class light-oil position is delivering outstanding well results offering some of the highest rate-of-return drilling opportunities in North America.
The Eagle Ford shale is a high-impact drilling theater and clearly profits from its proximity to first-class energy infrastructure (pipeline-, storage- and refinery capacity). Devon Energy intends to invest $1.1 billion in the current fiscal year and plans on drilling more than 200 wells. I think this transaction is a major catalyst for Devon Energy and should translate into meaningful production growth in 2014 and beyond.
Market valuation
Devon Energy is still the best-priced oil- and gas company in the sector. The company trades less than ten times earnings and compares favorably against a peer group average P/E ratio of 12.42 (see below).
Devon Energy's low P/E ratio translates into an initial earnings yield of 10.2%. Low P/E ratios often reflect a higher margin of safety compared to other companies in the sector that trade at meaningfully higher multiples.
Chesapeake Energy has become my second favorite company in the exploration sector because it restructures its balance sheet, reduces capital expenditures and focuses on non-core asset sales. As such, Chesapeake Energy has become somewhat of a restructuring play and I think the company makes a very solid value proposition especially considering that Carl Icahn holds a 10% stake in the company and might flex his activist muscle.
(Source: Achilles Research, Finviz.com)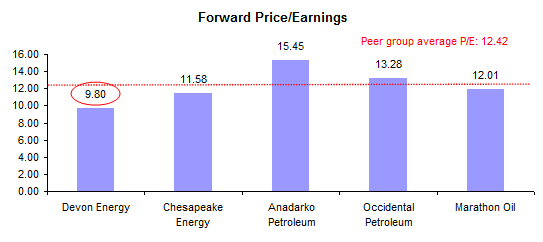 Clearly, Devon Energy (or any other company in the oil- and gas exploration sector) should not be bought for its dividend yield. The chart below compares the dividend yields of the companies in the peer group. With a peer group average dividend yield of 1.77% the sector doesn't lend itself to income-seeking investors. Those folks are better advised to seek out income opportunities in the master limited partnership sphere (for instance, here).
Devon Energy currently pays investors a dividend of $0.22 per share translating into an annualized forward dividend yield of 1.38%. The majority of gains for shareholders will likely come from capital appreciation, not Devon Energy's dividend yield.
(Source: Achilles Research, Finviz.com)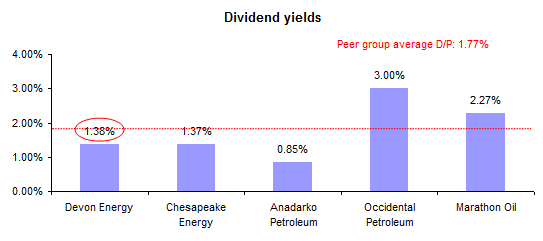 A summary table with key valuation metrics is provided below:
(Source: Achilles Research, Finviz.com, click to enlarge)

Conclusion
I think it often pays to look at companies that have previously underperformed. Many high-flyer stocks exhibit high equity valuations (for instance, Anadarko Petroleum) and I think this oftentimes limits further appreciation potential. Devon Energy, on the other hand, exhibits a comparatively low valuation and promising production growth prospects: Its $6 billion acquisition of low-risk Eagle Ford development assets should provide substantial production- and EPS boosts in the coming quarters. If the company releases promising drilling results with respect to its newly acquired assets in 2014, I expect further momentum in shares of Devon Energy and potentially new 52-week Highs. Strong, long-term BUY.
Disclosure: I am long DVN, CHK. I wrote this article myself, and it expresses my own opinions. I am not receiving compensation for it (other than from Seeking Alpha). I have no business relationship with any company whose stock is mentioned in this article.