BlackBerry (NASDAQ:BBRY) seems to be doing all the right things, and the market is noticing. Shares are up nearly 91% from a yearly low set in December 2013, which at first glance suggests upside is limited. Short sellers reduced their bets against the company in that time, setting the stage for more upside in the company's shares.
There are four reasons investors should accumulate shares of BlackBerry and forget about it until next year, at the earliest.
New products
BlackBerry recognized its loyal users found even the keyboard-based device was confusing to use. The Q10, BlackBerry's flagship premium device, lacked a phone and end button. Missing was the iconic track pad. Users instead got the hub and an on-screen cursor navigation that was hard to get used to. To address the needs of its customers, the company said it will bring the track pad and all of the buttons ('Menu', 'Back', 'Send', and 'End') to the Q20. These buttons were in the now end of life BlackBerry 7 devices.
Recognizing the strong demand for smartphones with a large screen and long lasting battery, BlackBerry will release the Z3 in Indonesia. The device will have a five inch screen, a dual core processor, and 1.5GB of RAM. Most importantly, the device will be under $200. It is not clear if a device at this price range will be available in North America. Even if it were released in this region, sales would likely be weak. At present, support from the company for the retail channel in the United States is weak.
Price cuts
In Canada, Koodo mobile cut the price of the Q5 to $150 (off contract). BlackBerry once grew its market share from selling inexpensive pearl and curve devices to the consumer. BlackBerry would boost sales to consumers if it promoted the Q5's lower price at all carriers. Sales would also improve if a low-cost variant of the Z3 were released in North America.
Enterprise device management
With testing of BlackBerry Enterprise Services ("BES") at the tail-end of user acceptance testing, BlackBerry is encouraging existing BlackBerry users to trade-up licenses. To win users over from other Mobile Device Management firms ("MDM"), BlackBerry will match those licenses for BlackBerry ones.
Automotive
Ford (NYSE:F) selected BlackBerry's QNX technology to power its next-generation in-car syncing. Microsoft (NASDAQ:MSFT) is the current provider for Ford's information and entertainment system. QNX's importance in automobiles received a further boost after Apple (NASDAQ:AAPL) said in a press release that it will release CarPlay. Lost in the news is that Apple CarPlay will be running on QNX. QNX executive Paul Leroux said:
Connectivity to smartphones and other mobile devices is a key strength of QNX Software Systems' platform for car infotainment systems, and many automakers and tier one automotive suppliers use our platform to implement smartphone/head-unit integration in their vehicles. We have a long-standing partnership with Apple to ensure high-quality connectivity with their devices, and this partnership extends to support for Apple CarPlay.
The implication is that CarPlay will run like an app on top of QNX within the specifications set by the GENIVI Alliance.
CarPlay will be available in Volvo, Mercedes-Benz, and Ferrari. GM (NYSE:GM), Honda Motors (HM), Hyundai, and Nissan, to name a few: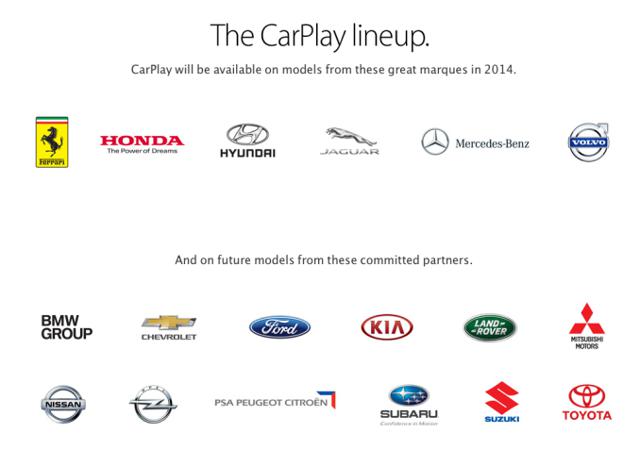 Source: Apple
Bottom line: buy and forget
Bearish short interest in BlackBerry dropped from 143.8 million shares in mid-December 2013 to 94.5 million by February 2014. This is for good reasons. Its shares were supposed to meander below $10 for many months. Instead, positive momentum is building thanks to new product announcements, wins for QNX systems with major automotive companies, and price cuts. Sell-offs along the way are likely. Investors are better off ignoring these events, or even better, programming limit orders to build a bigger position at lower prices.
Disclosure: I am long BBRY, F. I wrote this article myself, and it expresses my own opinions. I am not receiving compensation for it (other than from Seeking Alpha). I have no business relationship with any company whose stock is mentioned in this article.