By Jeff Bailey
Salesforce.com (CRM) shares rallied on the contents of the company's latest earnings release, though it's doubtful that actual fiscal fourth-quarter results were the source of the merriment. After all, there was a quarterly loss of $116.6 million, nearly six times larger than the loss in the year-earlier period.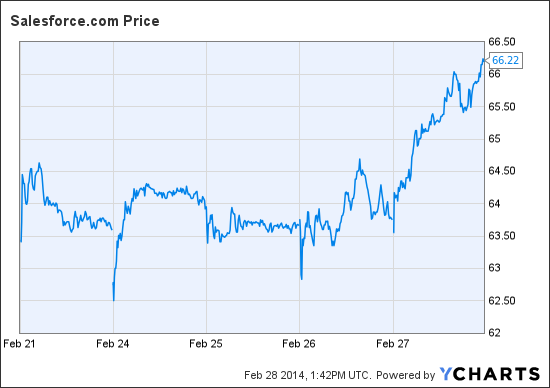 CRM data by YCharts
There was an odd escalation of marketing and sales expenses, rising in the quarter ended January 31 to $639.8 million, up 47% from a year earlier. Revenue rose, too, but by a comparably smaller percentage, 37%; thus the bigger loss. This is the dis-economy we mention in the headline. As Salesforce gets bigger, its cloud-based software seems harder to sell, not easier. That's not how scaling is supposed to work.
But this bad news completely misrepresents the Salesforce release and the story the company wants to tell. The release starts by projecting fiscal 2015 revenues – they'll rise 30%. Other happy comparisons are trotted out. And soon, we're being treated to the first mention of non-GAAP results; there will be 61 mentions of non-GAAP in all. Salesforce prefers to show results that exclude stock-based compensation, acquisition amortization and other annoying costs. Our unkind treatment of this non-GAAP hilarity from last June is there for fellow spoilsports.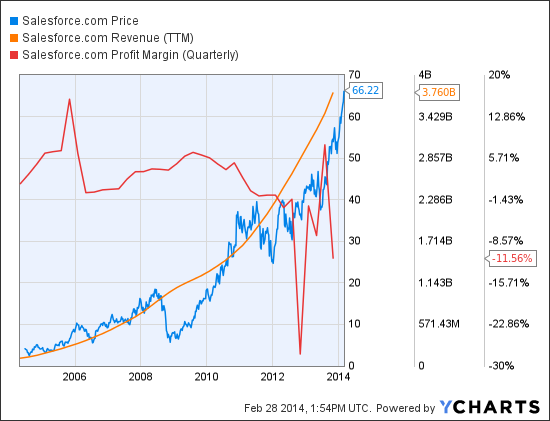 CRM data by YCharts

Shorting this stock could be like stepping in front of a moving train. People love the revenue growth and talk of transformative technology, and seem willing to ignore the bottom line. Much like Amazon (NASDAQ:AMZN). Dig in with some financial advisor tools. And by all means, read the 10-K of Salesforce when it's filed.

Disclosure: None