Executive summary
Galaxy Gear Fit was the most important device at UNPACKED 5.
Samsung may spend up to $3 billion in advertising to push its new product category when based on industry comps.
Pricing is uncertain on the device, but I believe anything below $200 will make it difficult for Samsung to breakeven.
Samsung has launched a software development kit for Galaxy Gear.
Samsung has very little momentum when compared to other application ecosystems.
________________________________
Much could be said about the Galaxy Gear Fit from Samsung (OTC:SSNLF), and while I'm not convinced by the prospects of the other watch (Galaxy Neo 2), the Galaxy Gear Fit was a head turning device at the UNPACKED 5 event. I don't think anyone thought Samsung was going to come up with a wearable device that has awesome aesthetics paired with a practical user interface. If I had to guess where all the creativity and innovative juices went at Samsung, I'd have to say it went into the fitness watch.
This might give Apple (NASDAQ:AAPL) just enough time to adjust its strategy in order to respond with a product of its own that's just as compelling.
The Galaxy Gear Fit is perfect for Samsung's marketing
Samsung is the fastest growing spender on ads, and it's the biggest spender in the United States. With the launch of new product categories, I have absolute conviction that Samsung will increase ad-spend, and will have spending on par with major sport brands to offer a product that can target athletes.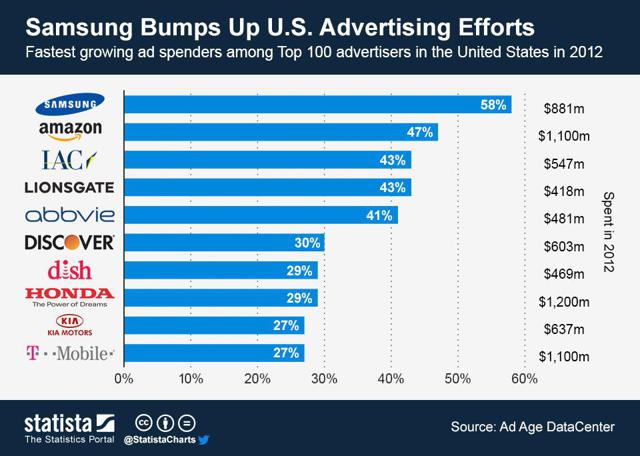 Source: Statista
This is Samsung's ad-spending in the United States in 2012. Samsung had a $14 billion advertising budget for 2013. Remember, Samsung is a multi-national company, and ad-spend for the United States is relatively small when compared to global ad-spend.
Granted, Samsung will increase the scale of its advertising by several orders of magnitude in an attempt to create its own multi-billion dollar product category. Samsung needs to prove to shareholders that it can successfully create new products and sustain market leadership in them. Generally, business executives shy away from creating "new products,"and in many industries creation of new products isn't really necessary.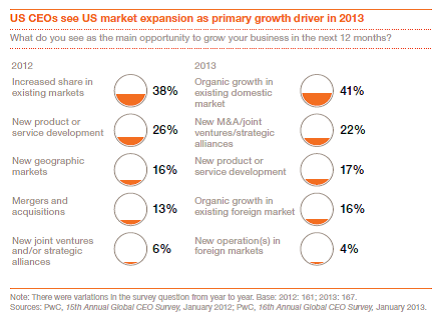 Source: PricewaterhouseCoopers
CEOs focus more on organic growth and joint ventures to drive growth in the United States. A small percentage of CEOs (17%) will develop products and hinge their success on product development in order to move meaningful sales growth. Therefore, investors have to be cognizant of the fact that Samsung's development of its own product category is uncommon. To hedge downside, Samsung will aggressively invest into advertising. To come up with a basic idea on how much Samsung may commit to marketing on an annualized basis, I dug deeper into Nike's (NYSE:NKE) annual report.

Source: Nike
Nike spent $2.745 billion in fiscal year 2013. Nike uses a combination of athletic endorsements, ads and retail-partnerships to drive sales. In other words, Samsung will need to out maneuver more traditional sports apparel companies by out-spending them on advertising. After all technical gadgetry costs substantially more than a pair of Nike shoes or spandex shorts for that matter.
I'm convinced Samsung will pay a lot of athletes in the NFL, NBA, MLB, Olympics, X-Games and FIFA to wear the device. And if Samsung really wants to blow the world up with marketing, they'll chase after college athletes too.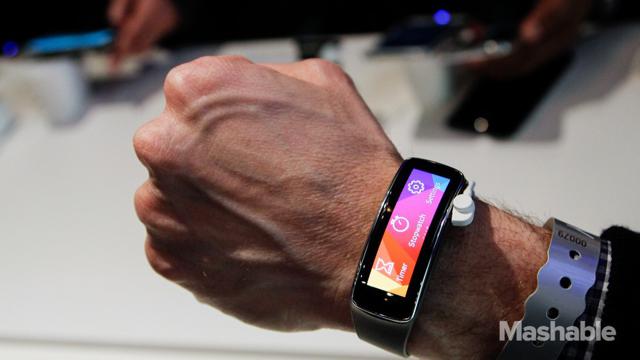 Source: Mashable
Details on pricing isn't really available to us. But, I'm willing to speculate that anything below $200 will have difficulty with reaching breakeven, and lowering prices at the outset would indicate weakness as Samsung doesn't even have any serious competition.
I wouldn't consider Nike serious competition as Nike is an apparel company. If anything, Nike has to figure out a way to keep the Nike Fuel Band competitive with the Galaxy Gear Fit. Nike has a very powerful brand, and useful synergies, but it doesn't have the resources to compete with Samsung. Established tech companies have been overwhelmed by Samsung's aggressive product cycles in the past, and with Samsung running on all six cylinders, Nike could become another casualty.
Tizen OS a double-edged sword
To be honest, I'm surprised Samsung was able to find a niche for its up-start operating system. As I have mentioned in the past, implementing Tizen OS with the Samsung Galaxy S5 would have been a terrible idea. There's not enough room for another OS in the smartphone space. However, implementing Tizen with wearable computing could strike the right balance of risk-to-reward.
Application stores (iOS, Android, Windows) earn a 30% royalty on application sales. So if Samsung does this right, they can monetize both software and hardware. However, if Samsung's application ecosystem doesn't take off, it won't earn royalties, and it may hamper Galaxy Gear sales. If Samsung isn't able to attract enough traction with Tizen, Samsung will have to design a modified version of the Android OS.
For now, Samsung has taken matters into its own hands according to CNET:
The company, speaking at a developer day at Mobile World Congress, released a software development kit for its Gear 2 smartwatch, which is based on the Tizen operating system, and an SDK for its S Health application. It also launched a Gear Fit SDK that will allow developers to make apps for their Android devices that can interact with the Gear Fit.
Currently, the Galaxy Gear Fit will launch with 100 applications, which sounds impressive but it's extremely small when compared to the number of applications Windows Phone (200,000), iOS (900,000) and Android (1,000,000) have. Samsung will attract some developers, but I'm beginning to wonder if Samsung with 100 applications at launch will ever grow into a vibrant application ecosystem.
I could only imagine OEMs like Sony, HTC and Motorola to launch a watch that will try to be cross-compatible with Android's pre-existing application library. Apple also has a built-in advantage of 900,000 apps, so it already has apps for when it releases a wearable computing device. The challenge for Apple and Google (NASDAQ:GOOG) is to design a way for software to work on two different devices, and maximize the advantages different form factors may carry.
Conclusion
If anything, the Galaxy Gear Fit will play to Samsung's strengths as it will be a very easy device to market. However, the company needs to attract way more app developers. Application developers will experience very limited upside in the early stages. This means that Samsung has to pitch them on the idea of a future where Samsung will become one of the most dominant operating systems in the wearable computing space. Furthermore, Samsung will have to offer additional cash prizes and subsidize the development of applications in other means if it wants any chance at jump-starting its own software ecosystem.
Without knowing what Apple's iWatch will be capable of, I'm going to be a little patient before declaring Samsung the ultimate winner. It's easy to get blind-sided in tech, and knowing Apple's history of successful product launches, it's way too early to declare a winner.
Disclosure: I have no positions in any stocks mentioned, and no plans to initiate any positions within the next 72 hours. I wrote this article myself, and it expresses my own opinions. I am not receiving compensation for it (other than from Seeking Alpha). I have no business relationship with any company whose stock is mentioned in this article.