By Jeff Bailey
Novartis' (NYSE:NVS) generic unit, Sandoz, has in phase III clinical trials for the U.S. market so-called biosimilar drugs that would compete against original biologics with annual worldwide sales of about $34 billion. That's by far the biggest biosimilar program in the industry, Moody's Investors Service notes in a research report released this week.
But unlike generic drugs for simple chemical compounds, loss of 90% of branded drug sales isn't a given with biologics. The FDA approval process for biosimilars is untested and could be lengthy. And price differences between original and knockoff drugs will likely be far less dramatic than with traditional drugs, as manufacturing biosimilars will be costly. (See this fascinating account of the original production process for Enbrel, by the Wall Street Journal's David Hamilton.) Also, branded biologic makers are fighting to prevent biosimilars from being termed interchangeable, hoping to slow adoption of their use.
All that means the targets of Novartis' R&D spending aren't facing immediate or enormous erosion of revenue. At least for now. The targets include: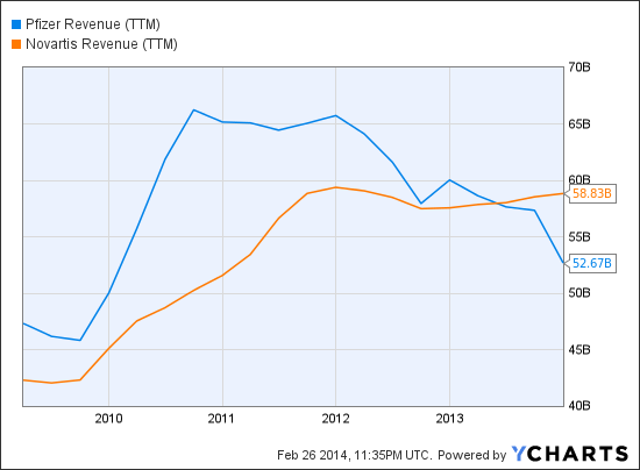 PFE Revenue (TTM) data by YCharts
Novartis' growing generic drug business, coupled with patent protection loss on Pfizer's former No. 1 drug, Lipitor, already sent the Swiss drug maker's sales ahead of the long-time revenue champ.
Approval of biosimilars in Europe is ahead of the U.S., the world's largest drug market, with a handful on the market already.
Despite the expected delays in the U.S., and all the uncertainty, the huge commitment by Novartis ultimately threatens many of the most profitable products in big pharma. AbbVie's Humria, for instance, represents more than half of company sales.
Hospira (NYSE:HSP), according to the Moody's report, is the second most active developer of biosimilars.
Selling biologics has clearly helped pharma companies protect best selling drugs far better than was possible with traditional chemical compounds. The slowing of sales loss to the patent cliff, as YCharts reported earlier this week, is bringing stability to these stocks and helping to focus investor attention on the new drug pipeline, which is brimming with cancer treatments and hepatitis drugs, among others.
But the urge to reduce costs by governmental and private insurers could ultimately spur adoption of biosimilars on a wider-than-expected basis. Should European countries succeed on this front by moving ahead faster, the U.S. could be compelled to follow. And Novartis' broad-based bet on biosimilars could prove a enormous advantage.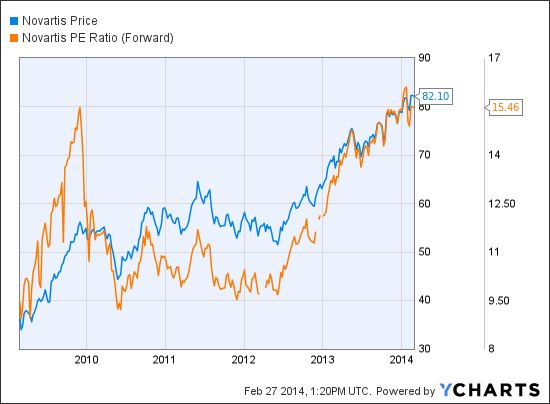 NVS data by YCharts
The stock's steady advance on a richer multiple - in this case, forward PE ratio - recognizes this possibility.
Disclosure: None.