Executive summary:
3D Systems reported mixed Q4 earnings, but long-term growth outlook remains positive.
Consumer demand fell short of expectations due to preannouncement of the 2014 product lineup, which resulted in delayed orders.
Revenue growth accelerated once again in Q4, and the company provided a road-map for $1 billion in revenue in 2015.
Ramped up investments weighed on profitability, but the long-term margin profile remains intact.
Stratasys reported better growth rates, and 3D Systems' premium seems undeserved.
_________________________________
3D Systems (NYSE:DDD) reported earnings that slightly missed analyst estimates, and the company reaffirmed the prior revenue guidance for 2014. The Q4 earnings report missed estimates and the company's expectations due to a preannouncement of the 2014 product lineup, which delayed customer orders, and resulted in lower than expected demand for consumer products. While I find the earnings report and the reasons for the lower than expected revenue and earnings reasonable, I am worried about the loss of momentum and the current valuation, which is elevated and most importantly, still higher than Stratasys' (NASDAQ:SSYS), which reported higher revenue growth. As I mentioned in my previous article, the long-term outlook for 3D Systems and 3D printing remains quite positive, while there might be a more favorable entry point in the following months.
Q4 highlights and 2014 and 2015 outlook
3D Systems reported Q4 revenue of $154.8 million, up 52.4% year-over-year, and $0.2 million below analyst estimates. Adjusted EPS was $0.19, missing expectations for $0.20. Management explained that revenue came in below estimates because of lower consumer demand. While the lower than expected consumer demand would be a reason to worry about in normal circumstances, the reason for lower consumer demand was the preannouncement of the 2014 product lineup, which resulted in delayed orders and the doubling of the order backlog in the fourth quarter. Consumer segment's revenue in Q4 was $8.9 million, a 162% increase over Q4 2012. On the other hand, lower than expected profitability was the result of an unfavorable product mix and due to high concentration of new product announcements.
Other areas were particularly strong. Materials revenue growth accelerated in Q4 to 39%. Healthcare revenue solutions revenue grew 67% and contributed $21.8 million in revenue. Direct metal demand continues to rise. Direct Metal revenue grew 204% in 2013 to $14.3 million, driven primarily by Phenix printer sales. Management stated on the Q4 conference call that
Major OEMs and service providers alike are investing in our ProX Direct Metal printers, because of their capability to produce the most demanding industrial grade precision metal parts.
3D Systems sold out its Direct Metal printers manufacturing capacity and finished the quarter with a strong backlog of metal printers orders.
The company reaffirmed the 2014 revenue guidance between $680 million and $720 million. Management expects that the demand for new professional and consumer products are going to accelerate organic growth in the second half of 2014.
3D Systems also announced a road map to 2015 revenue, which is expected to reach $1 billion, almost double the 2013 revenue. The increased revenue will be driven by printers, materials and software driven perceptual devices. The company expects gross margin to expand to 55% to 60% as revenue exceeds $750 million. Operating leverage is expected to resume in 2015. This road map is perhaps the most important detail from the Q4 report. This shows that the increased spending is not a degradation of the company's operating model, but rather a consequence of a robust product rollout and the fact that the company is at an inflection point, where it must take advantage of the growing demand for 3D printers and services. 3D Systems' CFO Damon Gregoire indicated on the conference call that they:
believe that maintaining our historical performance does not require this level of increased expenditures, but that planning to double our revenue over the next couple of years does.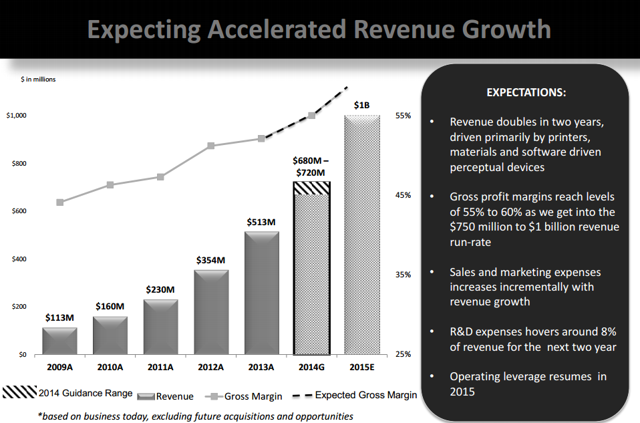 Source: 3D Systems Q4 presentation
Slowing momentum and valuation are two major short-term concerns
3D Systems' share price experienced elevated volatility in 2014. The company's share price was almost cut in half, as it went from $95 to $55 in less than two months. The stock was supported at its 200 day moving average line, and now faces resistance, as it trades below its 50 day moving average line, which started to roll over in February. The loss of momentum is evident, and the lack of demand can be observed by mostly lower volume on up days and higher volume on down days.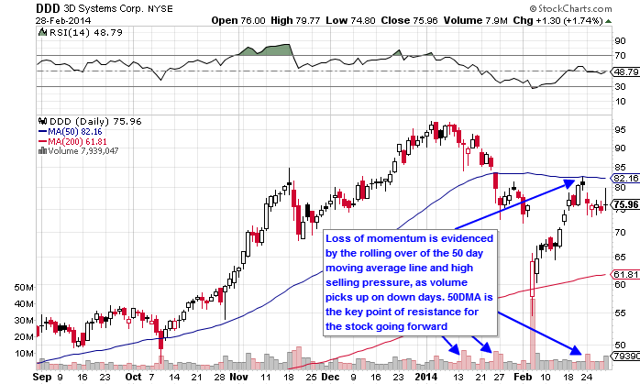 Source: Stockcharts.com
The other cause for concern is 3D Systems' premium valuation over its main competitor Stratasys. 3D Systems price to sales ratio is 15, while Stratasys' P/S ratio is 12.8. This is still a substantial premium, and either Stratasys needs to rally 15% to catch up, or 3D Systems needs to fall 15%. Stratasys' revenue growth in Q4 was 61.6%, compared to 3D Systems' growth rate of 52.4%. 3D Systems would need to have higher growth rates to command a premium valuation over Stratasys, not the other way around, which is currently the case. I expect Stratasys to outperform until their respective valuations are at the same level.
Conclusion
Although 3D Systems' Q4 report came in below estimates, it seems to be justified by the lack of demand for consumer products, since the company preannounced the 2014 product lineup, which delayed customer orders. The 2015 revenue and margin road map seems quite encouraging, and the company expects greater operating leverage in 2015 and beyond. The loss of momentum and premium valuation over Stratasys are two major short-term concerns, and investors may get a more favorable entry point in the next couple of months. However, the long-term perspective for 3D printing and 3D Systems remains positive, and I would not be surprised if the stock keeps rising. The 50 day moving average line remains the point of resistance for the stock, and if it moves above the line, chances are that 3D Systems will continue to rise.
Disclosure: I have no positions in any stocks mentioned, and no plans to initiate any positions within the next 72 hours. I wrote this article myself, and it expresses my own opinions. I am not receiving compensation for it (other than from Seeking Alpha). I have no business relationship with any company whose stock is mentioned in this article.