Have you scanned the commodity charts recently? They've been looking pretty sour as concerns about eurozone demand have heightened along with the value of the US dollar.
There are a couple of sweet spots, however. One rather fitting market is sugar. Remember sugar? Earlier this year, sugar prices soared to their highest levels in three decades after two consecutive years of low — very low — ending stocks.
After peaking above 30 cents per pound, prices were halved as the supply squeeze relaxed. Case in point: Brazil's agricultural ministry now predicts sugar production will rise 17 percent in the 2010-2011 crop year, while the US Department of Agriculture estimated ending stocks will jump from 1.075 million tons to 1.218 million.
India's white sugar yields, too, look to return to more normal levels this year as the interest in ethanol production — often a significant off-take of raw sugar—wanes along with petroleum prices.
Spot prices bottomed at 13 cents on the Intercontinental Exchange in the first week of May and now have rallied within spitting distance of 16 cents.
The bellwether for the sugar market in this last cycle has been swap dealers' positions. Dealers are on the opposite side of the contracts granted to "fund" securities like the iPath Dow Jones-UBS Sugar Subindex Total Return ETN (NYSEARCA:SGG).
In late January, when sugar prices peaked, swap dealers held net short positions exceeding 110,000 futures contracts. By the time prices bounced off 13 cents, swap dealers had pared down their short positions and flipped over to the net long side. Dealers are now long more than 30,000 contracts.
So, are we looking at a bull market now? Well, not one likely to return to 30 cents. But there's still some upside room in this previously oversold market.
Friday's close near session highs pushed prices convincingly above sugar's 10-day moving average. A lot of overhanging supply was cleared last week, giving the market room to challenge resistance at the April high of 17.79 cents.
Not that there won't be sellers lurking at intermediate points, mind you. A push up to the 15.95-16.00-cent level is likely to stir sellers' interest, but confident bulls are equally likely to view setbacks as buying opportunities.
For investors in the iPath SGG notes, that would equate to reactions from the $44.95-45.00 level. If prices get above $45.15 today, though, we'll pretty much know outside influences, rather than professional traders, are driving the market. One the downside, trades down to the $42.12-42.15 level should be chalked up to normal volatility.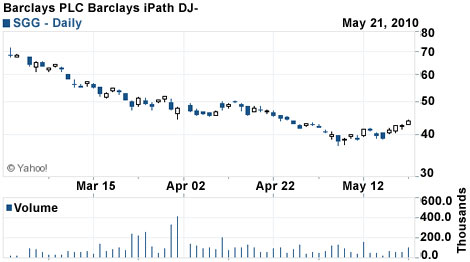 Disclosure: No positions