As predicted here, Qualcomm Inc (NASDAQ:QCOM) has just announced its annual dividend increase. This marks the 11th straight year that Qualcomm has increased dividends (since 2003).
This article was written in 2013 when Qualcomm announced its dividend increase last year. With the latest increase in mind, let us reevaluate the numbers.
New Yield: The new annual dividend of $1.68 per share gives Qualcomm a current yield of 2.20%. This is a bit higher than the 2% at the time of the article linked above. This is still well below the yield of other well known tech stocks like Microsoft Corporation (NASDAQ:MSFT), Cisco Systems (NASDAQ:CSCO) and Intel Corporation (NASDAQ:INTC). But Qualcomm's astounding dividend growth rate should give investors the trust that its yield will catch up with the other tech giants soon.
Payout Ratio: Qualcomm's recent earnings prowess is evident in its low payout ratio. Despite scorching dividend growth rates over the past 10 years, the trailing payout ratio currently stands at 43%. As a comparison, only Microsoft has a lower payout ratio at 42%. Intel and Cisco Systems pay out more than 50% of their earnings already.
Five-Year Dividend Growth Rate: Talking about dividend growth rate, the table below shows the last five years' dividend growth rates. The five-year average stands at 20% now. What's more impressive is that this number has gone up from 12% to 17% to 20% over the last three years since we started following Qualcomm.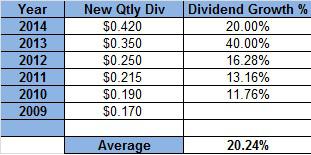 (Source: Yahoo Finance)
Extrapolation: The table below shows the expected yield on cost for an investor willing to stick with Qualcomm for the next five years. The assumed dividend growth rate is 10% per year. While this is much lower than Qualcomm's recent average, this company operates in a very disruptive space and it is better to be conservative. The yield on cost is very likely to double in 5 years given the rate at which Qualcomm is going.

(Source: Current dividend and share price from Yahoo Finance)
Forward Looking Analysis:
Earnings: Qualcomm is expected to grow earnings at 15% per year for the next five years. That gives Qualcomm a fairly reasonable PEG of 1.2.
This company has beaten earnings expectations more often than not. So if we extrapolate that earnings will grow at even 10% per year for the next five years, we are looking at an earnings per share of at least $6. Even if the company sticks to its low payout ratio of 40%, the annual dividend per share should be $2.40. That represents 42% growth to the dividend.
Growing Royalty Strength: Everyone knows that the mobile industry has perhaps seen its best days. In the past decade, companies like Qualcomm and Apple (NASDAQ:AAPL) made plenty of money for themselves and their investors on the back of explosive mobile growth.
But that does not make Qualcomm's future any less robust. Mobile Device Royalties now make up almost 50% of the company's stock price. What is interesting is that this number was at 30% at the time of last year's article linked above. While the royalty rate has dropped from 3.7% in 2007 to 3.2% in 2012, the explosive growth in number of CDMA handsets sold should make up for this.
Another point to note in the chart below is that cash now forms almost 26% of the stock price, up from 23% last year. This means investors are paying less than they think for the company's earning potential.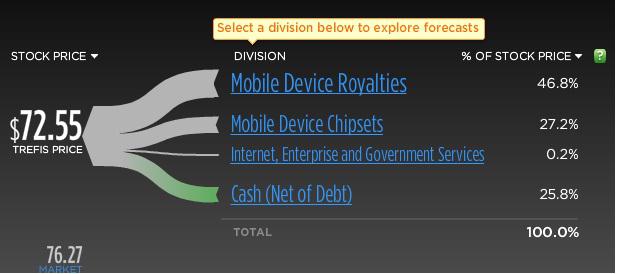 (Source: Trefis.Com)
Conclusion: Qualcomm presents an unique mix of growth, income and dividend growth for investors. With the international mobile market expected to keep growing, Qualcomm should continue seeing reasonable growth. To sum it all up, the following characteristics make Qualcomm very attractive for investors.
A yield that is above the S&P average of 1.90% and a dividend growth that is showing no signs of slowing down any time soon.
A buyback program that has just gathered more strength.
Being a key supplier for all leading mobile manufacturers (royalty aspect).
An expected earnings growth rate of 15%.
Disclosure: I have no positions in any stocks mentioned, and no plans to initiate any positions within the next 72 hours. I wrote this article myself, and it expresses my own opinions. I am not receiving compensation for it (other than from Seeking Alpha). I have no business relationship with any company whose stock is mentioned in this article.