Executive summary:
9 Well known successful value/long-term investors have increased their stake in Oracle in the last quarter.
Perhaps concerns over client migration to the cloud are overblown.
Given its highly profitable past, Oracle could be considered a bargain.
__________________________________
Tracking the investments of accomplished investors who employ a strategy that you are comfortable with can help to generate profitable investment ideas. That's why I regularly check up on portfolios of accomplished investors. Oracle is making its way into a lot of portfolios of successful value/long-term investors. I'm most comfortable following investors for whom "low pricing" is at least a factor in their investment process. Following long-term investors is more productive because they are probably still heavily invested when I get to see their filings. In the portfolios I monitor, there isn't a single stock that is more actively being added than Oracle.
How is Oracle doing?
Oracle has been lagging the market over the past year. The firm led by Larry Ellison underperformed the S&P 500 by over 13%. Ellison co-founded Oracle in 1977 and has served as the CEO since that time. Although to be fair, the stock price did increase over the past year, just not as much as the S&P.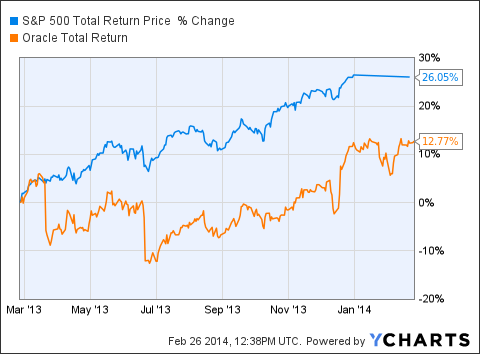 Why is the market worried about Oracle?
Cloud computing represents an immediate and real threat to Oracle's applications businesses. Over the next few years, we will see Oracle dealing with this challenge. Will Oracle succeed in slowly and profitably moving clients away from its traditional software solutions to cloud solutions?
Oracle acquired Responsys for $1.5 billion. Oracle bought BlueKai for an unknown figure. If we go back just a little further, Oracle acquired Eloqua, Vitrue, and Compendium. Oracle is a acquisition machine. This has been quite a successful strategy for the company so far.
However, the market is not fond of serial acquirers. The combination of the threat of Oracle's product becoming obsolete overnight and Oracle's growth by acquisition strategy is perhaps enough to make investors itchy.
Who is buying into Oracle?
The accomplished investors whose portfolios I check out are mostly long term investors with a value bent. At the very least, value is a component of their investment strategy, and often it is the cornerstone. This is the list of funds/managers I follow that have been adding to their Oracle position in the last quarter:
| | | | |
| --- | --- | --- | --- |
| Portfolio Manager | % of portfolio | Shares | Last Quarter |
| Glenn Greenberg - Brave Warrior Advisors | 11.07 | 7,070,613 | + 0.64% |
| Lou Simpson - SQ Advisors | 10.71 | 5,887,075 | + 11.03% |
| Steven Romick - FPA Crescent Fund | 6.18 | 13,305,200 | + 25.82% |
| Bill Nygren - Oakmark Select | 4.75 | 5,200,000 | + 4.00% |
| Donald Yacktman - Yacktman Focused | 4.52 | 11,205,000 | + 12.50% |
| Jean-Marie Eveillard - First Eagle U.S. Value | 4.15 | 3,114,862 | + 29.39% |
| Richard Pzena - Hancock Classic Value | 3.87 | 2,774,075 | + 3.73% |
| Wallace Weitz - Weitz Value | 2.99 | 635,000 | Buy |
| Charles Bobrinskoy - Ariel Focus | 2.70 | 40,100 | Buy |
Why are these super investors so interested in Oracle?
I can only make an educated guess why these accomplished investors are so interested in Oracle. There are 2 important reasons I can come up with:
1) Overblown cloud concerns
Oracle's database and software businesses are bringing in a ton of license revenue, and clients are faced with very high switching costs.
Databases are often a key component in modern day business. Without reliable access to client data or other key data, modern day companies can't function at the same level of profitability.
To save a few bucks and switch to a cloud solution, clients are exposing themselves to great risk. Staying with Oracle is often just cheaper than running the risk of experiencing downtime of key business systems, even if just for a short while, for clients. It is very well possible the 9 investors who are buying Oracle estimate that business is a lot more sticky than the market thinks it is.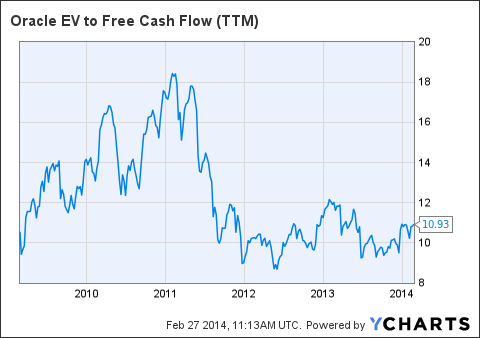 ORCL EV to Free Cash Flow (TTM) data by YCharts
2) Attractive Valuation
It's a challenge to find a crowd of investors that is more mindful of valuation than the 9 included in the table above. Ultimately this is the driving force of the value investors' keen interest in the tech stalwart.
The stock is not particularly cheap when examining the company by traditional value metrics. After looking a little further into the company's history, a different picture emerges.
Oracle managed to grow EPS in excess of 15% over the past 10 years. Return on Capital has been above 15% in almost every year over the past 10 years as well. Return on Equity averages around ~25%.
Given the company's highly profitable history, it's obvious the market fears it is on the brink of losing a lot of business in a process of creative destruction. But with such a consistently profitable past, it's hard to stay away from this bargain.
Conclusion
Oracle is the most widely bought stock between the portfolios of great long term/value investors I monitor. Glenn Greenberg of Brave Warrior Advisers and Lou Simpson of SQ Advisors are betting over 10% of their portfolios on Oracle. The market fears the company's services will be rendered obsolete. If the company's history of profitability would continue into the future, it is available at a bargain price. It is either a terrible time or a great time to buy into Oracle. One thing is for sure: If you invest in Oracle, you are in great company.
Disclosure: I have no positions in any stocks mentioned, and no plans to initiate any positions within the next 72 hours. I wrote this article myself, and it expresses my own opinions. I am not receiving compensation for it (other than from Seeking Alpha). I have no business relationship with any company whose stock is mentioned in this article.