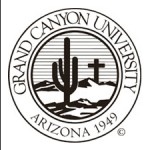 For-profit education companies have faced more than their share of scrutiny over the last several years. With high profile fraud cases, and rising concern that taxpayers are footing the bill for student loans that are less likely to be repaid, the business of education has been under pressure.
Often, companies in a particular sector are all painted with the same brush for a period of months (or even years) until the dust settles and individual companies with strong business models are able to stand out against their competition. With regulations regarding loans to students of for-profit education companies likely to be completed this year, investors may get the chance to see which of these companies are likely to continue to thrive, and which carry significant risk.
At issue is the ability of graduates to find gainful employment and therefore repay student loans which are typically federally insured. Grand Canyon Education Inc. (LOPE) will likely hold up well under this scrutiny and could rise sharply once the regulatory uncertainty clears. Low tuition rates keep student loans manageable for graduates, and the fact that the educator has a campus with many of the social draws of a larger university helps student retention and graduate rates (which are likely to be a key measure under regulation)
Earlier this month, the company announced first quarter earnings which appeared to be very constructive. Revenues grew by 61% to $89.3 million and earnings came in at $0.25 per share. This is an increase of 127% over earnings from last year as enrollment continues to grow sharply.
LOPE is in good financial condition with a cash balance of $97.9 million – up a full $34.8 million in just the last quarter. Looking closer at the balance sheet, the majority of assets are tangible which increases the quality of the financial picture. On the liability side, the largest current liability is "Deferred revenue and student deposits" which is essentially cash collected from students for services that have yet to be performed. While properly classified as an accounting liability, the $45 million will almost surely flow to the income statement as the education company enters subsequent quarters. The only long-term debt is roughly $25 million in notes payable.
The future looks bright for the company as management issued strong guidance. In the second quarter enrollment is expected to grow to 36,500 to 37,500 – an increase of 32% to 36%. Revenues should grow by 47% to 49% and EPS should be between 23 and 24 cents. for the full year, revenue should fall in a range of $397 to $405 million, enrollment should finish the year between 47,000 and 49,000 and management expects to earn $1.21 to $1.27 per share.
We are excited about the future as we continue to match the needs of the changing economy to relevant programs that both traditional and non-traditional students continue to seek out and benefit from. ~Brian Mueller, CEO
Shares of the stock are not particularly cheap, trading at a forward PE of 21. But with the exceptional growth rate, analysts expect 2011 income to approach $1.68 per share in 2011 which puts the stock at a 2 year PE of 15.5. Of course it is difficult to extrapolate growth out for several years, but with an exceptional student retention rate, it is easier to project longer-term earnings for LOPE. Analysts are typically bearish on the education sector at this point due to the regulatory issues in play. So it is likely that the current expectations are conservative and future growth could turn out to be much more attractive.
LOPE appears to be ready to break out of a tight range formed in the last few weeks. Relative strength ratings have been improving as the market has been weak but LOPE has held its gains relatively well. Buying at the current price near $26 with a stop around $23.50 would allow traders to set up a position with limited risk and the potential for much larger gains. So despite the uncertainty in the education industry, LOPE looks to be a good trading opportunity.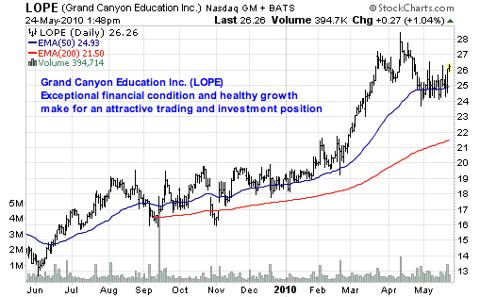 Click to enlarge
Full Disclosure: Author does not have a position in LOPE