Ambarella (NASDAQ:AMBA) has run up over 200% during the past year, and some say it's time to sell. Despite a fundamentally high valuation, the growth prospects for this company couldn't be in better hands. AMBA is the only provider of the popular GoPro sports camera's video encoding chip. Additionally, Ambarella has recently struck an agreement with Google (NASDAQ:GOOG) to provide video chips to their wearable camera devices. They also have revenue streams from selling chips to clients in Security, Automotive, and Broadcast Infrastructure.
Ambarella's Product:
The video chips provided to their clients are simply superior to their competitors. In the highest grossing products provided to Google and GoPro, the video chips allow users to take high quality video with minimal blurring and share them on social media or WiFi based platforms instantly after filming. Ambarella's software also allows external remote devices such as smartphones to control the camera. The chips also are known for their ability to operate at full capacity while being much more power efficient than alternate products. Also, the video chips sold to the automotive industry provide solutions to the newest industry innovations such as driver's assistance features, WiFi connectivity, and multi-channel video.
Breaking Down the Valuation: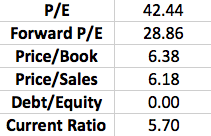 As you can see, AMBA is valued similar to any company with expected high growth. However, they have zero debt and a strong current ratio which means they have cash on hand to either improve products, develop new ones, or support increased production from high demand from clients.
GoPro Prospects:
The popular, wearable, and relatively indestructible GoPro cameras each use video chips made by Ambarella. The GoPro has revolutionized the way we film action sports. It is common to see the cameras mounted on the helmets of skiers and snowboarders at any ski resort in the US from pros to amateurs. GoPro sales have actually doubled each year since it has been released. Ambarella is set to benefit directly from the future growth prospects of GoPro, and should receive more positive media attention as the GoPro IPO approaches. Realistically, the GoPro IPO should be one of the most popular IPOs of the year. It will be very difficult for smaller non-institutional investors to get their hands on shares. Instead, one could purchase AMBA shares as they should move in lockstep with GoPro.
Is Ambarella another Cirrus Logic (NASDAQ:CRUS)?
No. Cirrus Logic derived a much larger proportion of their revenue from Apple products. They were truly a one trick pony. Ambarella on the other hand is partnered with not only a single high growth company, Ambarella, but also other brand names such as Google. With all the hype going into GoPro, Google's agreement on wearables with Ambarella will bolster revenues even if GoPro's growth falters. This limits the shareholder downside.
Final Takeaway:
Ambarella is stock with high upward momentum. In the months ahead of the GoPro IPO, the perception of the stock as an indirect bullish play on GoPro should continue the upward movements. In the long term, Ambarella has great growth prospects. Personally, both long and short term prospects for AMBA look profitable, and I'm looking to buy on the next dip.
Note: AMBA reports earnings on March 6th.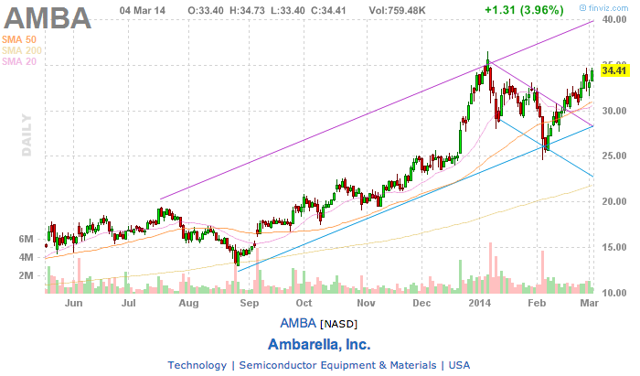 Disclosure: I have no positions in any stocks mentioned, but may initiate a long position in AMBA over the next 72 hours. I wrote this article myself, and it expresses my own opinions. I am not receiving compensation for it (other than from Seeking Alpha). I have no business relationship with any company whose stock is mentioned in this article.