Best Buy (NYSE:BBY) has been one of my favorite plays in this recovery and the comeback of the American consumer. I know this "recovery" may not be sustained, as the Fed has given the economy a dose of steroids and we are still in a phase of vulnerability. However, that said, the consumer has begun to spend and gadgets are once again in demand. When this trend changes, which I do not see in the near future, my views on any consumer related stock will also change.
From a fundamental standpoint, BBY is solid. They have grown their revenues in good times and bad. The chart below shows their revenues over the past 10 years. (Click to enlarge)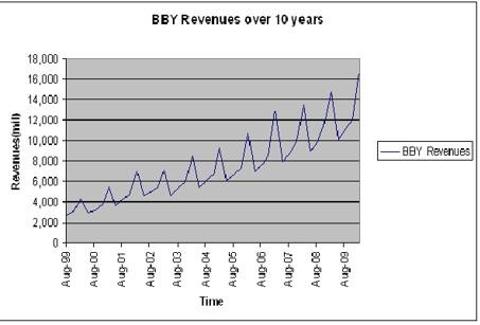 Click to enlarge

Earnings in a similar fashion have grown and reached an all time high as well. On a P/E multiple basis, Best Buy shops for around 11.8 x 2010 earnings and about 10.6 x 2011 earnings. That's not too expensive and is, in fact, cheap given that they have grown top and bottom line by 15% over the last 10 years through two recessions.
They have actually emerged stronger from those recessions, as can bee seen by their revenue hitting all time highs. But the real question is: Where does Best Buy and its stock go from here? From my quantitative and qualitative research the answer is up. My conviction is strong.
I have talked about valuations, let me explain more from a qualitative standpoint. In terms of competition, Circuit City was Best Buy's most prominent competitor. But, with its bankruptcy, most of the business that was with Circuit City has come to Best Buy with very few others headed to stores like RadioShack (NYSE:RSH), Walmart (NYSE:WMT) and small technology stores. Other competitors are online stores, such as Amazon (NASDAQ:AMZN), but the problem here is that while buying something online is great, people really like to see something before they buy it. I don't expect this to go away unless the cost of doing so is far above the levels it is today. For a TV, that cost is estimated to be between $30-$50 for a $1500 TV. The value of seeing that TV before buying it is above that $30-$50 for a majority of people.
The other important issue is that of the Geek Squad. Now this is a fantastic idea. People will pay for this kind of service because they are perennially afraid of their devices breaking down (it happens a lot!). This is another reason buyers pay up for the services of Best Buy.
Best Buy also tends to get the best deals in comparison to other competitors and this, along with other upsides, further adds to their business. First, there have started selling Apple (NASDAQ:AAPL) products such as iPads, iPods and Macs. As we know, these products have been selling like crazy and upon visiting the stores, I discovered that iPads have lasted a maximum of three hours upon their arrival at the stores. So this will definitely add to the top and bottom lines over time. Next is the Google TV. Now, it's hard for me to say how successful the device will be, but the fact that it is going to be sold at Best Buy makes for a nice call option on Best Buys sales. Apple, Google (NASDAQ:GOOG) and the other big boys are going to Best Buy to get their products out to customers since they see how valuable Best Buy is in reaching out to the customer. Lastly, while Best Buy doesn't have a strong presence in emerging markets, this may be a route that might be worth considering. I can't factor this into my analysis but this is just a bonus scene to the actual movie.
The argument to get on board Best Buy is very compelling. It has a lot of upside potential and a strong foothold in the marketplace. It services provide a competitive edge and demand for shopping at Best Buy should continue to grow as it has in the past and send its top and bottom line to new highs. I truly believe in the story of this specialty retailer and that the current price of $41 provides a good entry point.
While I am not personally long BBY because of my near term bearishness, it is amongst the top 3 companies, along with GOOG and WDC (I still own some WDC), that I will pick up when the market stabilizes.
Price Target: $60 Jan 2012
Disclosure: No Positions