A lot has been said about the Facebook (NASDAQ:FB) acquisition of WhatsApp. In my view, it marks a turning point in the industry. Facebook acknowledges that other means of connecting are very appealing, mainly to young folks, and it is willing to pay a hefty sum to acquire those services.
$20B is Probably Sunken Cost
Facebook has spent $20B in the past two years on acquiring services that seemed to threaten Facebook itself. The first one was Instagram, which had about 100M users when acquired and which was used to share a massive number of photos outside of Facebook's reach. In June 2013, 16 billion photos were shared on Instagram, making it the largest photo sharing service in the world. The other acquisition was the recently announced WhatsApp acquisition. Why does Facebook keep buying companies with very large user bases that are hardly monetized? Well, before we speculate about Facebook's strategy, let's examine Facebook's own monetization.
The Instagram Monetization
About six months ago, Facebook started to look at ways to monetize Instagram. It took Facebook 14 months to actually start monetizing Instagram with sponsored ads. The first advertisers will be Adidas, Ben & Jerry's, Burberry, General Electric, Lexus, Levi's, Macy's, Michael Kors, PayPal and Starwood. How much revenue can Facebook squeeze out of Instagram? In the most recent quarter, Facebook managed to bring $1.90 per monthly active user in advertising revenues.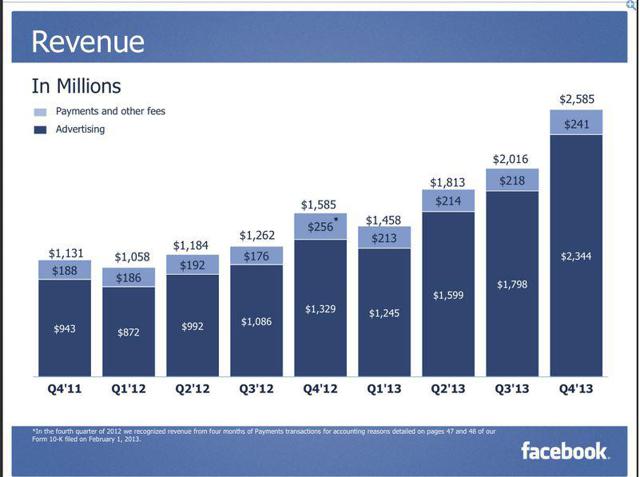 Facebook had 1.23 billion monthly active users at Q4'13.
Annualizing that $1.90 gives us $7.62 per user. Now, let's conservatively say that Instagram will be able to bring in 50% of that monetization, meaning $3.81 per user. According to Instagram's website, the app has 150M monthly active users. That means that under those assumptions, Facebook can bring in $572M in Instagram advertising revenue per year. Taking 20% of net margin (FB net margin) leaves us with $114M in Instagram net profits. The Instagram deal was actually closed at $736M, which gives the Instagram deal a new perspective. If the Instagram monetization initiative play out smoothly, the price that FB paid represents only a P/E of ~6.5.
A WhatsApp Monetization
First of all, if we are to learn anything from the Instagram deal, it is that Facebook is not in a hurry to monetize its user base. I believe we won't see any substantial changes to the WhatsApp interface in the next 12-18 months. Another reason for Facebook not to do so is that WhatsApp is in a rapid growth phase, and you just don't mess with services that grow so quickly. WhatsApp claims that more than 1M users join the platform each day. Assuming that the nominal growth stays at 1M a day, WhatsApp will reach 1B users in 550 days, which is 18 months from now. Assuming that Facebook will not interrupt that growth, let's think what a monetization of WhatsApp with 1B users might look like.
Gathering connection data. Facebook can use the data about the people connected in WhatsApp and use it in Facebook, for instance, by improving people's news feed content, making people stay longer on the feed and thus see more Facebook ads.
Ads In WhatsApp. This is not likely - this is not a "feed-like interface" that one scrolls down endlessly. If WhatsApp loses its simplicity, there is a serious risk that many users will look for alternatives.
Subscription Fees. This is currently WhatsApp's way of monetization. The first year is free, and then it's $1 per year. Current users have already taken that into account, so we can assume that Facebook will do nothing to change that policy.
So let's sum up the direct monetization (subscription fees) and the indirect monetization (using the WhatsApp data in Facebook).
Indirect Monetization
For the indirect monetization, let's assume that knowing who you interact with outside Facebook will enable Facebook to return your news feed so you see more interesting news from the people you really care about. If Facebook is able to make you scroll down your news feed for a 10% longer time period, you will see (on average) 10% more ads, thus increasing the numbers of clicks by 10% and the advertising revenues by the same 10%. Today, Facebook makes $7.62/year from a user, so 10% more amounts to $8.38. Facebook increased its core user base by 170M users in 2013. Assuming growth will slow down, and 150M new users will sign up in 2014 and 120M in 2015, Facebook will end 2015 with about 1.55B monthly active users. The increase in revenue/user, $0.76, will result in an increase of $1.1B/year in revenues. Facebook's net margin is ~20%, so that comes to $236M of net income/year.
Direct Monetization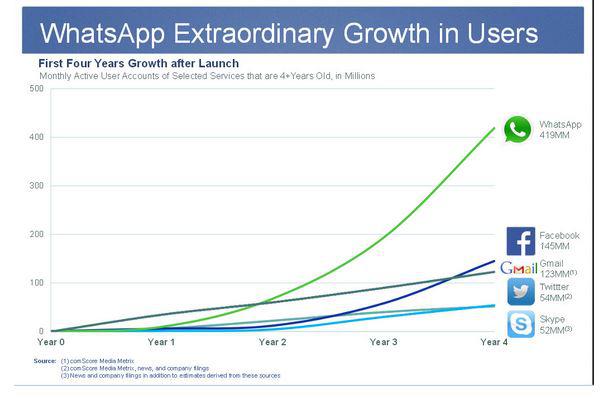 Assuming that 250M users joined WhatsApp in 2013, according to the graph above, then by 2014 year-end, there will be 450M users that are supposed to pay $1. Now take the following assumptions:
10% of WhatsApp users will leave the service after the free year.
All the iPhone users who joined prior to July 2013 are on a lifetime subscription package.
Prior to July 2013, WhatsApp cost $1 to install on iOS, and then the company changed its policy and offered the app for free and started charging $1 starting from the second year of subscription.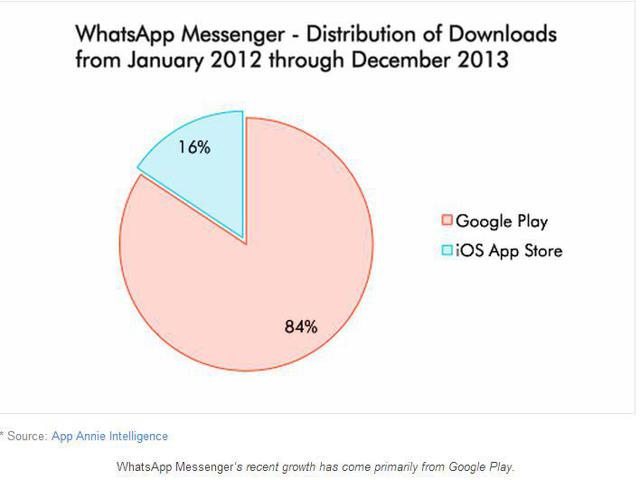 According to App Annie, only 16% of WhatsApp downloads came from the iOS App Store, so I'll throw in the assumption that 16% of the ~300M users at July 2013 are on a lifetime subscription. All of that means that at year-end 2014, about 400M users will be required to pay $1. If only 90% actually pay, that means revenues of $360M. By year-end 2015, 725M users will be required to pay, assuming that only 90% of them pay, we are talking revenues of $652.5M. By the end of 2016, the same calculation brings us $915M in revenues.
VoIP: Knock Knock. Who's There? WhatsApp.
A few days ago, WhatsApp founder Jan Koum announced that the company will move into voice. One of the most interesting aspects of this market is international calls. For domestic calls, when users are signed up for an unlimited plan, there is little incentive to use VoIP services. But when making international calls, prices can get somewhat high and push the user to call through a VoIP service, for example, Skype. Skype offers free Skype-to-Skype calls.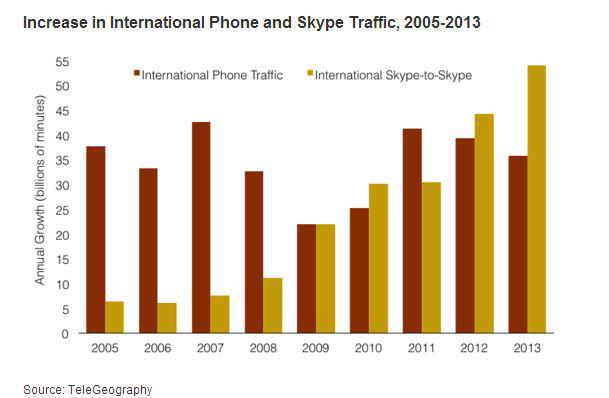 As you can see, in 2013, Skype-to-Skype international traffic grew by 36%, or 54 billion minutes, and reached 214 billion minutes. Conventional phone traffic grew 7% and reached 547 billion minutes. More than 28% of all international calls worldwide in 2013 were Skype-to-Skype calls. Skype is doing this with about 300M users. WhatsApp has 465M users and is growing. I believe that WhatsApp can surpass Skype in this segment of the VoIP market. You can imagine for yourself how this domination can be monetized - there are plenty of creative ways. If that's going to materialize, Facebook will own basically the top service that people connect through for each method of connecting.
Summing It Up
Assuming that on December 31, all of the users need to pay to use the app on the next day, the strategy I presented in this article could bring Facebook WhatsApp-related revenues of $1.8B in 2015. To reach this level of revenue, Facebook will have to execute its monetization plans very gently. A part of what made WhatsApp a great app was the lack of ads and the high levels of privacy.
I suggested two methods of monetizing WhatsApp, but I'm sure that the Facebook monetization team can think of many other methods.
My 2 Cents On Facebook Strategy
I think that Facebook has currently positioned itself to be the owner of any service that people connect through.
Instagram: Connecting through photos.
Facebook: No need to explain.
WhatsApp Text: Connecting through messages.
WhatsApp Voice: Connecting through calls.
While investors look at the short term and focus on how Facebook is monetizing its users with Facebook ads, I believe that Facebook is almost through repositioning itself. It took the company $20B and two years, but years from now, no matter how you choose to communicate with another person, you will be using a Facebook service. Facebook is still a business, and in this case, the payoff seems far away and hard to quantify, but I hope I have demonstrated that there are many creative ways of monetizing services apart from straightforward ads. Facebook is going after the same mantra that Instagram and WhatsApp used: "Growth now, profits later."
Both of these companies did a great job by being acquired by Facebook. Facebook will now have to prove that it can monetize both. All you have to do now, whether or not you are an investor, is sit back and watch Facebook attempt to become the world connection company. And more important, see whether it can continue to build a profitable business around each means of connection.
Disclosure: I have no positions in any stocks mentioned, and no plans to initiate any positions within the next 72 hours. I wrote this article myself, and it expresses my own opinions. I am not receiving compensation for it (other than from Seeking Alpha). I have no business relationship with any company whose stock is mentioned in this article.