My Stock Pick This Week is a Short Sell on Take-Two Interactive Software
Take-Two Interactive Software (NASDAQ:TTWO) makes video games for the PlayStation, Xbox, Nintendo Wii, and PC system platforms with famous video games like Grand Theft Auto and their newest game, Red Dead Redemption. If you've got kids of any age and computers at home, you know how crazy kids are about playing video games. Being a father and kid at heart myself, I enjoy playing the video games just as much as the kids do when I have the time, but when it comes to making money, I have to call them as I see them. I've got a short sell call on Take-Two Interactive this week. It's based on weekly price bars. Their current fundamentals and forecasts are terrible, and their price chart doesn't look any better either.
Video Game Sales Decreasing Big-Time
According to NPD Group, video game sales in April 2010 dropped a huge 26%, and overall video game hardware software and accessories dropped about the same. So far it's been one of the video game industry's worst year-over-year sales declines ever. With the economy the way it is, new non-essential goods purchases like video games may be put aside for awhile. Also, buyers may be waiting for new devices and systems to come out before purchasing, especially in the mobile market where sales prices and profit margins for the gaming companies are much lower.
Most of the time April is a slow month anyway for the game makers as March is the end of their ending fiscal year and they are launching new products for the new fiscal year.
Take-Two just launched its newest game, Red Dead Redemption. We will have to wait and see how the sales will affect the next quarter's bottom line, but I don't think one game will pull Take-Two out of the sales slump they and the rest of the industry are in just yet. Even with these somewhat positive considerations, with the bigger picture in mind, I still see Take-Two's stock price heading lower.
Look at the chart below. Starting 11/29/09, Take-Two opened at 11.29 and closed a week later at 7.74. The chart is suggesting to me there is a retest of the 7 to 8 price area coming soon if not later, and if things get worse for the industry, even lower stock prices from there. This is a low-risk high-reward short sell trade setup if the short squeeze doesn't come first. In case it does, implement a trailing stop-loss to lock in profits.
Sell Short Take-Two Interactive Software – Base on Weekly Price Bars
Ticker TTWO
Sell Entry: 11.88 to 10.76
Stop-Loss: 12.61
Take Profit Areas: 7.23 to 6.69, 6.14 to 5.69
Take-Two Interactive Software Company Profile
Take-Two Interactive Software, Inc. publishes, develops, and distributes interactive entertainment software, hardware, and accessories worldwide. The company develops and publishes software titles for various gaming and entertainment hardware platforms, including PlayStation3 and PlayStation2 computer entertainment systems, PlayStation Portable system, Xbox 360 video game and entertainment system, and Wii and DS systems, as well as for the personal computer and games for Windows. It offers products through its wholly owned labels Rockstar Games and 2K, which publishes titles under 2K Games, 2K Sports, and 2K Play. The company, through its subsidiary, Jack of All Games, also distributes software, hardware, and accessories in North America. Its proprietary brand franchises include Grand Theft Auto; Sid Meier's Civilization; Max Payne; Midnight Club; Manhunt; Red Dead Revolver; Bully; BioShock; Sid Meier's Railroads!; Sid Meier's Pirates!; Carnival Games; and Top Spin, as well as licensed brands comprise the sports games Major League Baseball 2K; NBA 2K; and NHL 2K. The company sells its software titles to retail outlets through direct relationships with large retail customers and third party distributors. Its customers include mass merchandisers, specialty retailers, video stores, electronics stores, toy stores, national and regional drug stores, and supermarket and discount store chains. The company was founded in 1993 and is headquartered in New York, New York.
Click the Take-Two Interactive Software stock chart for a larger view.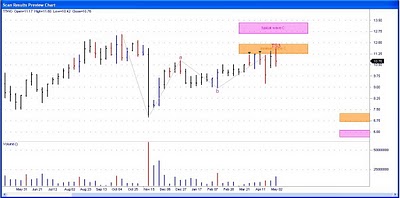 Disclosure: Going short on TTWO per trade plan above.