By Carla Fried
As noted in an earlier post, revenue growth remains an all too scarce commodity. Given that there's not much room for rational multiple expansion, that puts a spotlight on finding market niches that are bucking the anemic revenue trend. That is, if you're keen for growth via revenue expansion rather than growth through cost-cutting and share buybacks that inflate per-share data.
As mentioned in that earlier post, some health care stocks are delivering strong revenue growth. And so, too, is technology. According to FactSet, the tech sector's 4.9% revenue growth in the fourth quarter was second only to health care. Internet Software and Services grew at a 20% rate.
To be sure, the Tech Sector has been expected to re-exert itself for the past few years, but performance has lagged as corporate IT budgets didn't expand as much as anticipated, and consumer wallets were not opened as wide as expected.
But as the stronger revenue attests, that may be, finally, shifting. And with it, the sector's stock performance. Year to date, tech stocks, as represented by the iShares US Technology ETF (NYSEARCA:IYW) are well ahead of the SPDR S&P 500 ETF (NYSEARCA:SPY), as seen in a stock chart: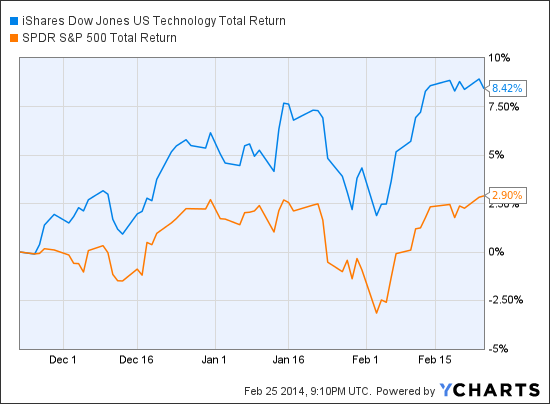 IYW Total Return Price data by YCharts
Adam Parker, head of Morgan Stanley's U.S. equity team recently upgraded the tech sector from market weight (20%) to overweight (22%) and singled out big-data and analytics firms as the place to find the best growth.
In that space, one of the fastest growers has been Splunk (NASDAQ:SPLK), whose software enables companies to track, comb and analyze their data in real-time among any number of devices or systems. Among its many applications is the ability to real-time track security-related activity, which is front and center on every CIO's list of where to spend cap-ex dollars.
Splunk went public in the spring of 2012, and like any fast-growing upstart has yet to post earnings. But revenues have nearly doubled since the IPO and the buzz around its "disruptive" technology has pushed it to a $10 billion market cap.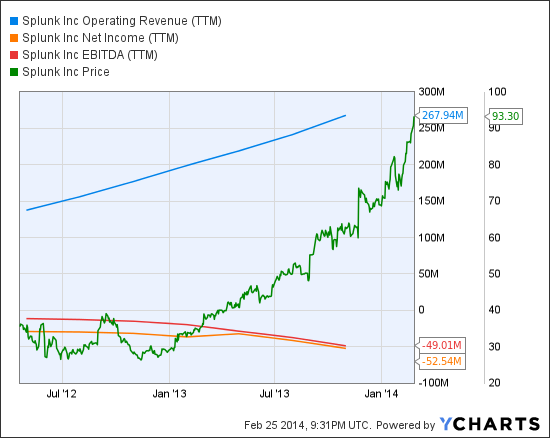 SPLK Operating Revenue (TTM) data by YCharts
But with a price-to-sales ratio that has shot past 30, you're paying a princely sum for one of the hottest new names in the big data space. In fact, insiders have made no open market purchases the past year -- and there has been frequent selling as the stock price has rocketed. The story is much the same at Tableau Software (NYSE:DATA), another big-data newbie with rapid revenue growth.
At the other end of the big-data spectrum are the old-school behemoths such as EMC (EMC) and IBM (IBM) that have a significant footprint in providing enterprise data analytics and enterprise solutions. What they lack in buzz, they deliver in attractive valuation. If big data mining and crunching remains the focus of precious IT dollars, it could provide some much needed lift to these big boys.
A potential middle ground between the fastest growers and the biggest slugs could be Google (NASDAQ:GOOG), which not only is one of the biggest data gatherers and analyzers for it's own purposes, but also runs BigQuery, a cloud-based data analytics enterprise tool. While far from a pure play, Google is in a relative sweet spot in terms of growth and valuation. Unleash some financial advisor tools to learn more about Google's financials. Though pricey by some measures, YCharts Pro's Google rating for fundamentals is a 9 out of 10.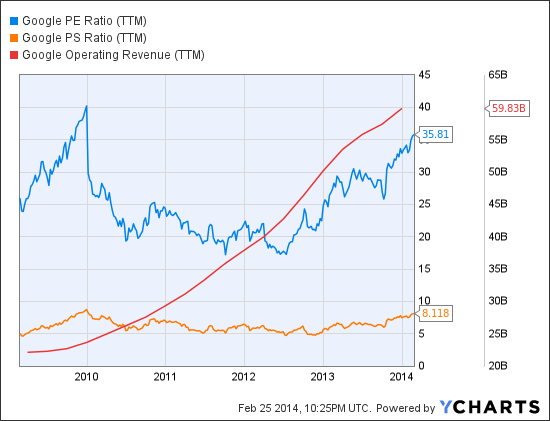 GOOG PE Ratio (TTM) data by YCharts
Or for a simple diversified way into the tech space that includes positions in big-data stocks from Splunk, to EMC and Google, there's the ultra cheap Vanguard Information Technology ETF (NYSEARCA:VGT) that charges an annual expense ratio of just 0.14%. Revenue growth for the portfolio is near 8% over the past year, more than doubled the S&P 500's. Its recent performance is also more than double the broad index.
Disclosure: None