Nvidia (NASDAQ:NVDA) has outperformed the market, and rival Advanced Micro Devices (NYSE:AMD), this year with gains of 15%. The stock sits close to its 52-week high, but it looks like there is more upside in store in the future. The company's recent fourth quarter results were promising, and it expects graphics intensive PC games to drive the revenue opportunity for its graphics cards to $20 billion this year.
In the previous quarter, GPU business revenue was $947 million, up 8% from the last quarter and 14% year-over-year, indicating a healthy trend in the GPU business. GPU revenue was driven by desktops and notebook GPU sales. In addition, the Tegra processor business grew 18% quarter over quarter to $131 million, driven by increased shipments of Tegra mobile devices. So, Nvidia is seemingly in a good position to profit from both mobile and gaming. Let's take a detailed look at its prospects.
Strong opportunity
Nvidia's GeForce business has benefited from the launch of numerous graphically-intensive games such as Call of Duty: Ghosts, Assassin's Creed IV: Black Flag, and Batman: Arkham Origins. This has led to growth in GeForce GTX sales. Moreover, Tesla continues to be the GPU of choice in the high performance computing market.
IBM (NYSE:IBM) has partnered with Nvidia for the Tesla (NASDAQ:TSLA). IBM's expansion plans for its enterprise applications should lead to growth in Tesla's sales. Supercomputers are also being accelerated by the Tesla GPU, with more demand expected as interest from internet companies for big data analytics rises. In addition, Nvidia's invention of the virtual GPU for GRID, a GPU-accelerated cloud computing platform, is helping drive virtualization across enterprise applications, including desktop PC applications.
Tegra moves
Also, Nvidia's latest Tegra mobile processor is the first mobile processor to deliver PC-class graphics. In addition to PC-like graphics, Tegra is also bringing CUDA to mobile with 192 fully programmable processor cores. So, it can be used for image recognition or computational photography. For tablets and phones, a future can be imagined with devices that see our face and adapt to our moods. Nvidia is looking to profit from tomorrow's tech enhancements, and these moves should help it tap the future.
Nvidia is increasingly marketing the Tegra line of chips for powering entertainment and navigation systems in cars as well. The company has strengthened its relationship with Audi, which plans to use the upcoming Tegra K1 chip in more of its cars.
Nvidia is also targeting driving assistance applications. Specialty Analytics forecasts that the market for Advanced Driver Assistance Systems will be worth around $15 billion by 2016, growing at a CAGR of 23%. The announcement of next generation in-vehicle systems, powered by Tegra, includes a revolutionary high-resolution digital cockpit with 3D graphical displays. This futuristic move should help Nvidia gain an advantage over others in this market.
Meanwhile, the Tegra is also seeing solid smartphone growth. Nvidia recently won a phone design for its Tegra 4i processors. The Tegra 4i, which integrates four A9 Revisions 4 CPU cores, is widely known for its integrated LTE and will now be used in LG's 4.7" G2 Mini smartphone.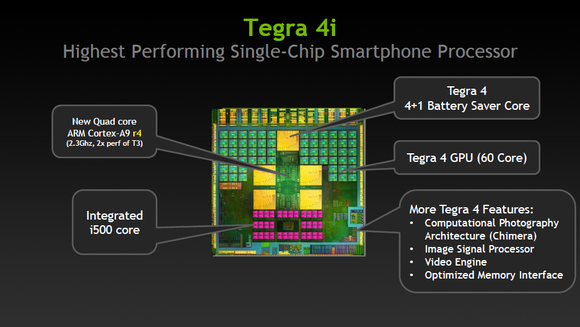 The regular LTE version will still feature the traditional Qualcomm (NASDAQ:QCOM) processors; however the Latin American versions will be embedded with Tegra 4i.
But that's not it; NVIDIA further enhanced its presence in the smartphone market by landing a win with Wiko. Wiko is a fast growing European company, and it will embed Tegra 4i in its new phone called WAX. NVIDIA is not yet an established player in the smartphone market, however if these wins prove to be successful, the company may take market share from its rivals.
Blowing away competition
Also, Nvidia is outpacing peers such as AMD. The HEXUS 4K graphics test benchmark for Nvidia's GeForce GTX 780 Ti and AMD Radeon R9 290X displays that Nvidia uses 7.1 billion transistors, while AMD uses 6.2 billion only. Also, Nvidia employs a 7GHz memory clock compared to a 5GHz memory clock in the AMD. Apart from these, there are several technical parameters like die size, number of processors, maximum bandwidth, etc. that show Nvidia's product is better than AMD.
Nvidia's GeForce GTX 680 is cheaper and faster than AMDs HD 7970. The comparison results of the GeForce GTX680 (2048 MB) and the Radeon HD 7970 GHz (3072 MB) on Futuremark 3DMark 11 Pro Edition platform suggest that the GeForce GTX 680 is the fastest single GPU graphics card, narrowly edging out the Radeon HD 7970 GHz Edition, while beating the standard 7970 by a 13% margin.
In addition, Nvidia has also released a new GPU called the Maxwell, based on its Kepler architecture. Maxwell will be a direct competitor to AMD's R9 270. While the R9 270 is faster than Maxwell, it lags behind in power consumption. The R9 270 consumes roughly 50% more power when idle and 42% more power under load than Maxwell.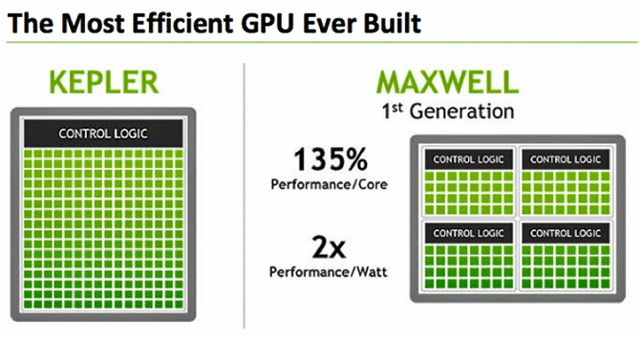 Image credits: Forbes
But what's even more important is the price difference. NVIDIA's Maxwell comes in two variants which are priced at $119 and $149, respectively. However, AMD's R9 270 is being sold for $179. The difference is significant, and given Maxwell's better performance per-watt, it may help the company to boost its presence in the PC gaming segment.
Conclusion
Nvidia is looking like an increasingly valuable prospect for the long run. The company is seeing positive developments in all of its businesses, and looks quite reasonable at 25 times earnings against the industry average P/E of 36.5. Also, Nvidia pays a dividend that yields 1.80%. Thus, Nvidia is attractive from different quarters, and investors should definitely consider this stock for their portfolio.
Disclosure: I have no positions in any stocks mentioned, and no plans to initiate any positions within the next 72 hours. I wrote this article myself, and it expresses my own opinions. I am not receiving compensation for it (other than from Seeking Alpha). I have no business relationship with any company whose stock is mentioned in this article.