I'm ashamed to admit that more than once in my life I've signed up for a gym membership and made the monthly payments and then only attended, at best, sporadically. I've always told myself that I must be the gym's favorite customer - no wear-and-tear on the machines, no towels to wash, no water to heat for my shower. But sooner or later, I quit those gyms, and they most certainly missed my monthly check.
Weight Watchers International (NYSE:WTW) - along with a host of other problems, some covered in our post last week about its weakened balance sheet - exhibits a very similar decline in engagement with its members. The company charges fees to attend its meetings and more than 75% of customers pay under a monthly plan, typically $42.95 a month in the U.S.
In 2013, Weight Watchers sold 89.1 million paid weeks to attend company-operated meetings (about 15% of Weight Watchers capacity is franchised). But customers only actually attended 42.9 million meetings. That's just 48.1% present and accounted for at meetings.
And that figure has been falling fast in recent years: 62.0% in 2009, 58.0% in 2010, 54.4% in 2011 and 51.1% in 2012. So by 2013, more than half of paying Weight Watchers customers would rather stay home than go to a meeting they'd already paid to attend. Uh-oh.
An outside spokeswoman for Weight Watchers, Corey Kinger, asked about this trend, mentioned the fact that the percentage of customers paying monthly, as opposed to on a per-meeting basis, had risen in recent years. (Monthly payers get a discount.) And, of course, if you're paying by the meeting, you'll attend every meeting you pay for.
Sure, as with my gym membership, many of us make purchases with the best of intentions and then don't always follow through. But did the steady and significant decline in engagement at Weight Watchers hold clues to its more recent financial problems? Even when its revenue was still rising, this engagement metric was falling.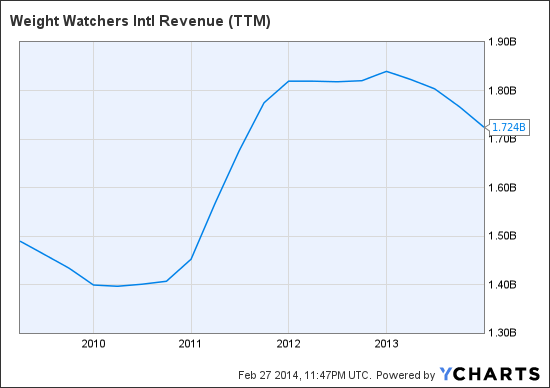 WTW Revenue (TTM) data by YCharts
The trend hurts Weight Watchers results directly. The company sells merchandise at its meetings, and you can't sell stuff to people who aren't there. In-meeting product sales fell about 16% last year - attendance fell about 15%, so go figure - to $212 million.
But perhaps the most worrisome thing about paying customers playing hooky is that they'll stop paying. Going to meetings less frequently suggests less engagement. And Weight Watchers is certainly struggling in the marketplace. Digital diet apps and wristbands that track activity are garnering the attention of health-conscious consumers. Weight Watchers now expects 2014 to show a steeper decline in paid weeks than it suffered in 2013. It expects a decline in online subscriptions to continue as well.
Oddly, when it seemed most to need to generate new members, Weight Watchers' advertising fell about 18% last year to $274.2 million. Maybe the company's not sure what its message should be. It mentioned "less impactful marketing" of a two-week starter plan as among the reasons for anticipated 2014 declines.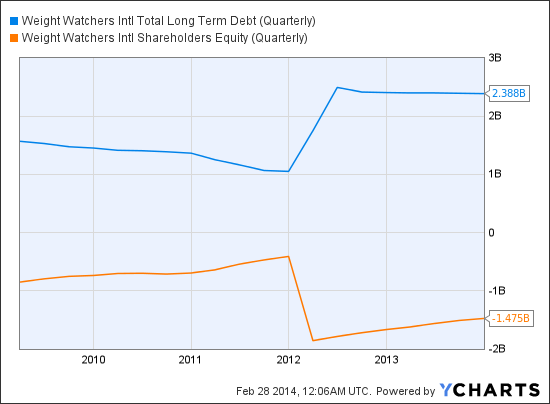 WTW Total Long Term Debt (Quarterly) data by YCharts
Of course, spending wise, Weight Watchers already seen many stock buybacks in recent years, lightening the position of its controlling stockholder, and leaving itself stuck with huge debt. As we mentioned in the earlier post, it's the sort of move you expect from a company quite certain about its business going forward. Weight Watchers annual revenue peaked in 2012, and then began its decline, but its customer involvement with the company may have peaked earlier.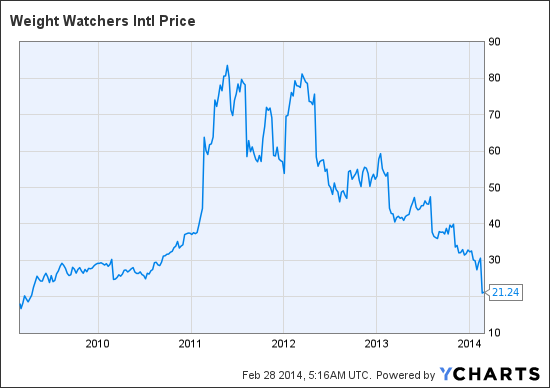 WTW data by YCharts
Jeff Bailey, The Editor of YCharts, is a former reporter, editor and columnist at the Wall Street Journal and New York Times.

Disclosure: None