When a potential investor looks to establish a long-term position in one particular sector, a near-term asset-based acquisition can weigh quite heavily on one's decision to move forward with a particular company. With that said, I not only wanted to examine Kroger's (NYSE:KR) recent inquiry with regard to acquiring some of Safeway's (NYSE:SWY) assets, but also highlight a number of reasons why I'm staying fairly bullish on shares of this grocery store play that offers investors a fairly moderate yield.
Company Overview
Headquartered in Cincinnati, Ohio, The Kroger Company, together with its subsidiaries, operates as a retailer in the United States. The company also manufactures and processes food for sale in its supermarkets. It operates retail food and drug stores, multi-department stores, jewelry stores, and convenience stores. The company's combination food and drug stores provide natural food and organic sections, pharmacies, general merchandise, pet centers, fresh seafood, and organic produce.
Recent Performance & Trend Behavior
On Monday, shares of KR, which currently possess a market cap of $21.60 billion, a forward P/E ratio of 13.45, and an annual dividend yield of 1.57% ($0.66), settled at a price of $41.94/share. Based on its closing price of $41.94/share, shares of KR are trading 11.01% above their 20-day simple moving average, 10.14% above their 50-day simple moving average, and 9.49% above their 200-day simple moving average.
It should be noted that these numbers indicate a short-term and mid-to-long-term uptrend for the stock, which generally translates into a moderate buying mode for most near-term traders and most long-term investors.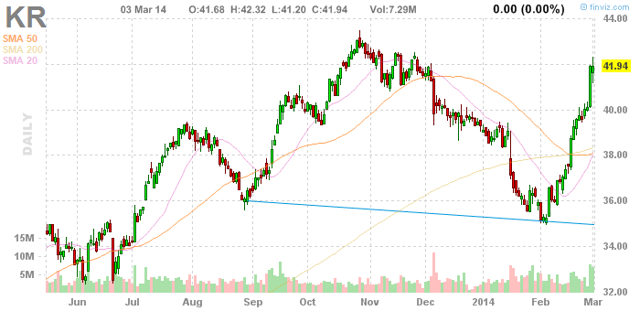 Click to enlarge
Comparative Ratios Set Kroger Apart From Several Of Its Peers
Even though the above referenced numbers indicate a long-term uptrend for the stock, I actually think the company's current share price of $41.94/share offers investors a considerable point of entry, especially since shares are trading at a much better forward P/E ratio than a number of its sector-based peers.
For example, KR's forward P/E ratio was 13.45 based on its Mar. 3 close, whereas the forward P/E ratios of Whole Foods (NASDAQ:WFM) (forward P/E ratio of 28.04 as of 3/3) and Sprouts Farmers Market (NASDAQ:SFM) (forward P/E ratio of 49.56 as of 3/3) were both considerably higher.
Kroger Inquires About Safeway's Assets
In a recently published article, David Welch of Bloomberg noted that:
Kroger has approached both Safeway and Cerberus Capital Management about buying a portion of Safeway's operations ...

A sale to either Cerberus, which owns the Albertsons chain, or Kroger may raise objections from antitrust regulators in select markets, and splitting off some of Safeway's assets could help address those concerns. Kroger and Cerberus may be able to reach agreement on any of Safeway's assets that would have to be sold in that case, said one of the people.
With that said, I think there's a considerable growth prospect for Kroger and its shareholders, as an M&A deal could boost the company's annual growth as well as its overall market share within the North American grocery store sector.
Recent Dividend Behavior
Since February 10, 2010, the company has increased its quarterly distribution four times in the last five years, with the most recent increase having taken place in November of 2013. The company's forward yield of 1.57% ($0.66), coupled with its ability to maintain its quarterly distribution over last five years, make this particular grocery store a highly considerable option, especially for those who may be in the market for a moderately-yielding stream of quarterly income.
If the company can continue to demonstrate a solid growth-by-acquisition, as has been the case over the past few months (with its completed acquisition of Harris-Teeter and the potential acquisition, as a whole or in part, of Safeway), the company's quarterly dividend could see a pop over the next 12-18 months.
Certain Risk Factors To Consider (Most Recent 10-K)
According to KR's most recent 10-K, there are a number of risk factors investors should consider before establishing a position. These risk factors include, but are not limited to:
#1 -The nature and extent to which its competitors implement various pricing and promotional activities in response to increasing competition, including the execution of its strategic plan. Its response to these competitive actions can adversely affect Kroger's profitability.
#2 - The company's profitability and growth have been and could continue to be adversely affected by changes in the overall economic environment that affect consumer spending, including discretionary spending.
#3 - Concerns regarding the safety of the products that Kroger sells could cause shoppers to avoid purchasing certain products from their stores, or to seek alternative sources of supply even if the basis for the concern is outside of the company's control. Any lost confidence on the part of the company's customers would be difficult and costly to re-establish.
Conclusion
For those of you who may be considering a position in Kroger, there are a number of things I'd keep a close eye on over the next several months. For example, I strongly recommend keeping a close eye on both the company's near-term trend behavior given the affordability level of shares moving forward, and whether or not it moves forward with the acquisition of Safeway's assets, since such a transaction will not only add to the company's North American market share, but also enhance its performance over the next several years.
Disclosure: I have no positions in any stocks mentioned, but may initiate a long position in KR, SWY over the next 72 hours. I wrote this article myself, and it expresses my own opinions. I am not receiving compensation for it (other than from Seeking Alpha). I have no business relationship with any company whose stock is mentioned in this article.