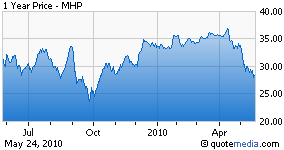 The McGraw-Hill Companies, Inc. (MHP), the publisher and provider of financial information and media services, reported better-than-expected first-quarter 2010 results, primarily driven by a recovery in global bond markets, strong performance in U.S. higher education and global energy information markets.
Wall Street analysts have now had nearly a month to digest the news. Below we cover the recent earnings announcement, subsequent analyst estimate revisions and Zacks ratings for the short-term and long-term outlook for the stock.
Earnings Report Review
McGraw-Hill recorded a robust 63.9% growth in net income to $103.3 million or 33 cents per share from $63.0 million, or 20 cents per share, in the year-ago period. The quarterly results also topped the Zacks Consensus Estimate of 25 cents per share.
Total revenue for the quarter rose 3.7% year-over-year to $1,190.4 million, mainly due to growth in Education and Financial Services segments, offset to a certain extent by a decline in its Information & Media segment. A low-single-digit growth in the top line coupled with strict control over expenses enabled McGraw-Hill to register an impressive 53% growth in operating profit to $190.3 million.
Agreement of Analysts
In the last 30 days, one out of 8 analysts covering the stock raised his or her estimate for the upcoming second quarter, while five analysts lowered theirs. For the following quarter, again 5 analysts lowered their estimates. The analysts remained concerned about how the financial reform will impact S&P's (a division of McGraw-Hill) position in the structured finance market. However, for fiscal 2010 and 2011, four and one analysts raised their estimates, respectively.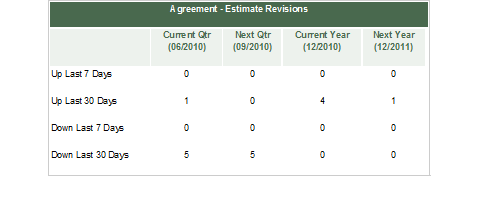 Magnitude of Estimate Revisions
In the last 30 days, the Zacks Consensus Estimate dropped 2 cents to 62 cents and to $1.15 per share, for the upcoming and following quarters, respectively. However, the Zacks Consensus estimate for fiscal 2010 rose 3 cents, while for fiscal 2011 it has remained stagnant.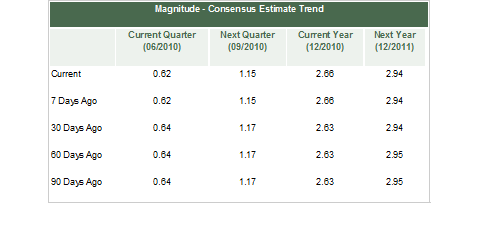 The estimates in the current Zacks Consensus for second-quarter 2010 range from a low of 59 cents to a high of 65 cents. For fiscal 2010, the estimates range from $1.12 to $1.16.
McGraw-Hill in Neutral Lane
The improved performance at S&P's Credit Market Services and growth in higher education, professional and international markets, helped McGraw-Hill post better-than-expected first-quarter 2010 results. Some signs of recovery were also noticed in the elementary-high school market, buoyed by the federal stimulus. The company also sold BusinessWeek, the magazine that had long been grappling with plunging advertising demand. Advertising remains an important source of revenue for the Information & Media segment.