On Sunday, March 9, the SEC-enforced underwriter research quiet period on Installed Building Products (NYSE:IBP) will come to an end, 25 days after the firm's February 12 IPO.
The end of the quiet period will free the IPO underwriters to publish research reports on the residential insulation installer, likely leading to a boost to the price of IBP shares. IBP priced far below its expected $14-$16 range at $11 per share, but the shares quickly gained a 16.4% first day return, and have continued to improve since; IBP closed at $14.90 per share on March 3rd.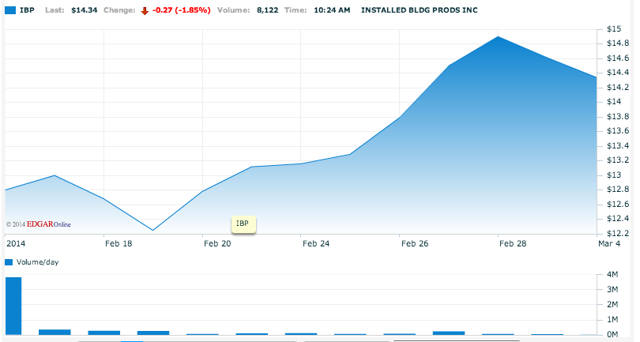 (Source: Nasdaq.com)
IBP's underwriters, including Deutsche Bank, UBS Investment Bank, Zelman Partners LLC, BB&T Capital Markets, KeyBanc Capital Markets, and SunTrust Robinson Humphrey, will try to maintain this upward trend, through the release of positive research reports as soon as the quiet period has expired.
Both recent academic studies and our own research over the past two years have empirically evidenced a correlation between the reputation and number of a firm's IPO underwriters and increasing share prices as the quiet period expires. Prices typically begin to rise several days ahead of the quiet period expiration as investors purchase shares early to capitalize on the upcoming positive information from the underwriters. These initial purchases generate upward pressure on share prices before the quiet period has actually expired.
Business
IBP is a new residential insulation installer-estimated as the second largest installer in the United States, with a national platform consisting of more than 100 locations across 44 states. Along with insulation, IBP installs complementary building products like garage doors, rain gutters, and closet shelving. The firm also handles the purchase and transport of the materials it installs for customers.
IBP has grown significantly in recent years, acquiring and integrating over 90 related businesses since 1999, and it now holds an approximately 16% share of the U.S. residential new construction insulation installation market, based on total U.S. housing completions.
Management
Jeffrey W. Edwards has served as Chairman since 1999 and took on the positions of President and CEO in 2011 and 2004, respectively. Mr. Edwards previously acted as an officer and strategist for the Edwards Companies. He has also been involved in the launch of many business ventures and commercial real estate developments in central Ohio over the past three decades. Mr. Edwards holds a B.S. in Marketing from Miami University.
Conclusion For Investors
IBP has followed a recent trend in residential building-related IPOs with a disappointing pricing yet solid recovery. The firm appears to be on solid financial ground, having seen huge improvements in net revenue and net income over the past year, and should be able to continue to make gains as the housing market recovers further.
The quiet period expiration will be as good a time as any to buy into IBP.
Disclosure: I am long IBP. I wrote this article myself, and it expresses my own opinions. I am not receiving compensation for it (other than from Seeking Alpha). I have no business relationship with any company whose stock is mentioned in this article.