Physics tells us observations cannot be predicted absolutely. Rather, there's a range of possible observations each with a different probability. --Robert Lanza
As a value investor, I thought I had caught the steal of 2014 right before the year when I took a long position in Ford Motor Company (NYSE:F). I was immediately rewarded with a near 10% return, only to see my gains wiped away by a mini market correction and monthly auto sales reports headlined by bad weather.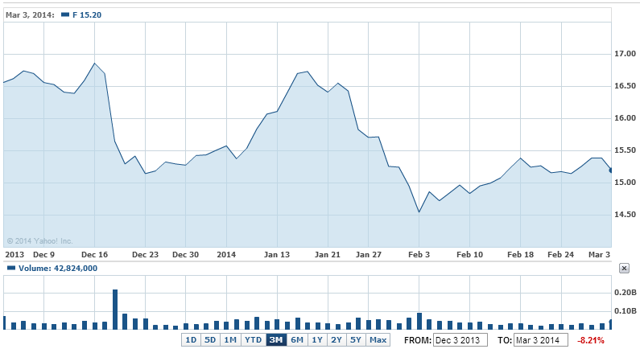 Source: Yahoo Finance
I was perplexed to see Ford's P/E continuing to drop, especially after the company's great fourth quarter earnings release, It became clear that the warning signs Ford had given market in early December were going to weigh down the company's P/E. To get a closer look, I graphed Ford's trailing P/E and forward P/E over the past year. In order to understand where Ford's share price was headed, I needed to look at forward, as opposed to trailing P/E. I graphed a history of both over the past year.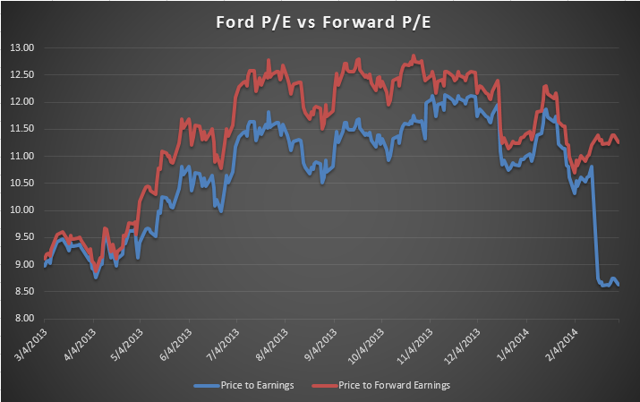 I should note that I calculated forward PE by taking the expectations of the four immediate quarters following the one in which the stock was being traded at that time. In an effort to determine where the price is headed, I decided to develop a probability distribution of the company's price to forward earnings over the past year.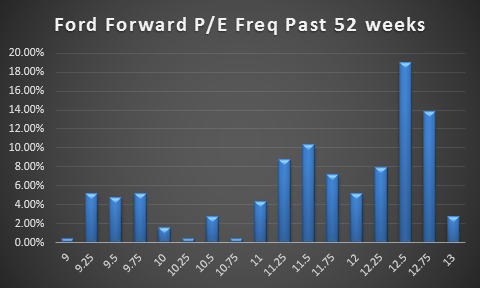 In almost 20% of the past 252 trading sessions, or once per week, Ford Motor Company traded at between 12.25 and 12.5 times forward earnings. Additionally, many of the trading sessions under 11 times forward PE occurred prior to May 2013 and were on the far range of the 52 week data. In order to project a probable future share price, I needed to pick a conservative forward PE and gather future quarter data through 2016 (because I want to project price through Q4 2015). In accumulating my data, I discovered that the probability of the stock trading at 11.5 times forward earnings or higher over the past 52 weeks was almost exactly two thirds.
With my conservative forward PE in hand, I researched the company's quarterly earnings estimates. Nasdaq provided the best information by having annual estimates out through 2017. Due to some of the 2015 quarterly estimates not being available, I was forced to draw linear relationship between the $1.96 estimate for 2014 and $2.21 for 2015. From there, I took the projected forward earnings and multiplied them by 11.5.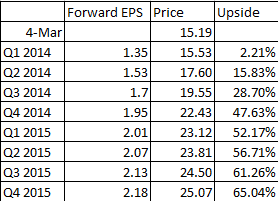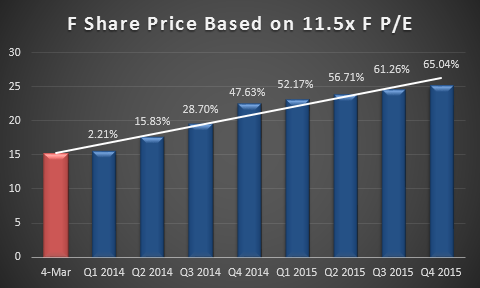 Interestingly enough, Ford appears to be adequately priced for the current quarter's forward earnings, However, if my calculations are correct, the stock should rise by 47% to roughly $22.43 per share by the end of the year. I'm going to keep an eye on the stock's price and chart it against my probability model. If earnings guidance is increased, the stock may be a better hold through 2015 than my model projects.
This model is based on two key assumptions:
1) Ford will meet earnings expectations over the next four quarters. According to CNBC, Ford has beat earnings for eight consecutive quarters.
2) Ford will affirm its guidance through the end of 2016. This hinges on customer acceptance of the company's new models (including the aluminum F-150) and the continued expansion of the US economy.
Two other wild card factors which could impact this analysis are the possibility of stock buybacks (upside) and weakening economic conditions (downside).
Ford's share price should get support in the near future as the market digests the large rollout of new vehicles and their results. If the company can affirm its 2015 guidance, the probability for upside is strong.
Disclosure: I am long F. I wrote this article myself, and it expresses my own opinions. I am not receiving compensation for it (other than from Seeking Alpha). I have no business relationship with any company whose stock is mentioned in this article.
Additional disclosure: I do not have plans to change my position over the next 72 hours.