By Hungry Panda"Whether we're talking about socks or stocks, I like buying quality merchandise when it is marked down." -- Berkshire Hathaway (NYSE:BRK.A) 2008 Chairman's Letter
The capital markets have been gripped by a great deal of fear from a variety of sources. Almost every sector has sustained losses and our Rising China Stocks (RCS) Index is no exception. As contrarians, we believe this is the perfect time to be investing.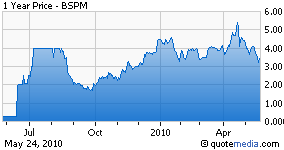 Previously mentioned Biostar Pharmaceuticals (NASDAQ:
BSPM
) recently had their Q1 earnings call. After a brief run up following the NASDAQ uplisting, its stock price has continued to slide.
Management made some great comments, most importantly on its earnings guidance of $18m–20m, which was revised upwards from previous estimates of $16.2m–17m. Let's take a look at where these earnings are going to come from:
Xin Aoxing, Biostar's flagship product, is marketed at the estimated 350 million carriers (as of 2004) of Hepatitus B which is endemic in China, with 10% of the population affected. Q1 saw increased sales by 138.2% with a gross margin of 85.1%.
In the Q1, Biostar expanded into four new markets, and is expecting incremental revenue in the following quarters to drive significant earnings growth.
The 2010 goal of expanding into 10,000 rural outlets is more than half complete, standing at 6,000 outlets.
The company recently completed a military trial of an oral analgesic. The product was classified as a "Specially Needed Drug" by the Chinese Military Drug Administration and will also be available to the public.
Its raw materials plant will be contributing $7m in new revenue in the Q3 at a gross margin of 30-40%.
During the conference call, however, a private investor highlighted a potential problem, stating that on an adjusted basis, Q1's net margins were running at 19.4%, much lower than the 22% required for the low end guidance of $18 million.
Management answered this question poorly by detailing the quarterly revenue schedule. But we remain confident that there will be no problem in reaching guidance for the following reasons: First, Q1 margins show a decrease mainly because BSPM devoted 20-30% of sales revenue to an advertising budget, resulting in significantly higher operating expenses. Further, as regards top line growth, Biostar has been experiencing increasing demand for its products in existing markets, not to mention its new and important expansion into Beijing and Shanghai.
Biostar has shelved plans for an additional secondary offering, stating that this is not required to meet basic guidance. This, as well as a current ratio of 5.72, is evidence of the company's solid financial standing.
So while BSPM has fallen significantly off its 52-week high, I believe this is more a symptom of the general market malaise, rather than a company-related issue. It may take next quarter's earnings to push the stock back in the right direction, but make no mistake -- as the institutions catch on with the company's growth story, Biostar is headed to significantly higher grounds.
Disclosure
: Long BSPM