"I'm not better than the next trader, just quicker at admitting my mistakes and moving on to the next opportunity." (George Soros, investor extraordinaire, professional trader, author and activist)
The quote reflects the proactive self-discipline that is critically important to be a successful investor and trader. We are at an inflection point in the markets that offers a chance to reevaluate what we own and where our money could be treated better.
Much has been written recently about Linn Energy (LINE). David White's article on Monday March 3rd covers the positives and negatives thoroughly.
As I wrote in my last article, I'm transitioning out of LINE and looking for opportunities that have potential for better total returns (capital gains plus dividends) with less downside risk.
Here are Three Nominees for Better Total Return
In order of upside potential, I begin with Marathon Petroleum (NYSE:MPC), the very successful spinoff of Marathon Oil (NYSE:MRO). MPC together with its subsidiaries, engages in refining, transporting and marketing petroleum products primarily in the United States.
Marathon Petroleum reported 4th quarter 2013 and full-year earnings back on January 29th. In listening to the company's leadership I was impressed by the focus on meeting the needs of the energy market through "logistical flexibility and relentless focus on top-tier operational performance."
"MPC's fourth quarter was a strong finish to a year in which we earned in excess of $2 billion," said President and Chief Executive Officer Gary R. Heminger.
Heminger said that in 2013 MPC continued to strengthen its ability to capitalize on North America's evolving energy circumstances. "In addition to investing in our transportation and retail segments, we completed our acquisition of the Galveston Bay refinery in February and continued to make margin-enhancing investments in our refining system," Heminger said.
"While refining will remain our largest source of earnings and cash flow, we will augment this through expanded investments in midstream and retail in the years ahead", the CEO added.
MPC is a shareholder-friendly company, demonstrated by the fact that while investing in the company's growth, Heminger noted that MPC also returned $126 million to shareholders in the form of dividends and $452 million in share repurchases during the fourth quarter, and $484 million in dividends and $2.8 billion in share repurchases during full-year 2013.
"This continues our commitment to balance investments in the business with return of capital to our shareholders," Heminger commented.
During Tuesday's market session shares of MPC traded as low as $82.90 and as high as $84.91. A similar daily trading range occurred on Monday March 3rd. This allows an interested buyer to place a "limit order" close to $83 and have a good chance of having it filled.
At $83, Marathon Petroleum offers a yield-to-price of 2.02% and a forward (one-year) PE ratio of only 8 times earnings.
No wonder the average one-year price target for MPC among the analysts who follow the stock is for shares to reach a price of about $103 per share.
That seems reasonable and in line with competitors like Valero (NYSE:VLO) which have similar key financial statistics. VLO has a potential one-year total return of approximately 22%.
My one-year total return projection for Marathon Petroleum, including the 2% dividend, is for a 23% to 26% total return.
The next nominee is TransCanada (NYSE:TRP). TransCanada is a leader in the responsible development and safe operation of North American energy infrastructure. Its network of wholly owned pipelines tap into virtually all major natural gas supply basins in North America.
TransCanada owns and operates the Keystone XL pipeline that would bring crude from the Canadian oil sands in Hardisty, Alberta, down to refineries in Oklahoma, Illinois and the Texas Gulf coast.
The importance of this pipeline is as vital as ever. As one article pointed out "The refiner, Valero signed on to receive oil from the Keystone pipeline early in the project and has spent billions upgrading its equipment to handle the type of heavier crude produced in Canada."
Other companies are also paying TRP for the use of its pipelines which delivers oil to the refining gateway of the U.S., Cushing, Oklahoma.
TransCanada keeps making abundant money on its pipeline investments. In the latest quarterly report for the quarter ending Dec.31,2013 TRP stated its trailing twelve month (TTM) operating margin at nearly 33% and TTM profit margin was a healthy 20.3%.
TransCanada also reported a remarkable year-over-year 4th quarter earnings-per-share increase of over 37%. Shares are trading with both a current and forward PE ratio of 17 with a price-to-earnings-to-growth (PEG) ratio of 1.59. This bodes well for the upside potential of the share price.
Here's a one-year chart of TransCanada's share price and 100-day exponential moving price average (EMPA).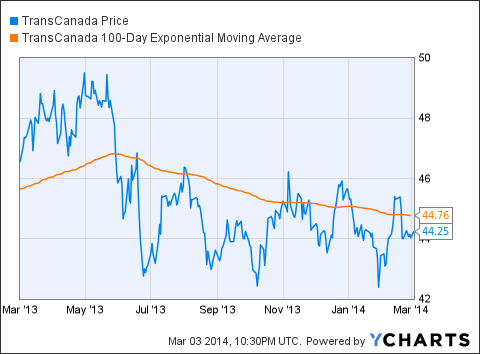 TransCanada's stock is still below the orange line, and its recent price history suggests the possibility of an upside breakout if TRP's share price penetrates the 100-day EMPA.
TransCanada's dividend yield is 3.93% when shares are purchased at $44. The lower the purchase price, the higher the dividend yield.
With a one-year target price of $53, the total return potential for the next 12 months is between 24% and 28%.
Another Low Price, High Yield Alternative to Linn Energy
If Marathon Petroleum or TransCanada doesn't suit your investment intuitions, consider offshore contract drilling services company Ensco (NYSE:ESV).
Currently trading around the $52.32 price level, ESV has a forward (1-year) PE ratio of close to seven and a PEG ratio (five-year expected) of 0.79, two ratios that suggest the stock's price is undervalued.
At the above share price the dividend yield is a generous 5.7% and as a recent article pointed out, that yield is supported by healthy long-term fundamentals. The following 1-year chart illustrates this.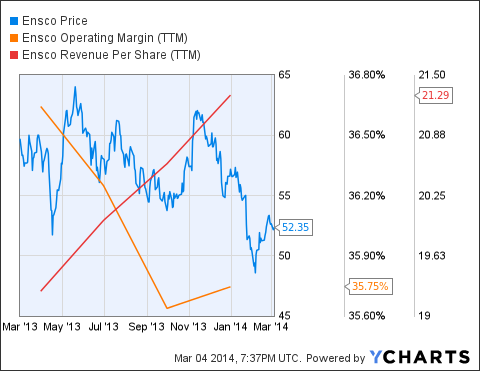 The company's operating margin as of the end of 2013 was a powerful 35.75% and revenue-per-share reached $21.29.
The total return, including a conservative 1-year price target of $57.55, plus the dividend is around 16%.
Even if Linn Energy can maintain its current 9% dividend (doubtful in my opinion), and with a reasonable one-year price target of $34, the 12 month total return appears to be less than 20% with a greater amount of uncertainty than the three alternatives listed above.
All the good news about LINE is priced into the current share price, and there may be reasons that the company's purchase of Berry Petroleum ends up being a costly blunder in the intermediate-term.
What I'm suggesting isn't rocket science. If you're holding shares of LINE and received the recent dividends, now may be an auspicious time to cash out of some or all of them and invest in companies with a more sustainable dividend, less downside risk, and a total return that is as good or better.
Marathon Petroleum and TransCanada are two good examples, with Ensco being an alternative albeit with a more modest one-year total return.
Invest your money where it is treated best and where the track record of the company suggests a more stable and generous outcome for careful investors.
Disclosure: I am long MPC, TRP, ESV, LINE. I wrote this article myself, and it expresses my own opinions. I am not receiving compensation for it (other than from Seeking Alpha). I have no business relationship with any company whose stock is mentioned in this article.