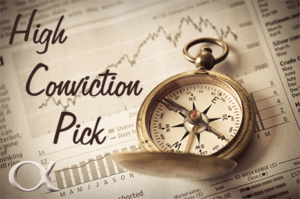 Eric Sprott, CEO and senior portfolio manager at Sprott Asset Management, has 35 years of experience in the investment industry. After becoming a chartered accountant, he joined Merrill Lynch as a research analyst, and founded his own firm in 1981. Today Sprott Asset Management is Canada's largest hedge fund company, managing more than $5 billion in assets.
His overall approach is a long/short strategy mixing top-down macro analysis with bottom-up fundamental analysis once promising sectors are identified - and for some time that strategy has favored precious metals on the long side.
Seeking Alpha recently got the chance to ask him about his current high conviction holding.
What is your highest-conviction stock position in your fund?
My choice is East Asia Minerals (OTCPK:EAIAF). East Asia is a pure-play gold exploration company with properties in Indonesia. It has a gold prospect called Miwah that could potentially have an extremely large gold resource in place, possibly multiples of our current 10-million-ounce estimate. Drill results on the project have been superb thus far, revealing substantial gold intercepts.
Can you talk a bit about the sector? How much is this an "industry pick" as opposed to a pure bottom-up pick?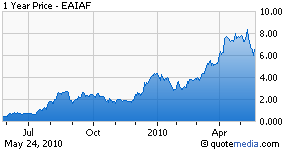 Gold is certainly an area to be in right now, and it's clearly been the investment of the decade. We've been gold investors since 2001 and know the space intimately.
We tend to focus on the gold producers, but once in a while we come across an opportunity like East Asia which can't be passed up. Gold deposits of consequence are very hard to find today, and it's rare for an exploration company to return such compelling drill intercepts so early on in their exploration efforts.
How is East Asia positioned vis-a-vis its competitors?
Exploration is all about the drill results. So far they have been impressive. There are few companies in the gold space that we know of that have a project like Miwah.
What about valuation here? How does East Asia compare in this industry?
Valuation with explorers is based on their ability to define economic resources through drill intercepts. I can imagine, given what I've seen in the drill results thus far, and given the discussions I have had with management, that Miwah could potentially be a multimillion-ounce gold deposit of substantial size. With the results they've already released, one could argue that they already safely have 10 million ounces of gold in place, and that supports the company's current market cap of approximately $540 million. The upside will come from management's ability to connect the various areas of mineralization they have discovered thus far in order to prove up the project's total size.
To provide some insight into how Miwah is expanding, it's worth mentioning some of their most recent drill results in 2010. On Jan. 11, East Asia announced an intercept returning 1.64 grams/metric ton (g/t) gold over 70.2 meters within 132.9 meters grading 1.01 g/t gold. This hole was drilled south of previous gold-rich holes and helped to confirm the existence of gold mineralization along a 1.2 kilometer area referred to as the Main Miwah Gold Zone.
The Miwah project's ultimate potential lies in the fact that it remains open in all directions. All subsequent drill holes have struck gold mineralization and expanded the size of the resource.
Some more recent 2010 results include:
Feb. 9: 0.59 g/t gold over 109 meters, including 1.16 g/t gold over 21 meters

Feb. 17: 9.29 g/t gold over 21 meters within 81 meters grading 4.08 g/t gold (which extended Main Miwah Zone further to the north)

March 2: 2.18 g/t gold over 116 meters, including 3.28 g/t gold over 61 meters (Opened Zone further north)

April 9: 3.96 g/t gold over 111 meters, including 15.74 g/t gold over 22 meters, indicating increasing grade and thickness to the north

May 13: 1.77 g/t gold over 65 meters within 159 meters grading 1.01 g/t gold
As the results indicate, the Miwah prospect continues to grow in size and scope and seems to contain gold grades sufficient for economic mining. In terms of grade quality, while 1 g/t gold isn't considered high-grade, it is certainly economic if you can prove up tonnage. If Miwah can consolidate their drill intercepts into a preliminary resource that grades above 1 g/t with large tonnage behind it, East Asia may become a significant gold player with the potential to go into production.
What is the current sentiment on East Asia, and does your view differ?
The recent results have garnered some attention. The market is certainly excited about Miwah and the stock has appreciated quite steadily over the past several months. If the deposit is proven to be as large as we suspect it could be, the stock has much more upside potential.
Does East Asia's management play a role in your position?
The management is experienced in the process of delineating deposits and proving up resources. Ultimately it's the deposit that generates the true value, however; the management team just has to develop it and tell the story to the market. We have great confidence in the management team.
What catalysts do you see that could move East Asia stock?
Obviously, continued strength in the gold price will help the stock. But really the most important catalyst will continue to be the quality of drill intercepts returned from Miwah.
What could go wrong with this stock pick?
If the various zones of mineralization don't connect with each other, it could end up being smaller than the market anticipates. There's also the risk that gold experiences a correction and pulls gold equities down with it. That risk exists with all gold miners, whether in exploration or production.
The bottom line, however, is that East Asia seems to have discovered a potential resource of significant size, and the market will reward East Asia if it can prove that Miwah contains a multimillion-ounce gold deposit with economic grades. We're excited to follow the company's progress in 2010 and look forward to future drill results from Miwah.
Thanks, Eric, for sharing your pick with us.
Disclosure: Sprott Asset Management is long OTCPK:EAIAF.
Read more High Conviction Picks »
If you are a fund manager and interested in doing an interview with us on your highest conviction stock holding, please email Rebecca Barnett.