In today's What's Next For The Market, we look at Zynga (NASDAQ:ZNGA) after the company's CEO reported some interesting information about the company's plans moving forward that helped the stock rise nearly 8% on Tuesday. We have been slightly bullish on the stock, as we believe that the company is starting to turn a corner, but we have worried about declining users and strong competition for online/mobile games. Today, we will dive into the company's comments and break them down. As always, we also look at today's important news, digest key economic data, delve into company news that matters, chart the markets, and forecast what we see coming next.
In Focus - Zynga
Zynga's CEO, Don Mattrick, was making waves today at the Morgan Stanley Technology, Media and Telecom Conference. His comments continue to show great faith on the potential of Zynga this year and in the near future. Mattrick highlighted several items, but what really attracted us to the conversation were his comments on new changes to games. As we had highlighted in our last article, the company's turnaround is in the works, but it has seen declining users and tough competition. Thus, we want to put these developments in that context.
As we mentioned in our previous article:
Mattrick is redoing the game pipeline and pushing for mobile over all else. He, like Facebook (NASDAQ:FB), Twitter (NYSE:TWTR), and other social media entertainment companies, realizes that mobile is the future. And the push to mobile will be one of the most important metrics to follow. What we are seeing is fewer users, less revenue, but the company is booking more often with its current users, and they are seeing good growth in games that are mobile specific. The company seems to be doing well. They guided well for 2014, and the corner they turned with Poker is a big win.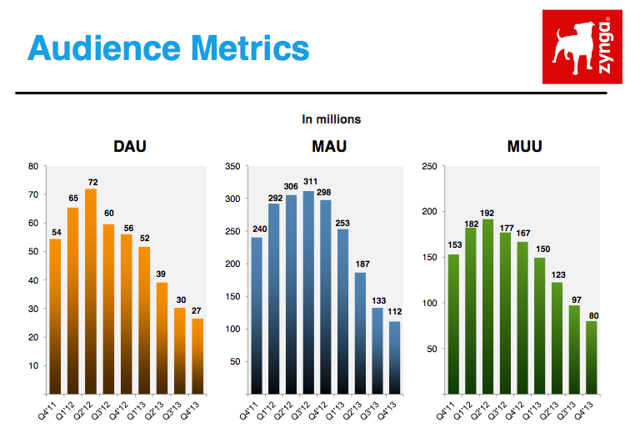 (Source)
Zynga's main focus was on their three core games with new developments this year that focus in on mobile. According to the CEO:
Zynga has three products that I believe are evergreen in their nature that have touched hundreds of millions of consumers around the globe, FarmVille, our Poker social casino products, and Words With Friends. What we know is, consumers love those categories that someone is going to build the best experience and really nurture that relationship with consumers on multiple devices, mobile devices, on the web and driving against it.
Luckily, it appears that ZNGA is taking these products and pushing them in new ways that will be very beneficial.
FarmVille, a popular game with more than 400 million users, is launching on mobile devices with the release of FarmVille 2: Country Escape. This new product will not only grab mobile market, but it will also create a Connected Rewards System between the current web game and the new mobile one. This game will be available globally by the end of Q2. The new Zynga Poker is also going to be launched during this period. The old version of Poker has already owned more than 350 million fans. This time Zynga will make improvements with more personalized game play, a faster operating speed and more user-friendly design. Words With Friends has already become Apple App Store's #1 free game, downloaded by more than 100 million people in the last five years.
"We're proud to deliver an entirely new Words With Friends that builds on the favorite game you love but with the top features you've been asking for." According to the company's blog, "the new version will launch in select markets over the coming weeks and to global audiences soon."
Among the developments, we should pay close attention to Words With Friends. It is Zynga's second game built for Kik, the mobile messaging app platform. The company is trying hard to gain in the mobile messaging market. This strategy is probably based on the success of messengers from Asia. Line from Japan earned $338 million in revenue in 2013. The corporation says that the increase in net sales for its messaging app are mainly due to in-game purchases - which make up about 60% of revenue, more than $200 million. And Korean messaging app Kakao Talk's games platform grossed $311 million in the first half of 2013.
Here is Words With Friends in Kik: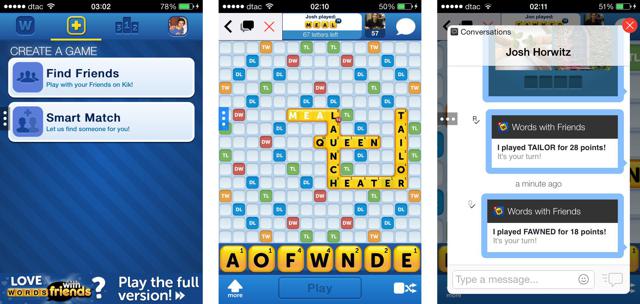 Line has 340 million registered users worldwide, and the users of Kakao Talk just passed 100 million last year. If Zynga keeps cooperating well with Kik and expands its new game products in the messaging platform, based on 120 million registered users of Kik, a $140 million (average of Line and Kakao Talk) market is waiting for it in the near future. In addition, the messaging platform is built for people to chat and share their experiences and feelings. The popularity of this kind of platform will attract new customers for Zynga and have a positive impact on the company's other web and mobile games.
For Zynga, gaining partnerships and cross-platform synergies is definitely something that will allow it to do what it needs to do - grow users and build small moats against competition.
As the CEO said at the conference:
"Mobile devices are growing and everyone has seen the stats and can take whichever source, we know there's going to be a few billion people using smart phones and tablets in the near future, we know that the profit pools from the mobile space are going to be in the tens of billions."

We believe the company's moves this year continue its turnaround strategy and definitely address the declining users issues. The company has also seen better conversion rates on their users, and that should continue to be a positive as it adds more users. The company is still definitely in the turnaround stage, but it is addressing problem areas head on and remains attractive to us.
Market Overview
The market bounced back very strongly on Tuesday after a weak Monday. The reason was obviously the reversal of fear that happened on Monday after Russia sent troops into Crimea. While those troops were not withdrawn, the company did remove troops from surrounding areas and noted they were not interested in military action.
After military exercises began on Wednesday, Russian President Vladimir Putin removed soldiers from nearby areas but kept troops in Crimea. Putin eased fears as he noted that he had troops there to help protect Ukraine from radical extremists, and said he would only use force in a most extreme case. Further, an ultimatum that Ukrainian troops turn in weapons and defect to Russia's army appear to have come and gone without consequences.
For now, fear has subsided somewhat, but there is going to continue to be volatility in the marketplace that we will need to watch. Increased volatility will be mostly headline-driven. The real question about this conflict is what are the consequences for Russia if they end up losing their hold on small parts of Ukraine, or even worse, military action?
This move is important to Putin because it attempts to showcase the central power of Russia as well as establish hegemony amongst post-Soviet states. Putin even noted, as we speculated yesterday, that he believes the Ukrainians performed a "coup" and are defending Russian-speaking residents. He believes he is following international law since Yanukovych requested troops, and Russia recognizes him as the leader.
Yet this move gets to the bottom of the crux for Russia. Losing Ukraine and not being able to maintain hegemony does create a lot of risk as to its political power and could isolate Russia. As it stands now, the current Ukrainian government wants relations with the EU. A defeat, in the sense that Russia loses its grip on Ukraine, would be a major blow to that hegemony and Russia's overall power. Overall, though, this situation is far from over. The move helped European markets jump up around 2% on average. Yet there is still going to be a lot of volatility surrounding this situation, so buckle up!
At the close, the Dow Jones (NYSEARCA:DIA) is up 228 points. The Nasdaq (NASDAQ:QQQ) is up 75 points, and the S&P 500 (NYSEARCA:SPY) is up 28 points.
Wednesday's Outlook
The market got a boost on Tuesday, but the intraday action was pretty stagnant. Overall, that suggests to us that the market is still questioning this move. The gap up is the obvious reaction, but the lack of growth intraday of significant suggests we are setting up with a blank slate tomorrow. There are several developments to watch tomorrow with data, earnings, and overseas developments dominating the space.
On the docket tomorrow, we have a number of important reports with ADP Employment Change, ISM Services, and the Fed's Beige Book. ISM Services is expected to dip from January to 53.5, but if the Personal Spending report on Monday was any indication of our economy - services were very important during the cold weather. We may see a bounce back. ADP Employment should steal the show, though, as everyone wants to know how employment did in February. Finally, we also get the Fed's Beige Book, which tends to help the market as it gives attention to the Fed.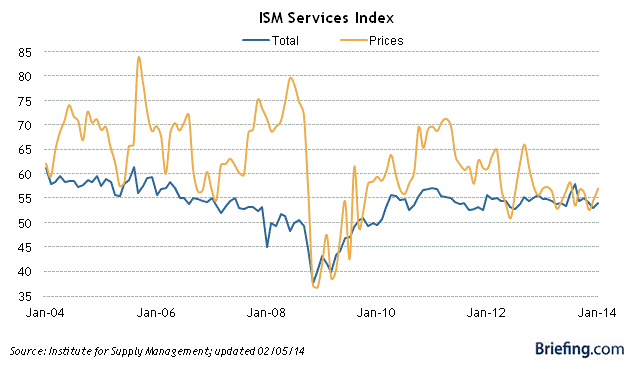 (Source)
On the earnings front, we get some reports from AutoZone (NYSE:AZO) and YY (NASDAQ:YY) before tomorrow's open. AZO is an interesting one to watch as the cold weather likely helped the company, while YY will give us a look into social media in China. As for international developments, we should definitely watch for China's Premier Li to give his 2014 GDP Growth Target as well as the HSBC Services PMI for February for China. Additionally, we get GDP for the eurozone in Q4.
Overall, it is a very busy day with a lot of inputs that should impact the market much more than the Russia/Ukraine situation. That issue, though, will also be at the forefront of investors'/traders' minds.
Disclosure: I have no positions in any stocks mentioned, and no plans to initiate any positions within the next 72 hours.
Business relationship disclosure: I have no business relationship with any company whose stock is mentioned in this article. The Oxen Group is a team of analysts. This article was written by David Ristau, one of our writers. We did not receive compensation for this article (other than from Seeking Alpha), and we have no business relationship with any company whose stock is mentioned in this article.