Monday appears to have presented the best opportunity in several years to buy Russian stocks. In a knee-jerk reaction to the news, Russian stocks dropped over ten percent during Monday's trading alone. Furthermore, according to the BBC, the Russian rouble hit an all-time low versus the US dollar and euro.
If legendary investor Sir John Templeton was still around, I am sure he would have been looking for Russian stocks to buy on Monday. Buying when there is extreme pessimism is something so few investors have the disposition to do, which is why Templeton was best described as Contrarian, as you'll see in the recently released film of the same name, which you can watch online for free.
In terms of value, the Russian small cap EFT (NYSEARCA:RSXJ) dropped below a price to earnings ratio of five. That's cheap, don't you think? In contrast, the US benchmark S&P 500 index is at an all-time high and a price to earnings ratio of 15.
I wish every investment offered such strong value and positive contrarian indicators as Russian stocks this week. On Monday, the whole world's attention was on the conflict between Russia and Ukraine, concerned not only how it would affect those two countries, but the rest of the global financial markets.
Last year, the market was unanimously negative on India and the rupee hit an all-time low versus the dollar. Since then, the Indian small cap fund (NYSEARCA:SCIF) has increased 42%.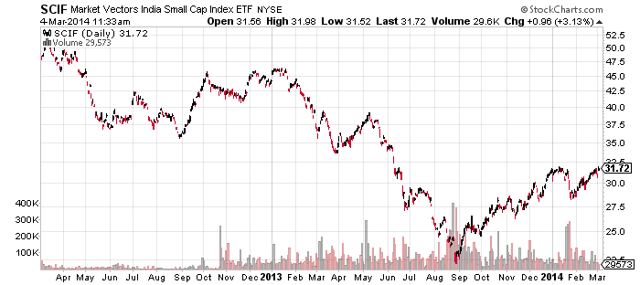 Last year, rather than outright war, we merely had riots in Egypt and other emerging markets. That was enough to send those markets into deeply oversold lows. Since then, the Egypt fund (NYSEARCA:EGPT) is up 86%!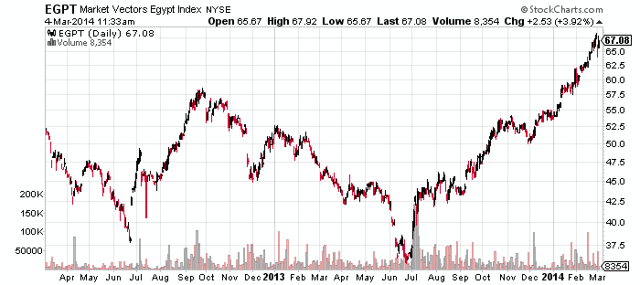 Does this imply that social unrest trumps currency devaluation in terms of spotting a bargain? There could be some truth in that. As I pointed out in another article last summer when Indian stocks were bottoming, the top-performing emerging market coming out of the 2008 financial collapse was the one that had the highest degree of social unrest. That country was Pakistan, where locals demonstrated their anger by throwing rocks at the exchange building.
Fortunately, Russia is a "two-for-one" this week with both social unrest and deep currency devaluation, allowing rational investors to buy low so they can later sell high. As for how high Russian stocks could rebound, this chart of RSXJ could give some indication.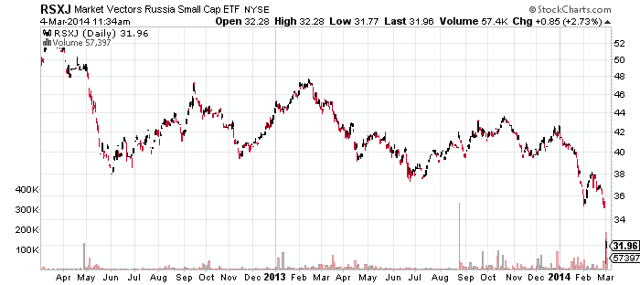 It looks to me that a return to the mid to upper $40 range for RSXJ is a conservative expectation over the next 12-18 months. That would yield a capital gain of at least 45% over that period.
I don't invest in currencies, but I expect the ruble will experience some form of mean reversion, similar to what the rupee experienced. The rupee is up 10% versus the dollar since bottoming last summer. This should provide an additional tail wind for international buyers of Russian stocks, which trade on the Moscow exchange in rubles.
On Monday, I was buying (NYSEARCA:RSX) and RSXJ for my clients and me. I also placed orders to buy these assets at slightly lower prices in case they should fall even further. At this point, I'm doubtful these additional orders will be filled. I think the bottom is in for Russian stocks in this cycle, but we're ready to buy even deeper bargains should the opportunity present.
Disclosure: I am long RSXJ, RSX, EGYP, SCIF. I wrote this article myself, and it expresses my own opinions. I am not receiving compensation for it (other than from Seeking Alpha). I have no business relationship with any company whose stock is mentioned in this article.