As we gain more insight into how Advanced Micro Devices' (NYSE:AMD) Kaveri desktop APUs operate under different conditions we are getting a better overall picture of what we can expect from the low-power, mobile versions which should surface later in the year. In a previous article I highlighted the improvement in AMD's dual graphics technology where the on-die GPU is mated with a similarly powered discrete graphics card. While improvements in performance were seen in initial reports in the tech press, we knew nothing about what the power cost of that solution would be.
A recent report at eteknix.com went through a thorough look at Kaveri in various configurations with a focus on how performance scales with memory bandwidth. And while that is interesting their measuring power draw for the systems with and without the added discrete graphics cards is the unique piece of data that is important for our consideration.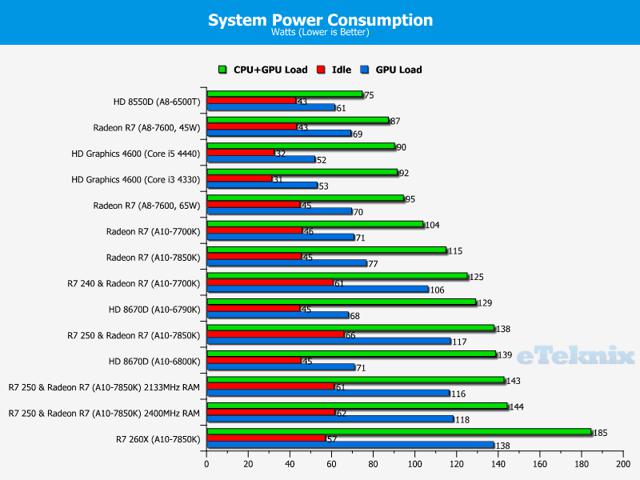 What this graph shows is that the A10-7850k's GPU under gaming load pulls only 32W of power at the stock frequency of 720MHz. Adding $80 R7 250 graphics card increased power draw by another 19W or 51W total. Overclocking the memory to higher frequencies saw power draw rise to 55W. I've summarized the relevant data in the table below.
| | | | |
| --- | --- | --- | --- |
| APU Model (TDP) | GPU Watts | # GPU CU | Watts/CU |
| A8-7600 (45w) | 26 | 6 | 4.33 |
| A8-7600 (65w) | 25 | 6 | 4.17 |
| A10-7700K (95W) | 25 | 6 | 4.17 |
| A10-7700K (95W) + R7 240 | 45 | 11 | 4.09 |
| A10--7850K (95W) | 32 | 8 | 4.00 |
| A10-7850K (95W) + R7 250 | 51 | 14 | 3.64 |
What needs to be noted is that all of these APUs are running the GPU at the same clock speed of 720MHz and it looks like performance scales perfectly with the number of compute units [CU] the total system has. This suggests that the discrete cards are being down-clocked to the speed of the APUs GPU. This makes sense given the difference in performance noted between a 14 CU R7 260x and the A10-7850K + R7 250 dual graphics configuration, which is anywhere from 30% to 60% slower.
What this means is that it gives AMD and system OEMs a lot of flexibility in building mobile dual-graphics systems, especially since Kaveri will have tunable TDP, like the A8-7600 which can operate at either 45W or 65W. Moreover, if the mobile variants can be dynamically clocked based on user preference then we may see some new design choices being made in laptops and convertible tablets.
As we saw in my previous article and a number of new reviews of AMD's dual graphics setups the current drivers have improved to the point of improving performance that, for the most part, scales with the additional shader units on the discrete cards. There are still a number of games, however, where dual graphics does not improve, and if anything degrade, performance. So, while the situation is greatly improved, AMD must continue to improve its dual graphics performance overall.
The Maxwell Challenge
This becomes even more important in the context of the latest cards from Nvidia (NASDAQ:NVDA) based on their new Maxwell architecture. Maxwell has vastly improved Nvidia's performance per watt and we should expect mobile variants of the 28nm parts to be in laptops for the next refresh cycle. So, Kaveri and Maxwell will be going head to head. The question is does dual graphics give AMD any practical advantage over an Intel (NASDAQ:INTC) CPU / Nvidia GPU setup?
Maxwell's performance for its GTX 750Ti cards is roughly on par with a Radeon R7 260x (14 CU, 896 shaders) but it does so in the Metro: Last Light benchmark loop (according to the review at Tom's Hardware linked above) using 30 fewer watts. This is seriously impressive given that the cards are running at similar clock speeds, north of 1GHz. The A10-7850K plus R7 250 consumes 10 fewer watts at 720 MHz but cannot come close to competing with either card. Both the slower clock speed and lower memory bandwidth severely hamper performance.
The unknown at this point is how well Kaveri's GPU scales down its power usage with frequency. We know that the CPU's power draw is less dramatic below 3GHz. The graph below is the only reference I could find to Kaveri's power usage over a wide frequency range. Joel Hruska at Extremetech put this together last month to show how Kaveri's process was tuned for low CPU frequency (the vertical scale is watts and the horizontal is frequency in GHz).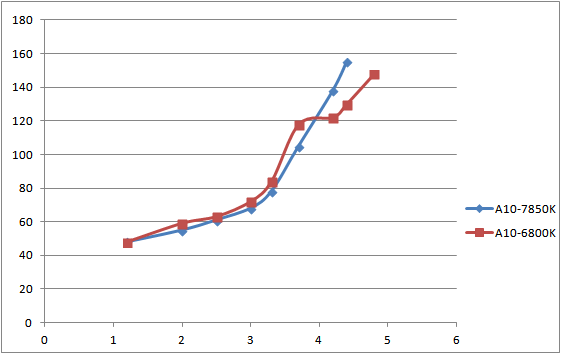 This means that AMD has some wiggle room in tuning the GPU in mobile Kaveri to get the most performance possible. If AMD has an advantage here it will be in the flexibility of having 2 GPUs with separate cooling and more potential GPU cores clocked lower.
I would expect that with Mantle in its back pocket for performance gains, AMD will likely tune mobile Kaveri SKUs to minimize CPU and maximize GPU speed since Mantle appears to improve performance most when the task/game is CPU-bound.
OpenCL Improvements
Kaveri's OpenCL performance is already uniformly excellent. The firm announced earlier this week that it would be releasing new drivers and development tools to add shared memory functions to OpenCL. But, more importantly, AMD will be releasing the HSA runtime stack for Linux in Q2 to coincide with the release of the server versions of Kaveri, Berlin and Bald Eagle. It's important that these tools get into circulation quickly for AMD's embedded and server strategies to take off. Anandtech has the full run-down on what's in the pipeline.
The Last Word
Between the substantial improvement in performance per watt and the fixes to its dual graphics drivers, Kaveri looks to have a much better shot at taking back market share in mobile computing lost by the shortcomings of both Richland and Trinity. By tuning Kaveri's bulk silicon process to emphasize power efficiency at lower frequencies, Kaveri opens up thermal headroom to keep GPU clock speeds up as TDP drops.
Maxwell looks like stiff competition but I still maintain that with Intel pushing Broadwell back into 2015, this makes the current Haswell lineup less attractive than last year, as the performance gap and value proposition between the two platforms has decreased with Kaveri's release.
The stock has traded in a tight, flag formation for the past two weeks and looks like it is waiting for a sign before moving higher and filling the gap sitting just above the current price between $3.80 and $4.10 per share. Both the 50- and 200-day moving averages have converged and are acting as formidable resistance to any price move at this point. It will take a daily close above $3.77 to move the stock.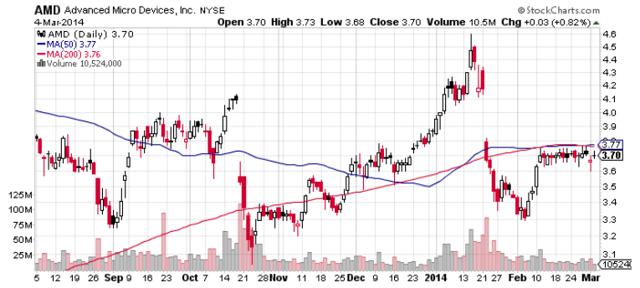 Disclosure: I am long AMD. I wrote this article myself, and it expresses my own opinions. I am not receiving compensation for it (other than from Seeking Alpha). I have no business relationship with any company whose stock is mentioned in this article.