"I love you more than there are stars in the sky and fish in the sea." - Nicholas Sparks
Although the U.S. equity REIT market, as measured by the Vanguard REIT Index ETF (NYSEARCA:VNQ) is already up 11.2% YTD, there are two reasons that investors should consider this category of investment for further upside potential.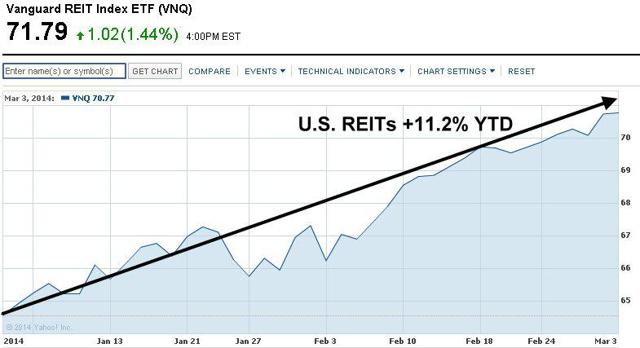 Chart source: Yahoo! Finance
First, REITs were pushed below NAV in 2013 due to a horrible performance through year-end, which was pushed even lower due to tax-loss selling and fund management window-dressing.
Collectively, U.S. equity REITs are still ~10% below their 52-week high, while several names remain at even further discounts from the market. While the high may have been premature last May, a further advance in REITs would not spell uncharted territory.
Second, the 10-year Treasury bond interest rates are in decline as currency risk, which translates into a stronger demand for the U.S. dollar and U.S. assets, gives investors reason to continue pouring into the space.
2 High-Yield Plays With Heavy Upside
While it could be argued that REITs in general are still undervalued, regardless of the 2014 run-up, select REITs with above-average yields are mispriced and have room for above-average upside.
For alternate reasons, these companies have competitors who investors seem to love more than the stars in the sky and the fish in the sea. As romance fades and performance leads to a shifting tide in the investment community, a new love may be found for the following two property landlords. As such, patient investors may be rewarded.
1. American Realty Capital Properties (ARCP)
ARCP is the largest U.S. net-lease retail REIT. Due to an acquisition spree and its short operating history as publicly-traded REIT, the market undervalues this company significantly below peers.
The current yield is 6.7%, the 2014 AFFO yield is 7.8% and the company distributes its dividends monthly. Competitors Realty Income Corp. (NYSE:O) and National Retail Properties, Inc. (NYSE:NNN), who are also large net-lease retail REITs, yield 4.9% and 4.5%, respectively. Also, the 2014 FFO yields of these two companies are much lower as well, coming in at 5.8% and 5.6%, respectively.
Using the mean FFO yield of O and NNN, which comes in at 5.7%, ARCP would trade at $20.35/share, an upside of 36.8% from today's pricing. At that level, the annual yield would be 4.9%, which would still represent a premium over the mean O and NNN yield of 4.7%. To add more incentive, market leaders generally trade at a premium to peers, which over the long term presents even more upside potential.
2. HCP, Inc. (HCP)
HCP is one of the largest U.S. healthcare REIT landlords. The company is diversified across several healthcare property sectors, including hospitals, life science buildings, medical office buildings and senior living facilities.
Due to concerns about government payouts to a portion of the HCP tenant base, the market discounts HCP stock versus those with a high level of private-pay tenants.
HCP is valued lower than several pure-play, smaller REITs that are concentrated in one particular healthcare sector, as well as large REIT peers that concentrate more on the private-pay tenants.
The yield on HCP today is 5.5% and the 2014 FFO Yield is 8%. When compared to a peer that investors currently praise, Ventas, Inc. (NYSE:VTR), the company seems extremely undervalued. Today Ventas yields only 4.6% and has a 2014 FFO yield of 6.9%.
The only other large, diversified U.S. healthcare REIT, Health Care REIT, Inc. (NYSE:HCN), has a 2014 FFO yield of 6.8%.
Adjusting HCP to an equal valuation with VTR would prompt an immediate upside of 14%. At that level, HCP would yield 4.9%, which would still be a premium over VTR's 4.6% yield.
HCP also has excellent lending terms. The company just priced $350 million 10-year bonds last month at 4.2%, which is only 151 basis points above the 10-year treasury rate of 2.69% and 133 basis points below the company's distribution level. With easy lending terms and a below-average valuation, patient investors in HCP may be rewarded with above market-average returns.
Disclosure: I have no positions in any stocks mentioned, and no plans to initiate any positions within the next 72 hours. I wrote this article myself, and it expresses my own opinions. I am not receiving compensation for it (other than from Seeking Alpha). I have no business relationship with any company whose stock is mentioned in this article.