Starbucks (NASDAQ:SBUX) has been selling coffee since 1971, and remains the most recognized coffee brand in the world. It added over 400 stores last quarter, bringing its total store count to over 20,000.
The one thing to get excited about is that the coffee company has a continued passion for innovation. This has helped boost its share in international markets and build it a loyal customer base. However, over the last six months, Starbucks is flat, compared to an S&P 500 that's up nearly 15%.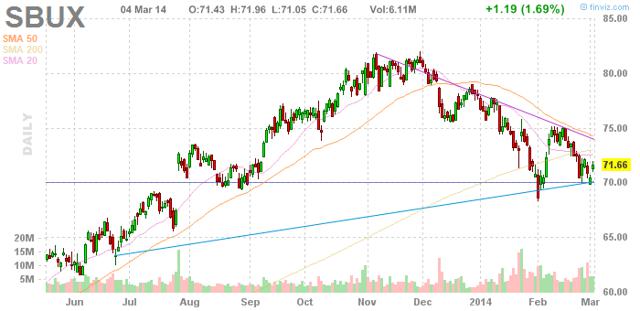 Despite the recent pullback due to mixed fiscal first quarter results, I remain optimistic for 2014. It actually raised earning expectations for the upcoming year, with growth in revenues being driven by new store openings, in China and Asian/Pacific markets.
The Starbucks addiction isn't just to caffeine
There are not many companies who can brag about customer loyalty, but Starbucks can definitely say that their customers are not just addicted to coffee, but rather to Starbucks, the brand. A third of all of Starbucks' transactions was completed by My Starbucks Rewards loyalty members and over a tenth was completed via mobile phone last quarter.
And Dollars loaded on its loyalty cards increased 24% to 1.4 billion last quarter, suggesting that millions of customers will be visiting Starbucks stores in the future quarters. It also processed more than 40 million new Starbucks activation cards last quarter.
Innovation is alive and well at this coffee company
Starbucks remains ahead of its competitors when it comes to embracing the shift in consumer behavior and shopping habits. Starbucks' strong digital and mobile capabilities bring customers with higher disposable incomes, who are willing to pay higher prices. This in turn results in higher profit margins for the company. Last quarter we saw rising profits, driven by strong margin growth in all segments.
Starbucks is also improving existing products and introducing new products to attract new customers and keep loyal customers coming back. Even with a number of new products, such as flavored Starbucks K-Cups, innovative line of VIA Latte, and Teavana teas, the two that stand out are Evolution and La Boulange.
Starbucks has been able to fully capitalize on the Evolution Fresh Juice brand since its acquisition in 2011. In addition to being available in approximately 8,000 U.S. Starbucks stores, Evolution Fresh juices are available at Whole Foods locations nationwide. Starbucks has also joined with dairy products maker, Danone, to create evolution Fresh-branded yogurt.
La Boulange has been another successful acquisition for Starbucks. The bakery has enhanced Starbucks' core food offering driving increased purchases and thereby growing both traffic and ticket growth at its stores. Following the success of La Boulange high-end bakery products, the company is testing La Boulange lunch items, scheduled to be launched next fall.
Still room to grow internationally
In addition to keeping its loyal customers hooked on the brand, Starbucks is hard at work when it comes to getting more people internationally to accept the brand and joy its loyal following. Asia is a huge opportunity for the company. Even with relatively low per-capita consumption, the rapidly rising middle class brings with it rising income levels, which will increase the demand for convenience beverages.
Starbucks believes that China and the Asia-Pacific region, which has grown revenues 33% since 2010, will see a much more meaningful business growth over the next five years. In hopes of creating a strong loyal following in Asia, the company has launched the Starbucks card in China back in January.
Meanwhile, Starbucks is also trying to revive its business in Europe by pursuing increased higher-margin licensing opportunities, shutting down unprofitable stores, cutting general and administrative expenses and implementing robust brand building initiatives. We can already see the results in stronger margins and comps for the European market, pointing to the real potential for that geographic segment.
Starbucks is still a long-term buy, with coffee price concerns overblown
There is notable concern over the rising cost of coffee. However, with coffee costs at only approximately 9% of Starbucks' operating costs, there has to be a significant increase in coffee prices to meaningfully impact profits.
And with a loyal customer base, commitment to innovation and continued growth in international markets, Starbucks is poised to offer investors market beating returns on a multi-year basis. Starbucks is trading at 22.5x forward earnings, but is no stranger to trading at 30x earnings, which is closer to its long-term average. Even assuming earnings come in on the low end of expectations, at $3.10 a share for fiscal 2015, and its earnings multiple expands to 30x, the 18-month price target is right at $93.
Disclosure: I have no positions in any stocks mentioned, and no plans to initiate any positions within the next 72 hours. I wrote this article myself, and it expresses my own opinions. I am not receiving compensation for it (other than from Seeking Alpha). I have no business relationship with any company whose stock is mentioned in this article.