U.S. auto sales for February were reported today (Monday, Mar 3). They came in at a 15.3 million seasonally adjusted annualized rate - SAAR - which was slightly lower than the Wall Street expectation of 15.4 million. The SAAR for domestic OEMs (GM, Chrysler, Ford) came it at 12.2 million, slightly below the 12.3 million expected. Despite the slight uptick in month to month sales and the increase over Feb 2013 sales, it appears that the results were driven by an industry-wide increase in sales incentives and from GM's apparent channel-stuffing of dealer inventory. For point of clarification, the "sales" numbers reflect OEM deliveries to their dealer networks and not actual sales to the end-user market.
The table below shows a breakout of year-over-year sales figures for GM (NYSE:GM), Ford (NYSE:F) and Chrysler for February (data source):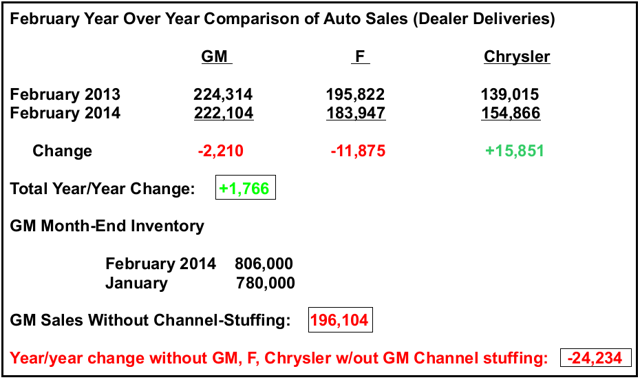 As you can see, both GM and F showed year-over-year declines which were slightly offset by an increase in Chrysler sales. However, per this report (Zerohedge) which tracks GM's month-end dealer inventory levels, you can see that the GM dealer network ended February with its largest ever post-bankruptcy inventory.
As I detail in the chart, if GM dealers had held their inventory constant from January to February - with January having been the second highest level of post-bankruptcy inventory - GM would have only shipped, or "sold," 196,104 cars in February. Furthermore, year-over-year auto sales for the domestic OEMs would have declined by 24,234 instead of registering a 1,766 gain.
It could be argued that GM wants its dealers to hold a higher level inventory in anticipation of higher sales going forward. However, per the article linked above the chart, sales incentives year over year for February increased by an average of 3.3%. This indicates that auto sales likely would have been lower than reported without the additional incentives. This being the case, GM dealers should be reducing their inventory levels. Also, you can see from this report that Chrysler offered heavy incentives in February through a combination of cash-back and zero-percent financing in order to stimulate sales. This likely explains Chrysler's results compared to those of GM and Ford.
Given that I continue to see negative trends developing in the monthly auto sales reports, I believe that GM and F and will report earnings that disappoint the market. In fact, as you can see from these two graphs (source: this author using Fidelity software), both GM and F have already significantly underperformed the market: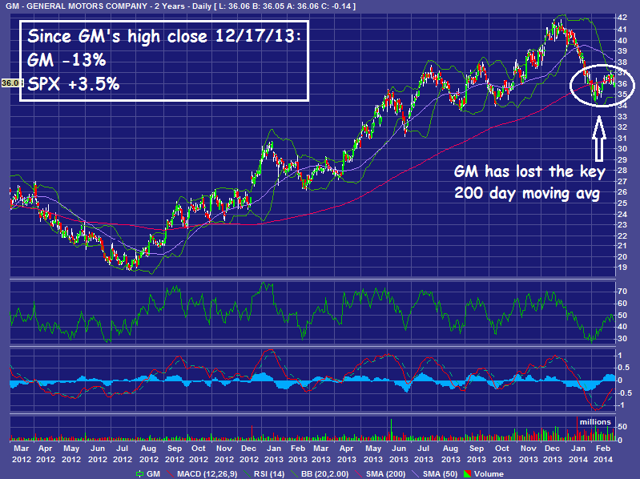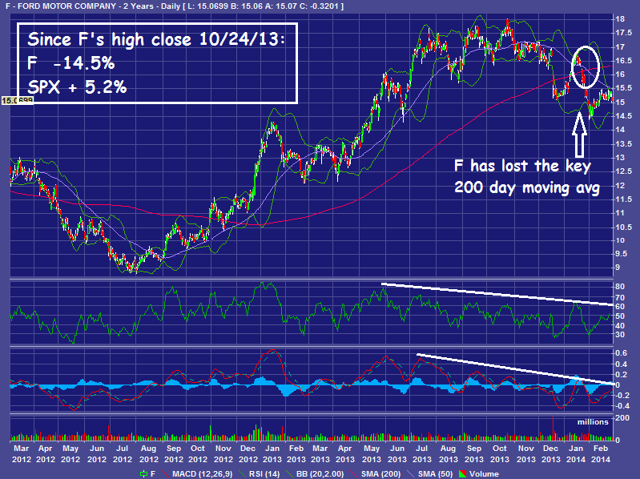 GM stock peaked on December 12, 2013 at $41.53. Since then, it has declined 13% and in the same period of time the S&P 500 rose 3.5%. Similarly, F peaked on October 24, 2013. Since then it has declined 14.5% while the SPX has increased 5.2%. A divergence in relative performance of this magnitude is hard to justify, especially in the context of several other troubling economic indicators which I have discussed in previous articles. I believe the stock action of GM and F is a "message" to the market that auto sales will decline significantly this year.
I continue to recommend selling GM and F stock. At some point I believe the stock market as a whole is going to roll over. Because of this, I continue believe that aggressive investors can outperform the market to the downside by shorting GM and F. My longer-term view is that both of these stocks will once again see mid to low single-digit levels.
Disclosure: I have no positions in any stocks mentioned, and no plans to initiate any positions within the next 72 hours. I wrote this article myself, and it expresses my own opinions. I am not receiving compensation for it (other than from Seeking Alpha). I have no business relationship with any company whose stock is mentioned in this article.