In this short highlight of Chevron (NYSE:CVX) I'd like to show why this oil major appears real attractive to me as an investor. I think there are currently quite a few attractive opportunities in the energy space and I've overweight my writing to the sector accordingly over the past year.
1. Big project(s) coming online
Growth of operating cash flow is expected to accelerate most importantly because of the startup of the Gorgon LNG project but also several other projects. The Gorgon project is developed in Australia, from the Chevron website:
The Gorgon Project is developing the Gorgon and Jansz-Io gas fields, located within the Greater Gorgon area, between 130 and 220 kilometres off the northwest coast of Western Australia.

It includes the construction of a 15.6 million tonne per annum (MTPA) liquefied natural gas (LNG) plant on Barrow Island and a domestic gas plant with the capacity to supply 300 terajoules of gas per day to Western Australia.

Gorgon LNG will be off loaded via a 2.1 kilometre long loading jetty for transport to international markets. The domestic gas will be piped to the Western Australian mainland.
Location: Gorgon project, image by Chevron
2. Track record of solid RoE
Chevron has had pretty good past exploration success. This bodes well for the future and the firm is a favorite to grow reserves and production in a prudent manner. Return on Invested Capital and Return on Equity over the past ten years tell a story of great profitability. This indicates Chevron is well managed. Management allocates capital in a prudent and efficient way. The company isn't out to grow revenue at all cost.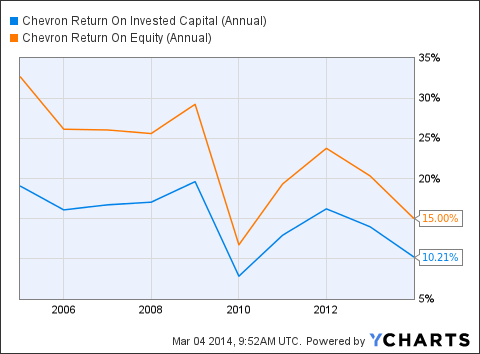 CVX Return On Invested Capital (Annual) data by YCharts
3. Deep-water exploration expertise
Chevron is likely to continue to benefit from expertise developing deep-water exploration. As it becomes increasingly difficult to grow or replace reserves, demand for this expertise will increase as well. Chevron can export this expertise globally. This will make Chevron more attractive as a partner to foreign governments that want to explore domestic opportunities. In addition this expertise leads to opportunities in deep-water areas where competitors are not able to operate. Especially smaller competitors will have trouble navigating these problems.
4. Attractive Book Value
Reserves are a very important part of tangible book value. Chevron is fairly attractive on a book-value basis. On a stand-alone basis but also when compared to competitors. I have to admit that I think the entire sector is quite attractive. I wrote several articles on Royal Dutch Shell (NYSE:RDS.A) and Exxon Mobile (NYSE:XOM) last year.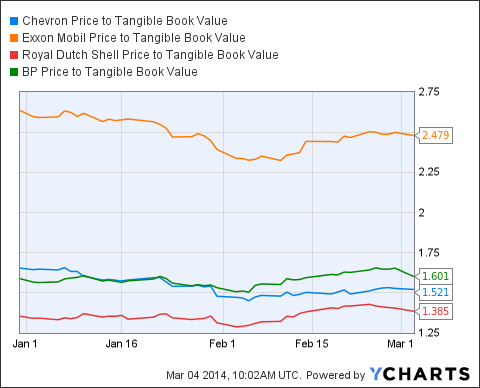 CVX Price to Tangible Book Value data by YCharts
5. Attractive Cash Flow
Both reserves and actual cash flow are important in determining whether an energy is attractive. YCharts offers an interesting metric to compare companies. Cash from Operations to Price and Chevron scores pretty attractive in comparison to its peers. Royal Dutch Shell is a little cheaper and as I stated before I view Royal Dutch as very attractive as well, but to be fair it lacks Chevron's enviable track record for RoE.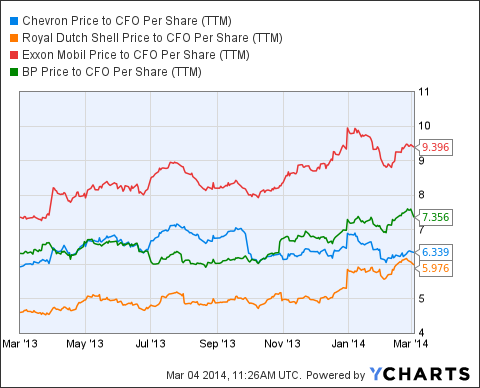 CVX Price to CFO Per Share (TTM) data by YCharts
Conclusion
Chevron is attractively valued relative to a peer group of oil majors. I think there are quite a few opportunities in the sector as a whole, but at this time Chevron is definitely one of them. The combination of an excellent track record of RoE and Chevron's modest tangible book value to price ratio makes the company a promising prospect.
Disclosure: I have no positions in any stocks mentioned, and no plans to initiate any positions within the next 72 hours. I wrote this article myself, and it expresses my own opinions. I am not receiving compensation for it (other than from Seeking Alpha). I have no business relationship with any company whose stock is mentioned in this article.